My wife and I took our 6-year-old twins, Harry and Luke, who have autism, to the Smithsonian Air & Space Museum in Washington, DC last fall. Harry loved the space exhibits, and when we got home, I went looking for picture books with space themes. It was surprisingly difficult to find quality picture books on this theme, but now I have this wonderful list to share.
---
Space Walk (Lift-the-Flap Adventures)
by Salina Yoon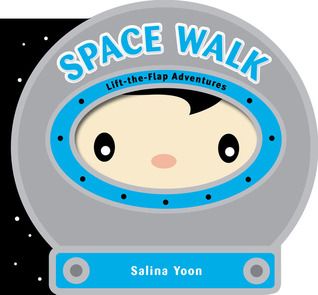 With simple rhyming text, we visit the eight planets that revolve around our sun, one at a time. Each planet is revealed by opening a large flap, which provides fun interaction (although easy to tear, too). A single line of rhyming text provides an accurate and easy bite of information about what makes each planet unique.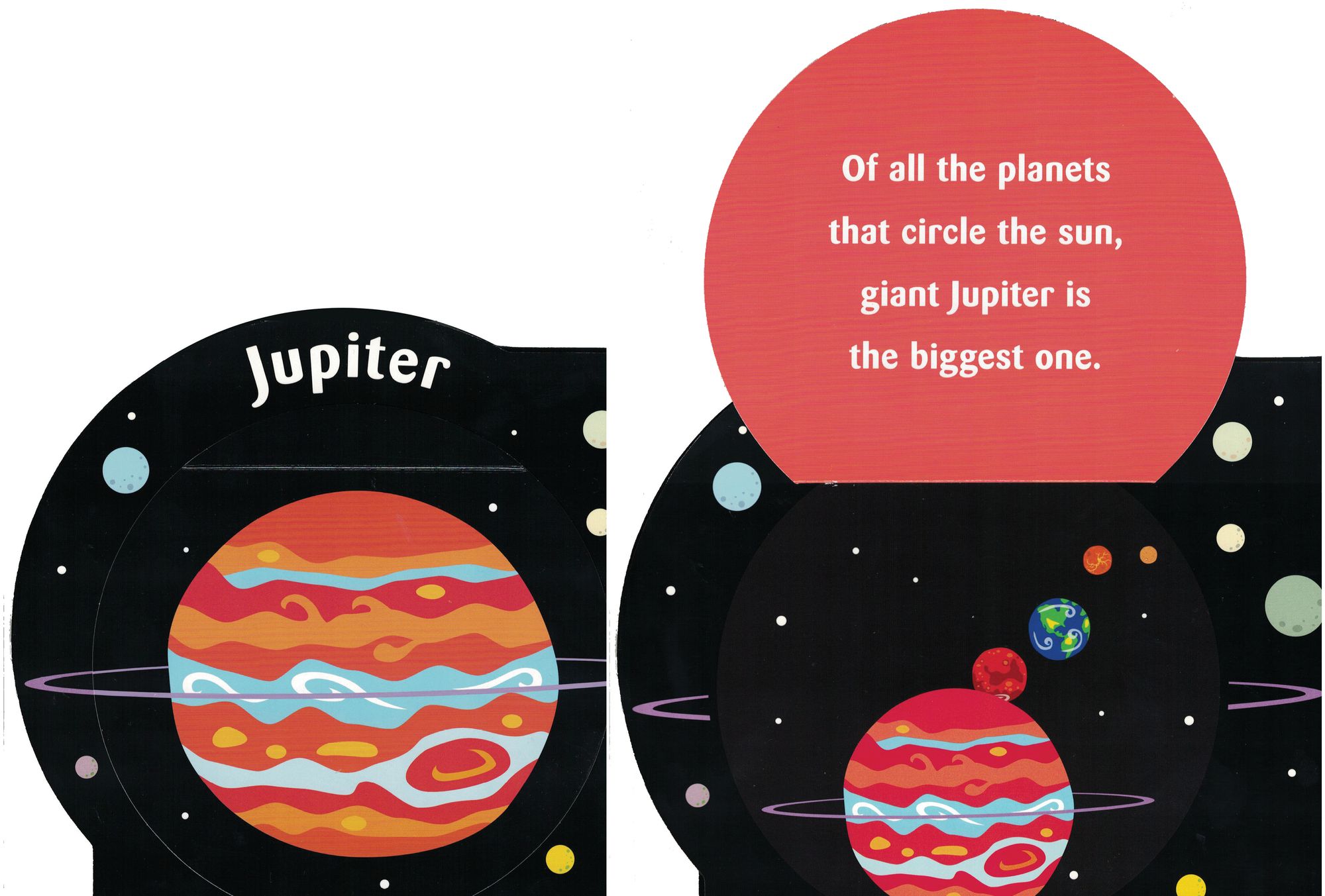 My son Harry picked Space Walk out himself at an American Museum of Natural History gift shop. The bold colors, repeating format, and ordered labeling of the planets drew him in. A perfect introduction to the solar system.
---
by Michael Dahl, Derrick Alderman and Denise Shea (Illustrators)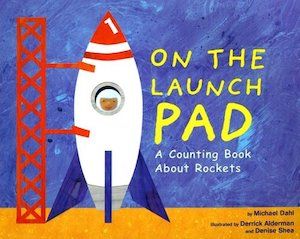 Beginning with 12, we count down to blast off as a rocket is readied for launch. Turning the book 90 degrees on the final page for a vertically aligned BLAST OFF! adds a bit of interest.
This is a standard counting down book, designed to teach early number skills. Each number is given at the side of the page in a repeating format as a numeral, a word, and in dots (for subitizing). There is also some number of things to count within the illustration itself as part of the narrated story ("EIGHT trucks carry the fuel."), and a numeral hidden on every page which is fun to hunt for.

Some of the things to be counted will be tricky for kids at this developmental level. On the more familiar side there are stars, trucks, astronauts, windows, and a rocket, but there are also workers, engineers, spotlights, radar dishes, control panels, launch towers, and rocket engines.
I like that there is a visually diverse mix of people, including lots of women and people with different skin colors, represented.  A nice pick for that number-obsessed kid with attention issues.
---
by American Museum of Natural History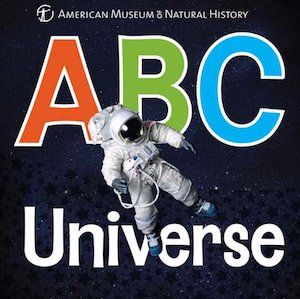 Alphabet books are loved by many autistic kids because they provide a comforting structure, and labeling the letters of the alphabet is also reinforcing for many kids since it's one of the earliest academic skills targeted by therapists.
The ABC Board Book series by the American Museum of Natural History features sturdy board books in a slightly larger profile (about 10 inches wide and tall) with beautiful color photos that isolate their subject matter against solid backgrounds. In ABC Universe, the labeling content can be too difficult at times (yellow dwarf, zenith), but other times it's perfect (Jupiter, astronaut, telescope). When a word is too hard, my advice is to ask them to label the letter.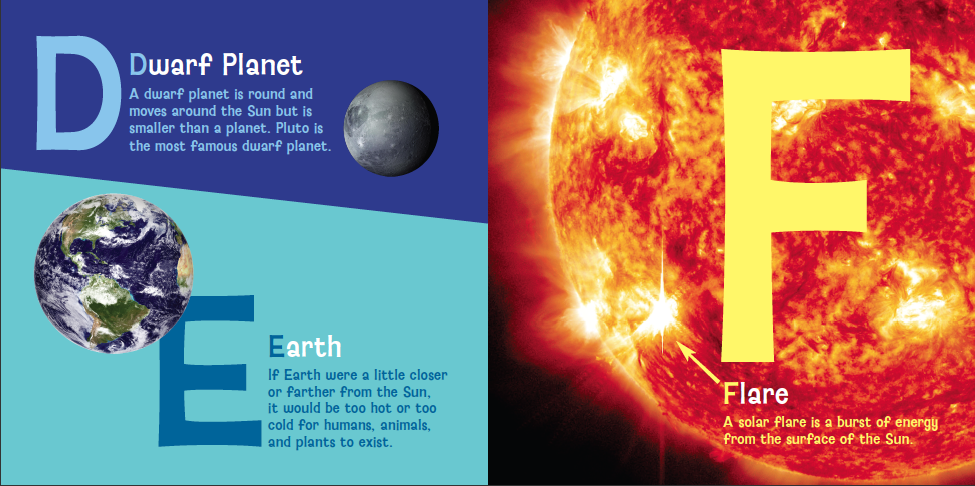 Obviously, the descriptive text can easily be skipped when it's not appropriate for your child's attention level or receptive language abilities. This is the kind of book that can kick around the house for awhile for different stages of reading and interest.
---
by Nancy Tafuri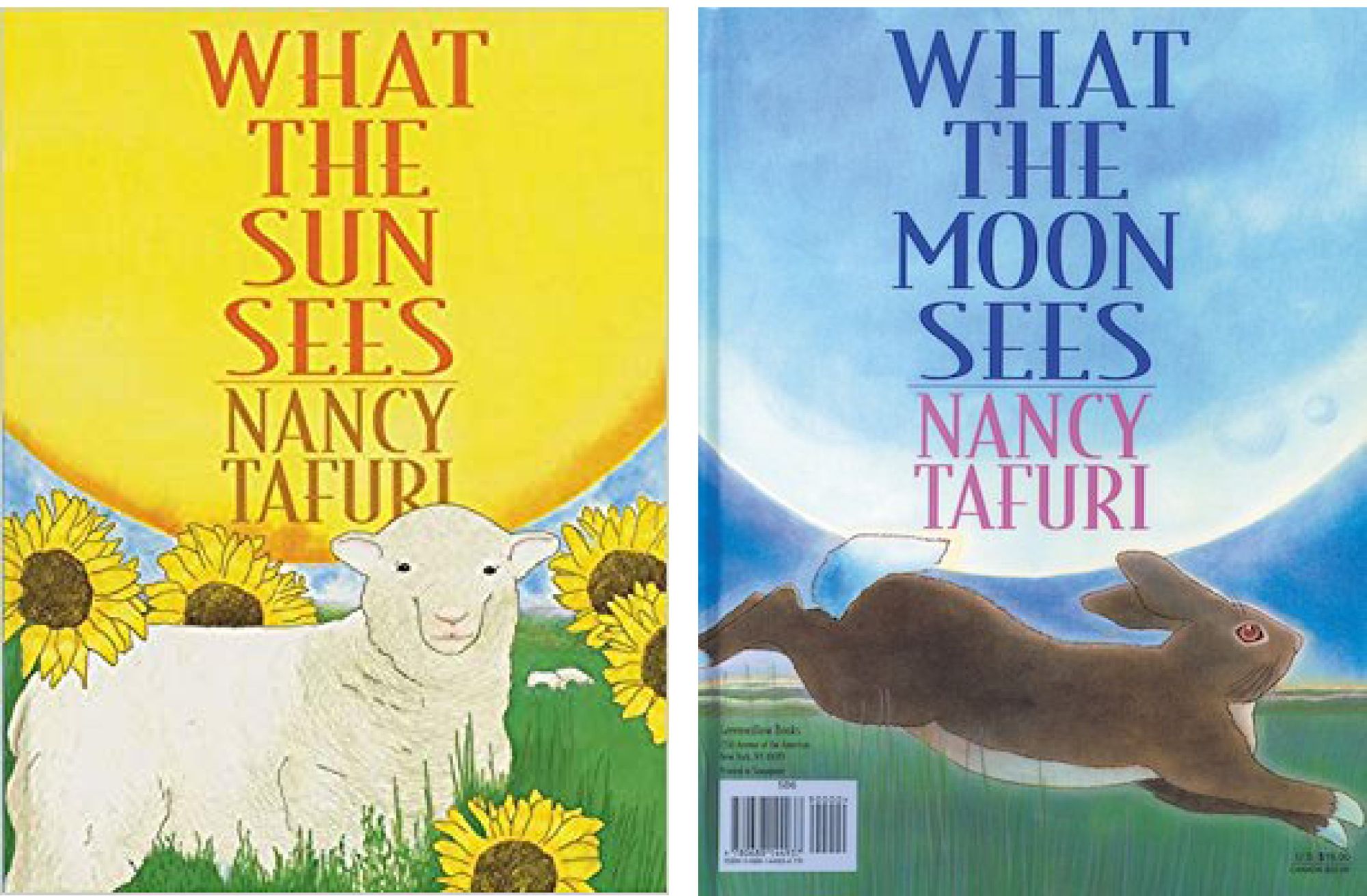 The cycle of day and night is on display in this exquisite two-sided book by famed illustrator Nancy Tafuri. Begin with What the Sun Sees and midway through the book the sun begins to set ("And the sun watches until the moon comes up."). A note instructs us "Now turn the book around," and, this time starting with the back cover, we read What the Moon Sees until we reach the twin ending.
You'll quickly realize that turning the book around and around mirrors the rising and setting of the sun and moon, providing a lovely tactile way to understand the motions of these bodies from our perspective. My son Luke loves to say, "It's daytime" and "It's nighttime" as we flip the book.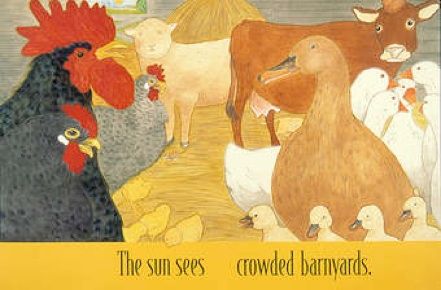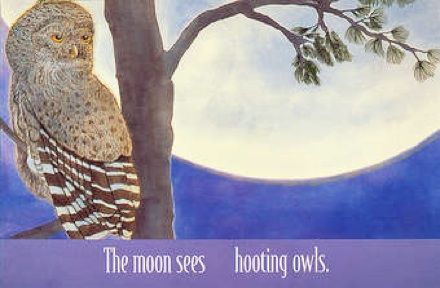 The type is very large and the sentences are quite simple, making this a wonderful book for print awareness or for a group read aloud. There is a beautiful symmetry to the book, too. The sun sees "blue skies," "sleeping owls," "crowded barnyards," "bustling streets," "noisy playgrounds," "rolling meadows," and "busy children." The moon sees "bright stars," "quiet barnyards," "hooting owls," "empty streets," "silent playgrounds," and "sleeping children."
What the Sun Sees, What the Moon Sees is a captivating, inventive book that briskly and easily communicates an important early science concept.
---
by James Dean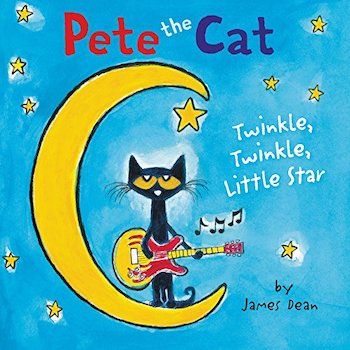 The singalong books in the Pete the Cat series don't offer up new twists. But that's precisely what I like about them. They are designed to introduce traditional children's songs, and learning these songs is foundational to being a part of our culture.
I'm a huge proponent of showing videos based on books to kids who struggle with attention during read alouds. If a child already enjoys watching a movie and then is presented with a companion book with the same images, words, and music, then that book has a much better shot at connecting with that child.
Twinkle Twinkle Little Star features the full lyrics of the song (you may not know the other verses). The illustrations show Pete coming home from school and going through his nighttime routine with his family, so it's a perfect bedtime book. Pete blasts off on a rocket ship as he drifts off to dreamland. An obvious choice for Pete the Cat lovers!
---
by Helen Nicoll and Jan Pieńkowski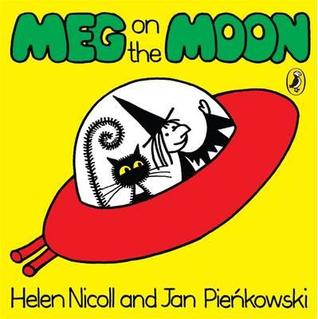 For the uninitiated, Meg and Mog is a series that was published in the 1970s. The books are about Meg (a witch), Mog (her cat), and their friend Owl. In Meg on the Moon, it's Mog's birthday and he wants to go to the moon. Meg whips up a spell and makes Mog a flying saucer while Owl starts the countdown.
On the moon, Meg and Mog discover weightlessness, see craters, meet astronauts, and visit a lunar module. In the end they return to Earth and have a birthday picnic with Owl. As with all Meg and Mog books, there is a silly veneer to the whole adventure.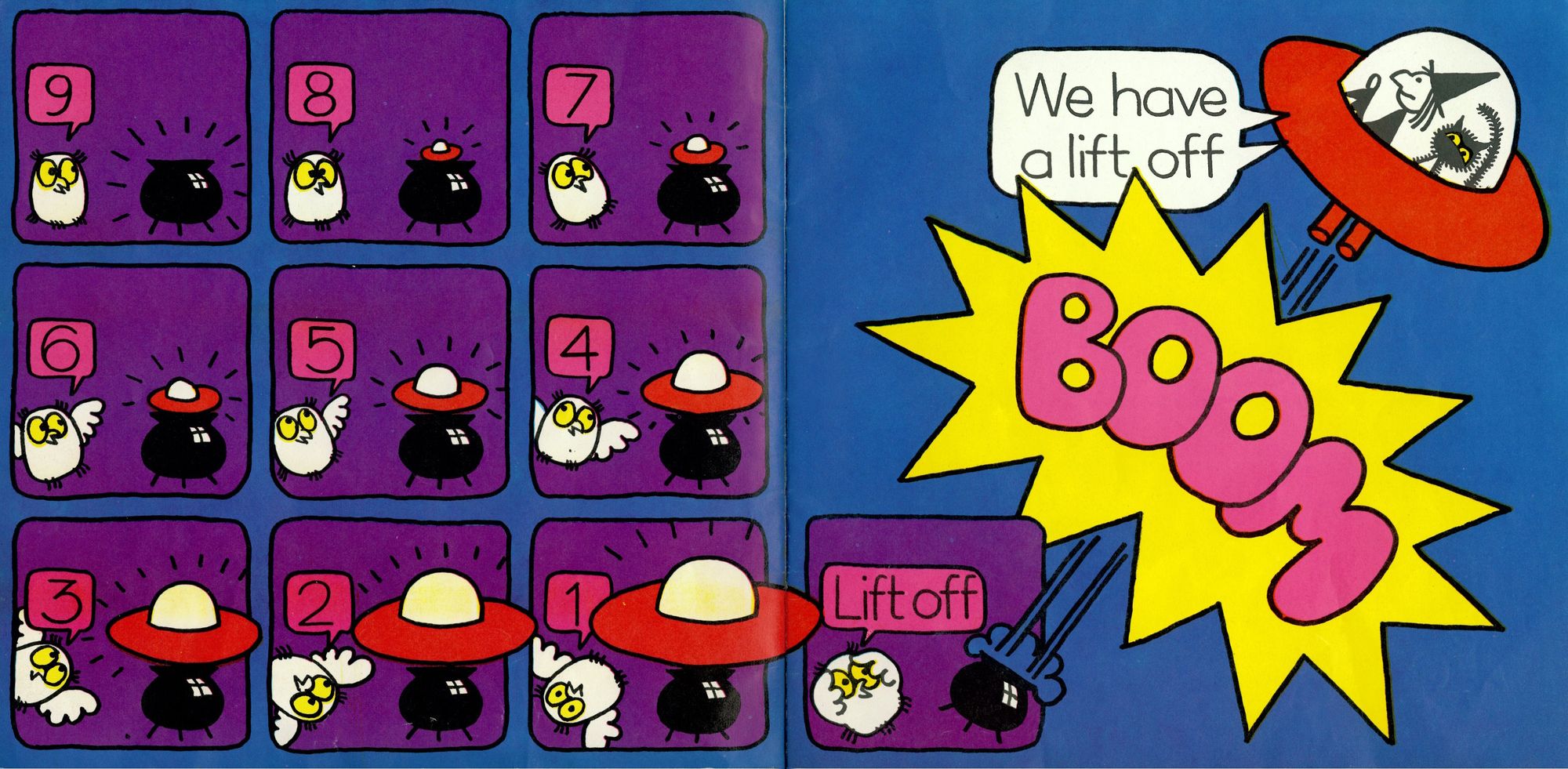 The books are a good size for little hands and feature very simple cartoon panels with solid, bright colors and lots of simple shapes drawn with thick black lines. There are a lot of sound effect words that are brought to life visually that, when expressively read as sound effects, create a multi-sensory experience.
Kids who can't tolerate bright, contrasting images will be put off (like my son Luke), while visually hyposensitive children will especially enjoy the pops of color.
---
by Sunny Scribens, David Sim (Illustrator); sung by Mark Collins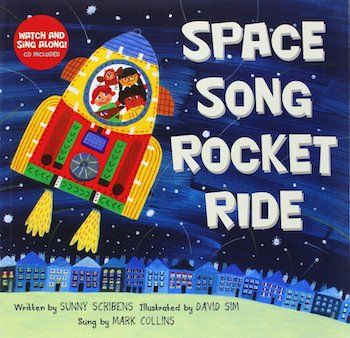 Books that you can sing along to are often the best choices for autistic kids. Singing and listening to music creates a multisensory experience that can help kids access a book and attend to it longer.  Space Song Rocket Ride is one of Barefoot Books' many excellent singalong books for which the publisher has created a high-quality animated companion. (But on that sensory note, some of the illustrations may be too busy for sensory defensive kids.)
Space Song Rocket Ride is an adaptation of the traditional children's song "The Green Grass Grows All Around." Instead of building in a mostly outward direction from a hole in the ground, this version builds in a mostly inward direction from the Milky Way towards us ("Where the bright stars shine all around, all around...").
Our guide on this journey is a rocket ship with a group of visually diverse children peeking out through a circular window. Along the way, readers may begin to pick up some basic astronomical facts, including the layout of our solar system, that the moon's orbit creates tides, and that the planets in our solar system orbit around the sun.
---
by Kevin Henkes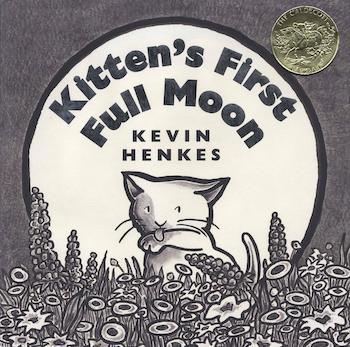 A sweet little kitten has never seen a full moon before, and she mistakes it for a bowl of milk. She tries to lick it—but eats a bug. She jumps to catch it—but falls down the stairs. She walks and walks, but never gets any closer. In the end, she returns home wet, tired, and defeated, and her person has left a big bowl of milk for her on the patio.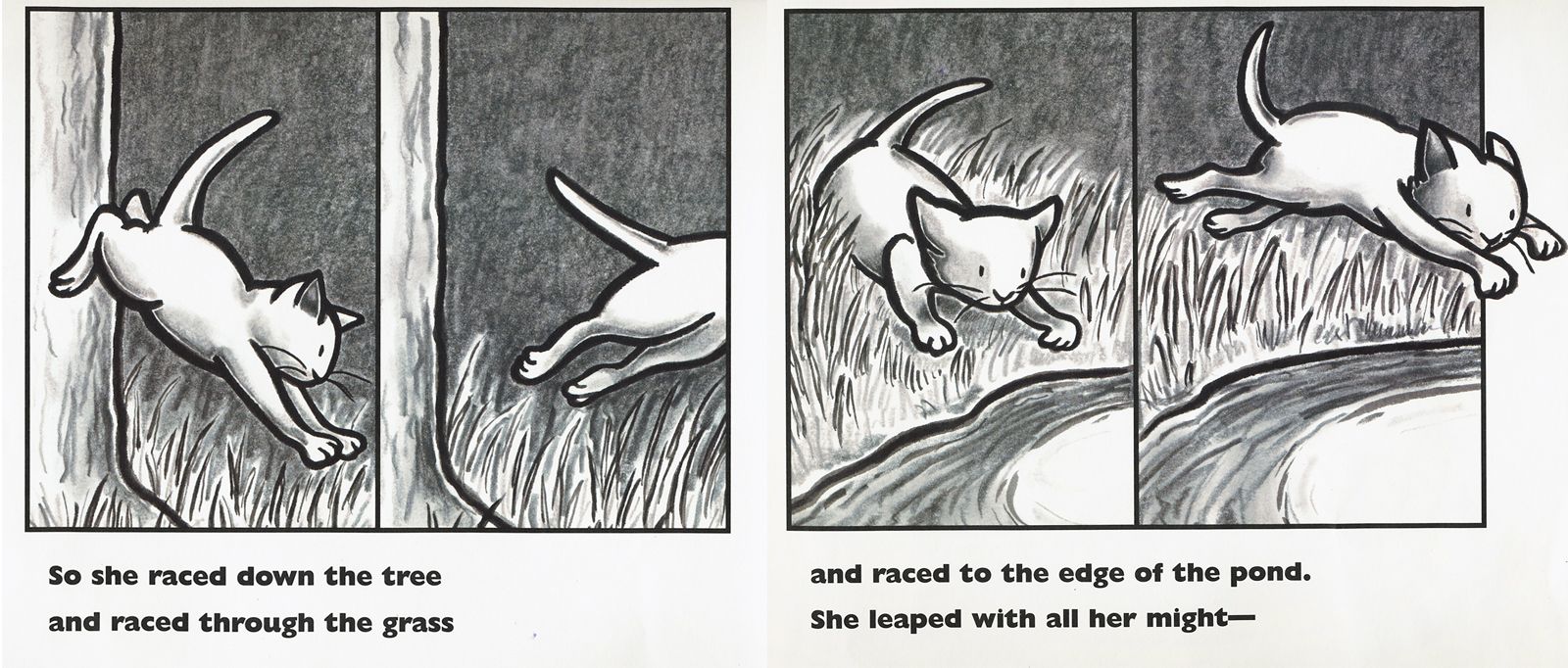 Books about a character who doesn't know what the reader does are great for practicing perspective-taking (aka Theory of Mind). My kids found the the kitten's attempts to get the "bowl of milk" hilarious—physical comedy is usually a winner with them. I gave my son Luke some model language so he could interact with the book verbally: "Kitten! That's not milk. That's the moon!" The repetition of "Poor kitten" within the text also gave us something familiar to land on with each scene.
It's easy to see why this book won the Caldecott. It's visually so vivid that the words are practically unnecessary. A nice addition to any picture book collection.
---
by Nancy Coffelt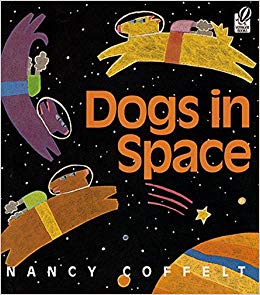 In Dogs in Space, neon-colored, pastel-drawn dogs wear cartoonish space suits and glide through our planetary system against a spare and starry black background, trying out different planets as hangouts.
Dogs in space like space because "there are no cats in space" and "there are no fleas in space." Ultimately, though, they realize there are no warm laps or dog bones to be had, and they journey home to Earth.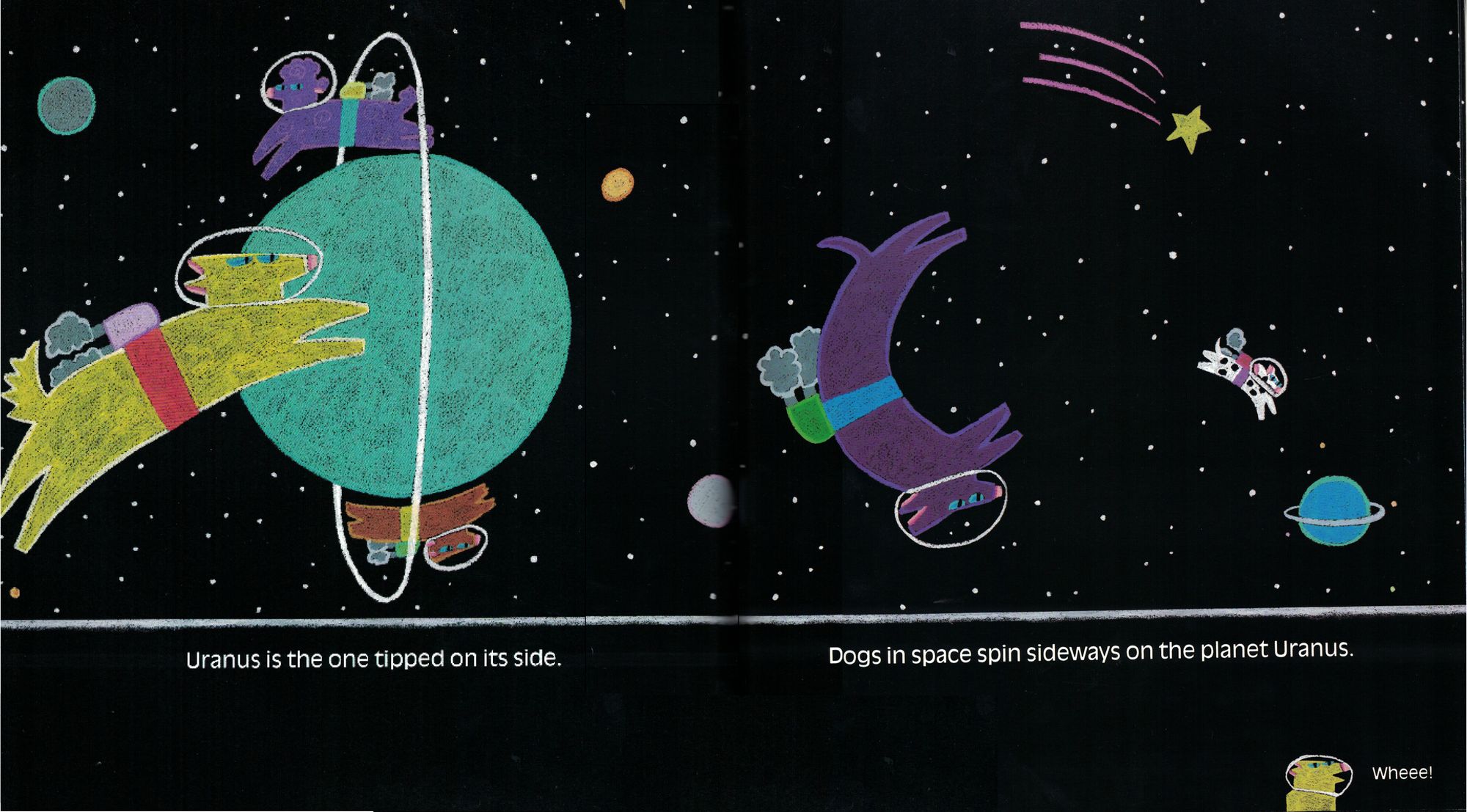 The dogs visit the planets in order from the Sun, starting with Mercury. A fact about each planet is communicated in a silly way the dogs experience their visit (i.e."The Sun is so strong that dogs in space need sunglasses."). Because this book was published in the 90s, Pluto is included.
Dogs in Space is sadly out of print and my library didn't have it in their collection, but I was able to easily find an inexpensive used copy online.
---
by James Carter, Mar Hernández (Illustrator)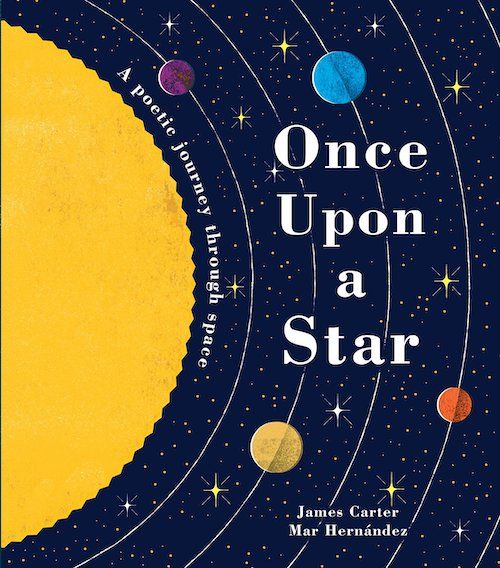 "We're from that star / that seems so far. / We're made of stardust, / yes, we are. / So, what are you? / YOU'RE A STAR!"
I am so thrilled that this beautiful book exists! A year ago, I went looking for books that explained the Big Bang and the origins of life in a way that my kids could understand, but found nothing that would work. I wanted something science-based to pose and begin to answer the Big Questions. And now here it is!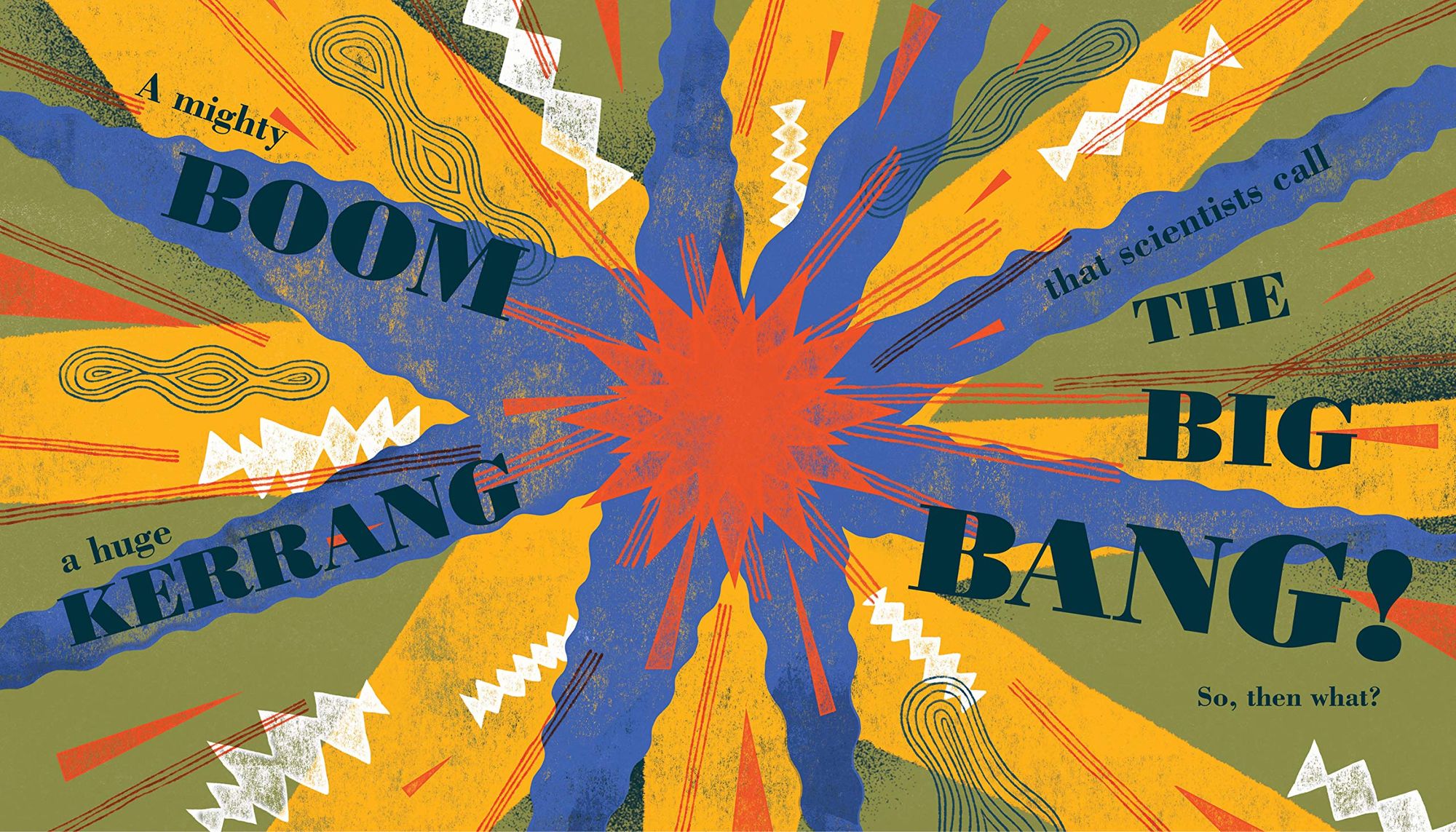 The illustrations are simply gorgeous. It's plenty colorful, but the palette is restrained to mostly darker hues that are easy to look at. Bold shapes and defined silhouettes provide access for kids who need more visual structure. The typography is bold, sharp and uses size to communicate the pacing and energy of the text. The poetry's form provides a foundation for a child to navigate these big ideas. Not a book my son Luke can follow yet, but his twin Harry is fascinated by it.
---
by Oliver Jeffers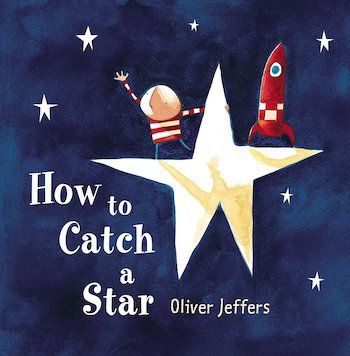 In How to Catch A Star, a boy who loves stars wants to catch one. He waits all day until the sun goes down on the beach and the stars come out. Then, he tries jumping as high as he can, climbing a tree, using a lasso, building a rocket, and asking a seagull for help—but nothing works. Finally, a starfish washes up on the sand and the boy achieves his dream.
The gentle pacing of this book, color shifting from day to night, and dreamy illustrative style, make this a lovely bedtime story. The text is spare and Jeffers' art enchants. I appreciate that such an abstract idea can be realized in such a structured way. The boy's goal is immediately clear. And the many failed attempts at catching the star provide a repetitive middle that my kids follow well.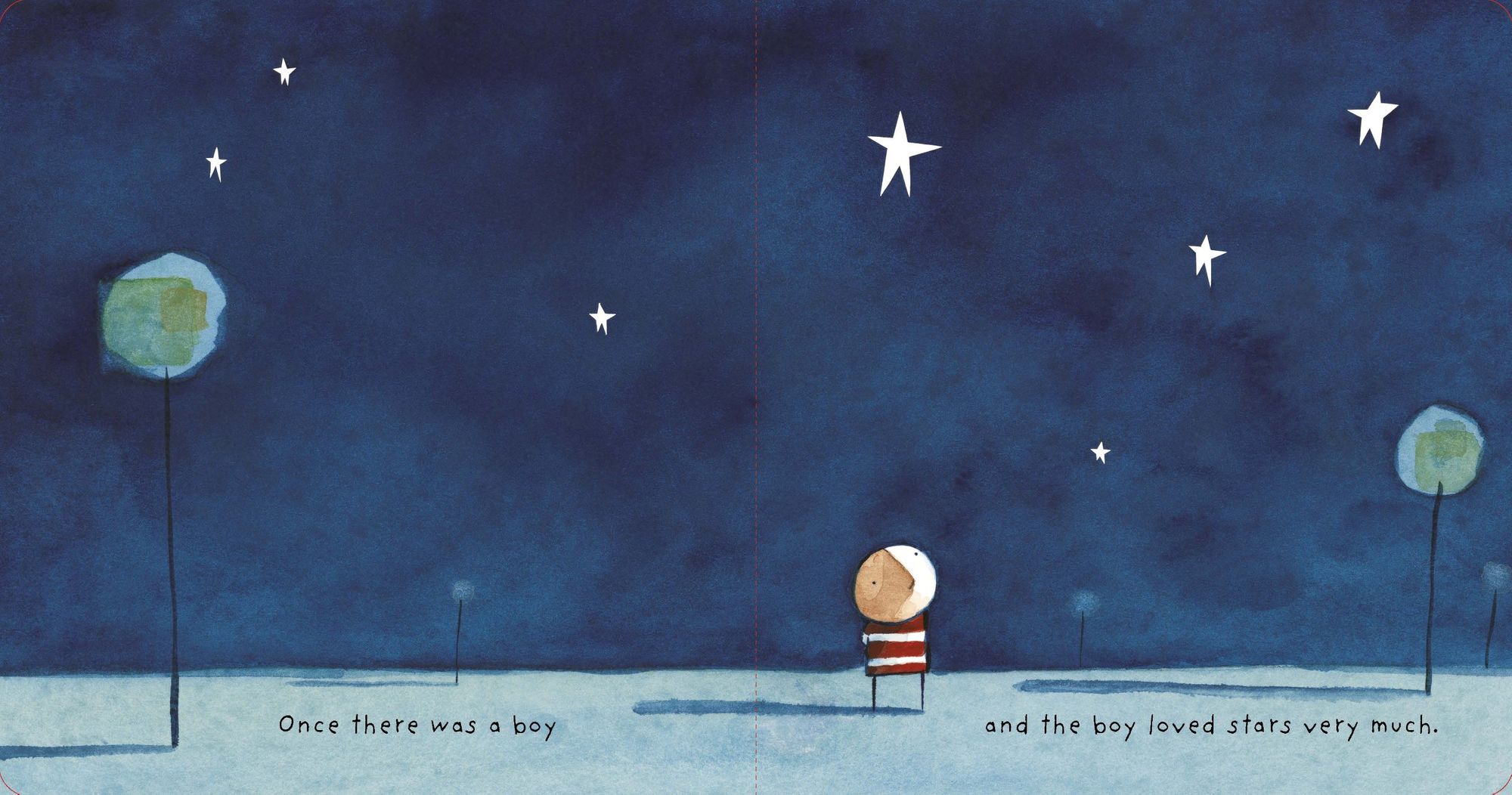 This is a wonderful take on the theme of not giving up on your dreams. I had to explain to my son Harry that the star in the end was a starfish, not a real star, but once I did he was able to share in the sweetness of this story.
---
by Jon Agee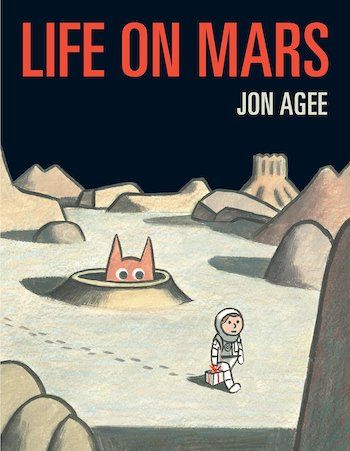 A boy astronaut arrives on Mars in search of life. He wanders the planet, dejected at finding nothing, unaware that a huge, orange Martian creature is following him curiously. Adorably, he has brought chocolate a box of cupcakes as a gift for any life he might find. He loses the box briefly and finds it again. It is revealed in the end that the giant creature ate them, much to the boy's surprise.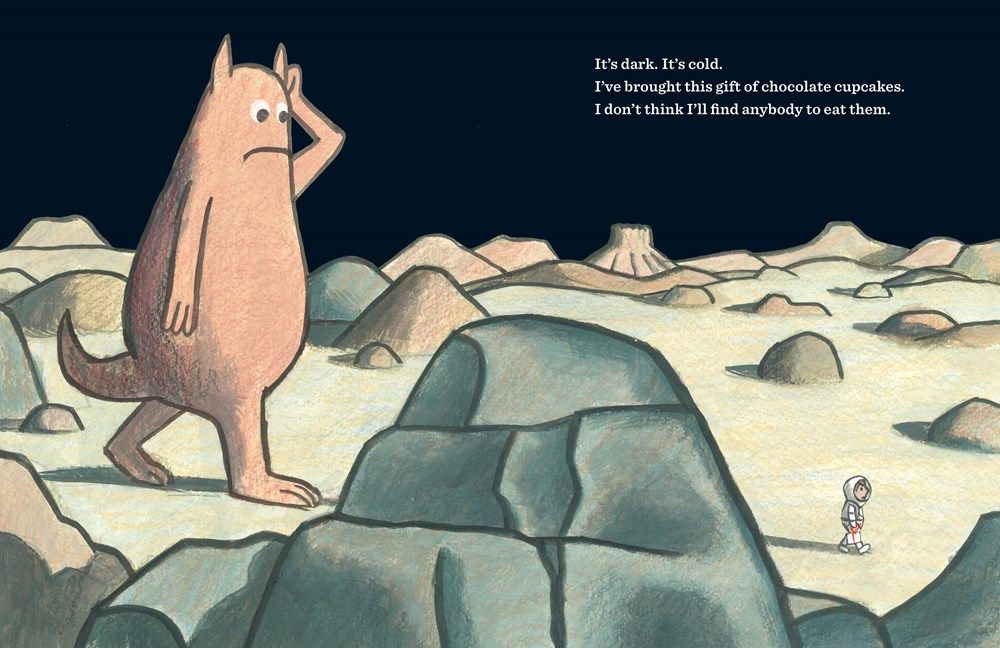 For those who are familiar with the classic "Sally-Anne Test," which tests the Theory of Mind skill of attributing false beliefs to others, the plot point about the chocolate cupcakes is remarkably on the nose. Autistic people often have a great deal of trouble with understanding the false beliefs of others, so lingering on why the boy is surprised to find the box empty is a great opportunity to practice that skill.
The art is lovely and simple–black skies frame a beige and grey-shaded planet surface, sculpted with thick brown lines. Funny and well-executed. A gem.
---
by Petr Horáček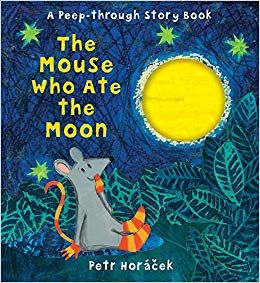 Little Mouse wants a piece of the moon. In the morning, she mistakes a crescent-shaped banana for a piece of the moon. She eats half of it, but is soon remorseful about what she thinks she's done. Dragging the limp banana peel around she talks to other forest creatures who do their best to assure her that you can't eat the moon, and in the end the moon shines in the sky and she is relieved of her fear.
As Little Mouse makes her way through the forest, peek-a-boo pages let you see which animal is coming up next.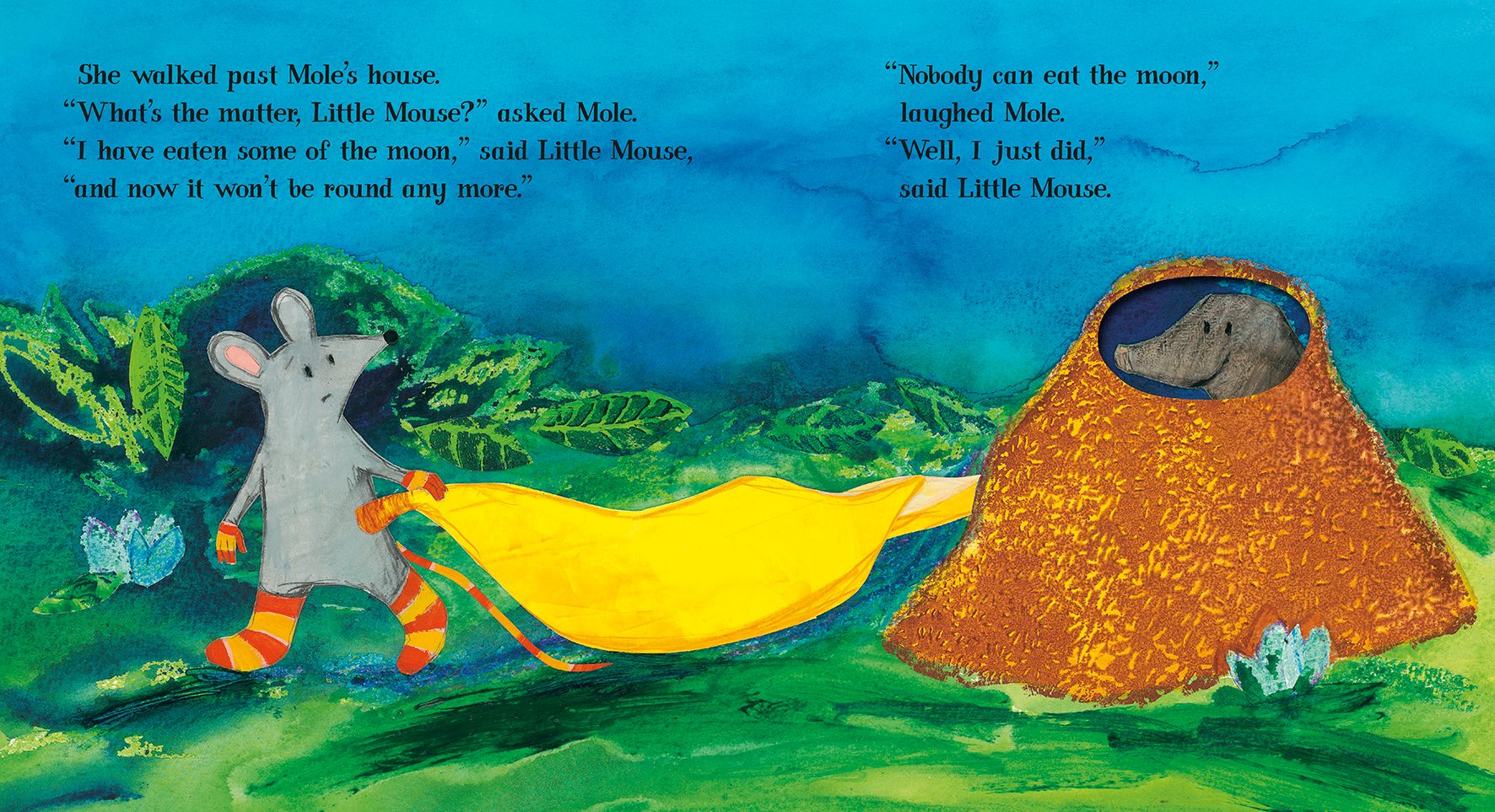 Both the cut outs and the mixed media art add texture and interest. The font, however, is a terrible choice for young eyes—a very ornamental serif.
---
by Eric Carle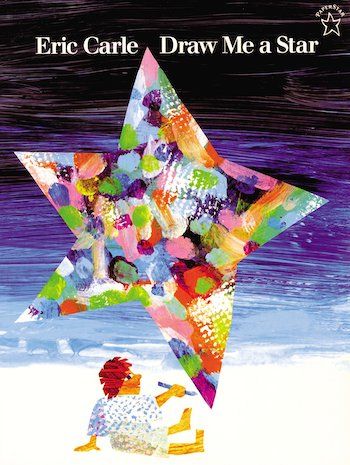 Draw Me a Star always ends up on banned books lists because it has a picture of a (*pearl-clutch*) naked man and woman. But, the book also has religious overtones, so the liberal folks who love banned books aren't as interested in promoting it. The (*pearl-clutch*) naked man and woman are almost certainly Adam and Eve, and the command to the artist to draw a star, which opens the book, comes from an unseen narrator. Once the star is drawn, that narrator declares, "It was a good star." Hello, Genesis.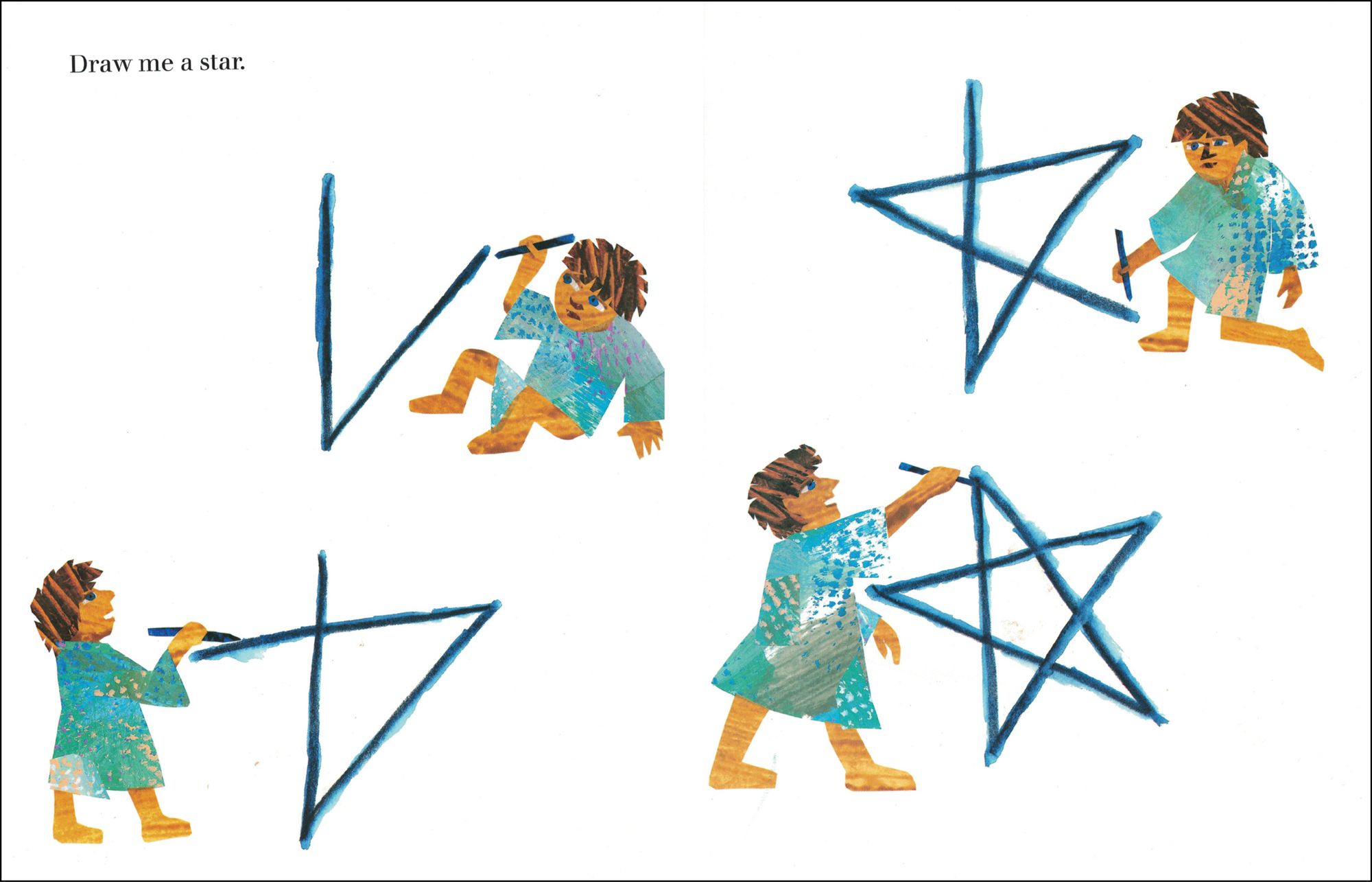 My favorite thing about this book is that it begins with the artist drawing a star, and ends with him drawing a star. All the steps are shown discretely, and the eight-pointed star at the end has an accompanying poem that breaks the task into beats ("1. Down, / 2. over, / 3. left, / 4. and right, / 5. draw / 6. a star / 7. oh so / 8. bright."). Learning to draw a star is a useful skill, and this is the perfect book to help foster an interest in mastering it.
Papa, Please Get the Moon for Me is perhaps the more obvious Eric Carle pick for this list, and it's a nicely done book about moon phases with lots of interesting fold-out pages and a sweet father-daughter story. I also recommend it.
---
by Scholastic Inc.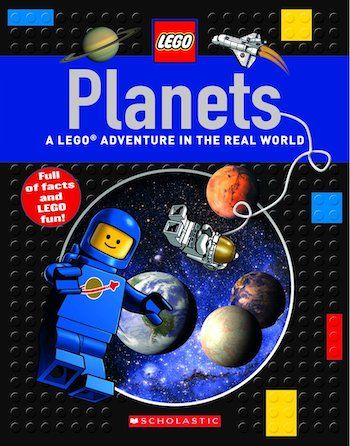 My sons both love LEGOs. They weren't DUPLO lovers, but as soon as they discovered LEGO Junior kits, LEGO videos, and the LEGO movies, they were all in. Now, LEGO early readers are favorite solo reads. Harry picked out Planets: A LEGO Adventure in the Real World in the gift shop at the Smithsonian Air & Space Museum and barely let go of it for days. It does an amazing job of combining these favorite building toys with real-world photography, lots of facts about planets, and LEGO building ideas.
Harry is a reader, so he is able to manage most of the text on his own, but wouldn't normally try to read a book that is this text-heavy. It's clear that the LEGO art makes all the difference. He's super motivated by it.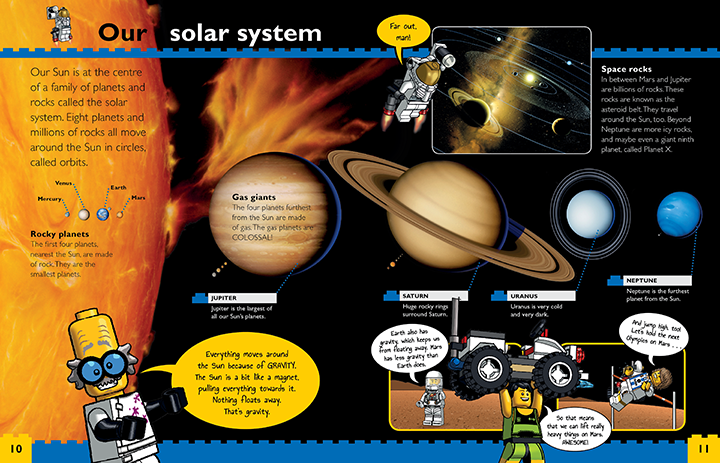 These LEGO early readers don't make for good read-alouds, but I love having a pile of them around to encourage solo reading and it's easy to tuck one into my purse for a waiting room emergency. My son Luke enjoys looking at the pictures of LEGO mini-figures.
---
By Katie Daynes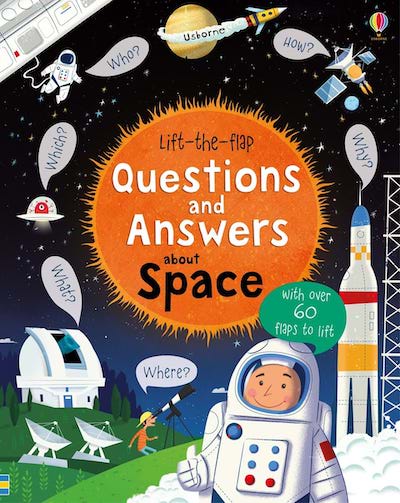 It took me awhile to warm up to lift-the-flap books by Usborne. Kids with fine motor delays have a really hard time with all the little flaps—and frustration with reading is not the goal.
But now that my kids are a little older (and have had years of occupational therapy), they can manage the flaps. Plus, the Usborne books are particularly well-designed; the flaps are sturdy and the pages are thick. My son Luke loves this whole series, particularly the pages with vehicles and machines.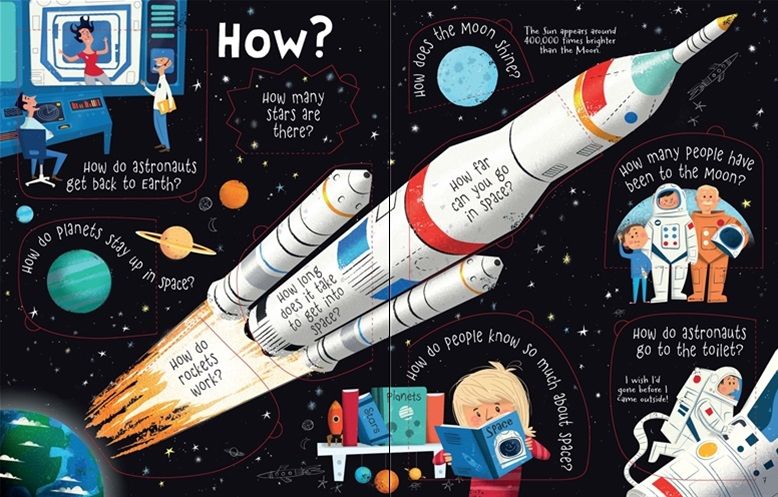 I appreciate that the book is structured around a different question form (i.e. "Why?", "Where?", etc.) for each spread. This is great practice for distinguishing between these questions and how they are answered.
---
by Gerald McDermott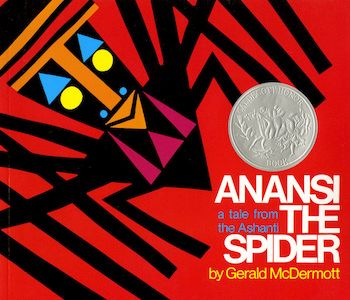 Anansi is an important character in West African and Caribbean folklore, originating from the Akan people of what is now called Ghana (or so my Googling informs me). In Gerald McDermott's Caldecott medal-winning adaptation of one of the Anansi stories, we learn about how the moon came to be in the sky.
The trickster Anansi must be rescued by his six clever sons when he is swallowed by a fish. The six sons all have names that describe their special talent (See Trouble, Road Builder, River Drinker, Game Skinner, Stone Thrower, and Cushion). Working together, they are able to rescue their father. When Anansi cannot decide which son should be honored above the rest with a globe of light, he decides to put it in the sky for all—and thus we have our moon.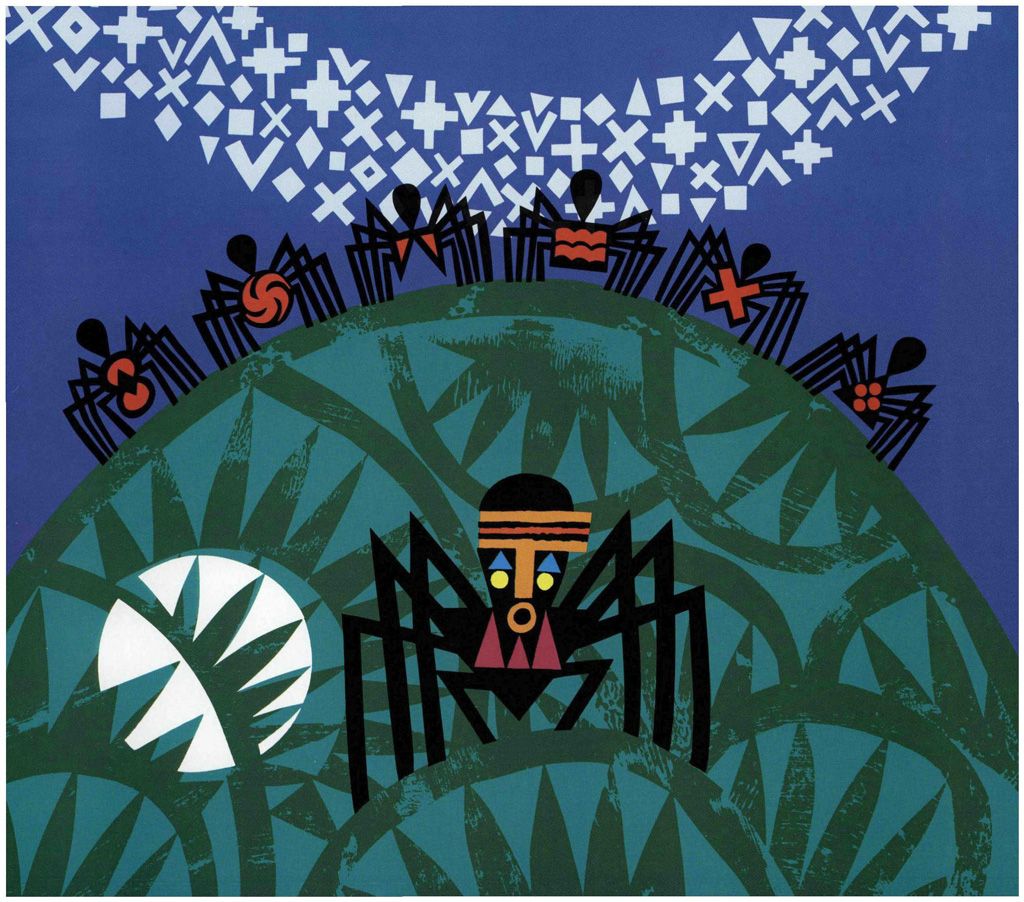 This is by no means an easy read, but the repeating structure is a wonderful scaffold for children who are ready for slightly more complicated texts. The illustrations, which combine bright shapes and West African imagery, are captivating, but require a child who isn't sensitive visually—the pages with solid red backgrounds are particularly difficult to look at.
I love how McDermott decided to mark each of the spider sons with their own symbol. It tracks through the book perfectly, and my son Harry, who adores this book, enjoys scanning and locating all the brothers, having memorized their names and which symbols correspond to which spider.
by Melanie Mitchell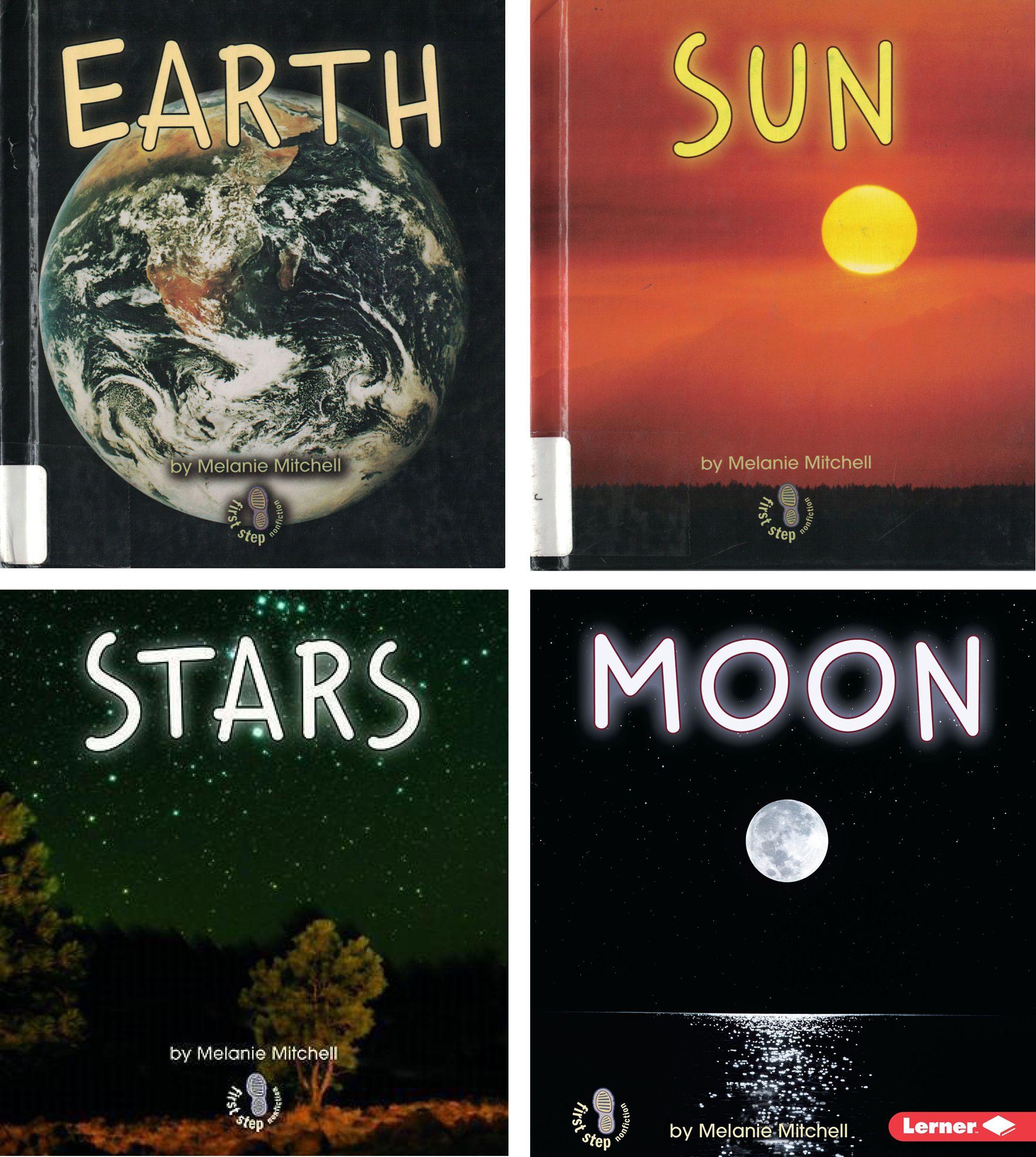 The non-fiction books about introductory space topics on the market today generally skew towards children in upper elementary school. There is very little available for kids who require something more basic.
Earth, Stars, Moon, and Sun are an exception. These are lovely little non-fiction books for emerging readers or just for kids who want to learn facts in a read-aloud and look at thoughtfully chosen photos of space-related things.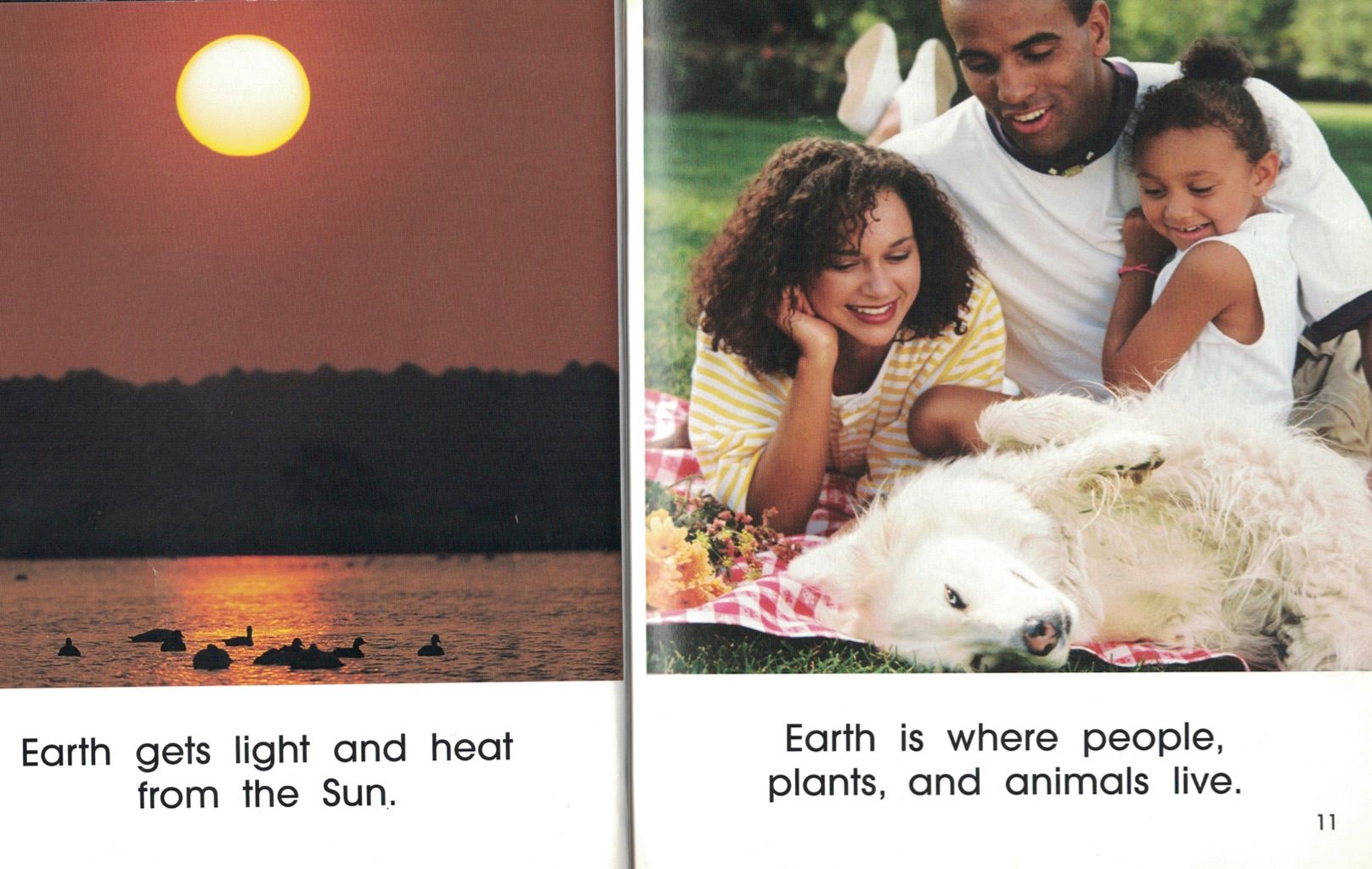 The text is very simple and introduces science concepts nicely. Bolded words are explained in a glossary in the back of each book, which includes pictures in its very simple definitions. Harry had a wonderful time identifying when a word was "bold" and then going to the back for more information. There is also a basic index in each book. The glossary and index are both ideal for introducing kids to these common tools in non-fiction books.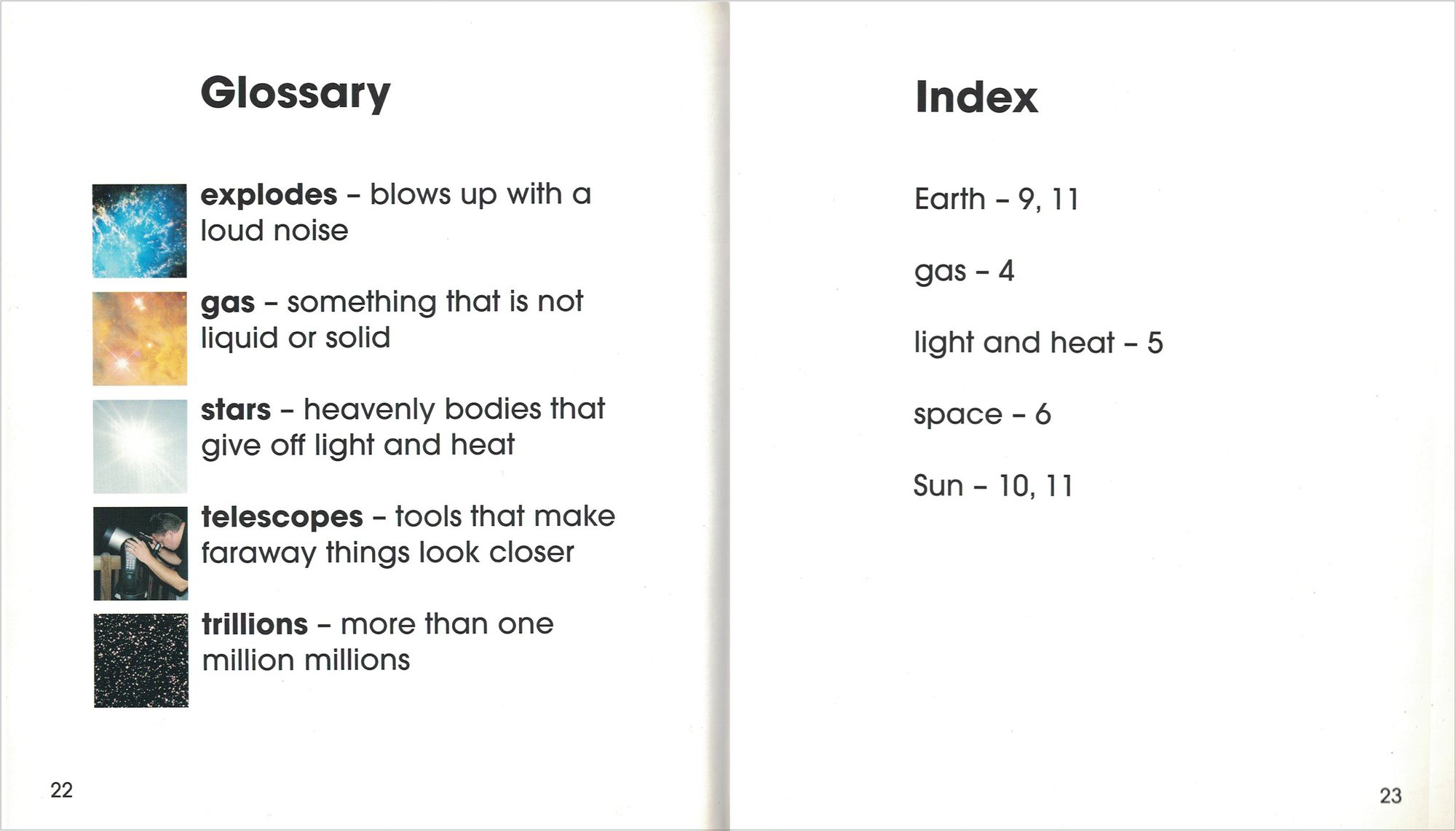 These four particular titles were available at my local library, but are out-of-print. I noticed that the Lerner website is launching a (somewhat expensive) new line of e-books in their First Step Nonfiction books in what they are calling their Early Bird Astronomy series. I prefer physical books for my children, but I may check these out soon.