There are so many reasons for parents to read fairy tales and fables to young children! But as as a parent of autistic twins, my biggest motivator is cultural literacy.
Cultural literacy is just like regular literacy. There are ABCs to learn; an invisible curriculum of idioms and expressions, signs and symbols, jokes, referenced past events, movies and songs, and of course stories that people in a shared culture are expected to know. Most children grow this internal database with ease, absorbing the language-based richness around them.
Fairy tales and fables come up all the time without most of us realizing it. My seven-year-old son, Harry, is bright and verbal, but, like many autistic people, he has trouble with figurative language, allusions, metaphors, and idioms. Here are three examples that recently stumped him:
"Follow the breadcrumbs" - Common idiom that directs someone to think about the clues laid out by someone deliberately to find something or figure something out. [Hansel and Gretel]
A Fairy Godmother - Someone who acts as a mentor or substitute parent by coming to the rescue in a moment of need. [Cinderella]
Magic Beans - A metaphor for trading something of value for something (that at least appears) valueless. [Jack and the Beanstalk]
Because we have read many versions of  Hansel and Gretel, Cinderella, and Jack and the Beanstalk, Harry had all the tools he needed to understand my explanations for what these mean. Next time they come up, he will be better equipped to understand what is meant.
Start with a "Reference Story"
But where to begin? It's my belief that starting with the "traditional" (Western, non-"twisted") version of the story is the best approach. This can feel wrong because these versions can be less empowering (particularly for women), may not be the "original" versions of the tale (oh, Western bias), and may have questionable morals and values.
But our children may need much more practice with what I am calling "reference stories" in order to understand how they are evolving. When we begin by introducing adaptations that satisfy our values (or virtue-signaling impulses...) we aren't giving our kids the full, messy, complex picture. And we are denying them access to a shared foundation of common knowledge with their neurotypical peers.
But as soon as your child knows the reference story, you should try to read less "standard" adaptations. Flexibility and evolution of narrative is central to folklore. This is part of cultural literacy, too.
In Part 1 of this series, I'm recommending books (and ways to generalize the stories using toys, games, apps, and movies) for three important stories: Little Red Riding Hood, The Three Little Pigs, and The Three Billy Goats Gruff. There are a few recommended reference stories in each list.
---
Little Red Riding Hood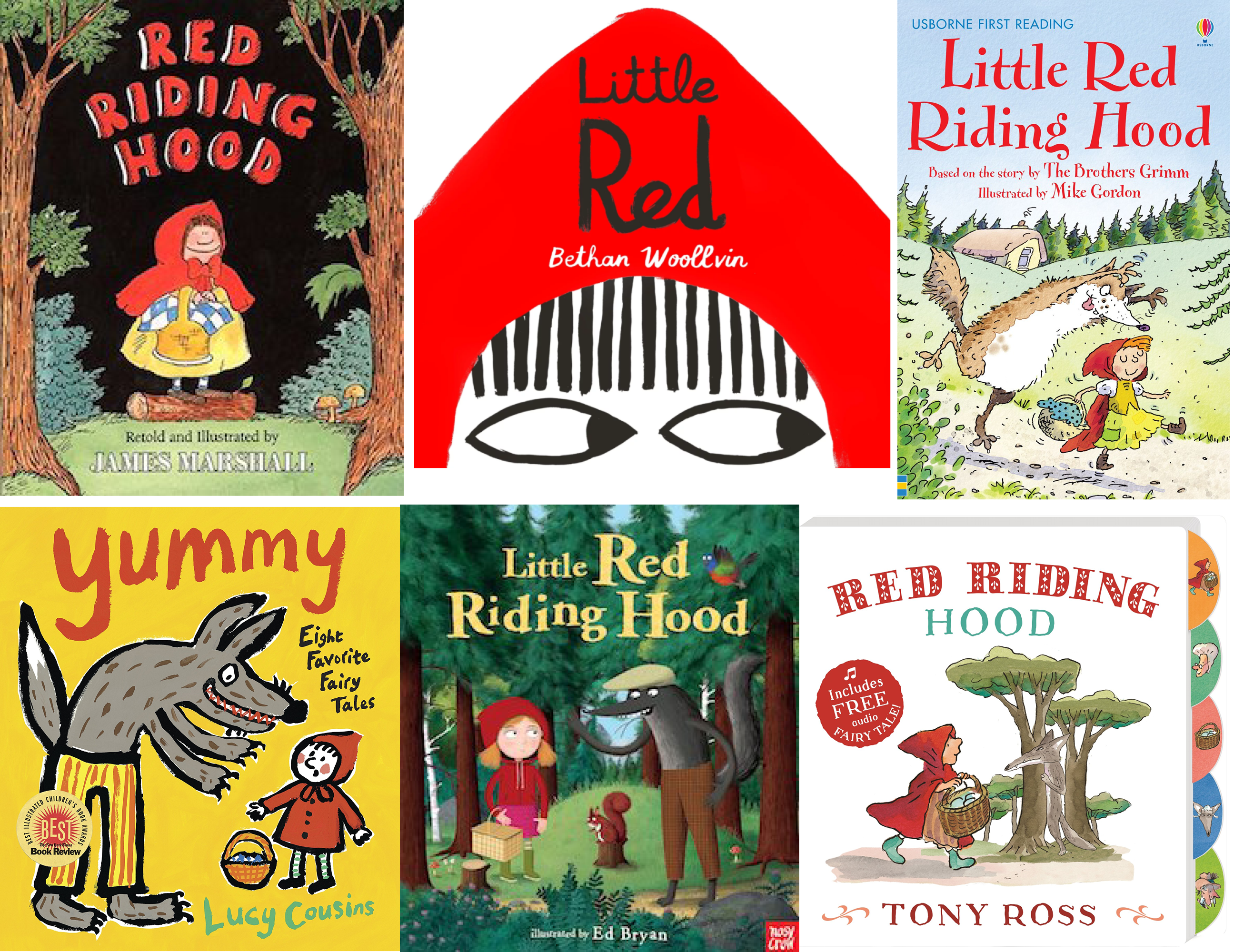 Tony Ross' Red Riding Hood (Andersen Press, 2017; board book, $9.99) is a perfect starting place. Sturdy, with friendly illustrated tabs, it provides an abbreviated version of the tale that includes all the major plot points, character archetypes, and important lines ("Grandma, what big teeth you have!"). A QR code on the back cover links to a very British reading of the story with friendly chimes signaling when to turn the page—a nice multi-sensory feature.
Fans of Maisy will enjoy the familiar artistic style of Lucy Cousins' fabulous collection of fairy tales, Yummy: Eight Favorite Fairy Tales (Candlewick Press, 2009; hardcover, $19.99), including Little Red Riding Hood. Cousins favors bright colors against solid backgrounds, thick black line art, and no unnecessary detail—perfect for kids who have trouble with visual scanning (although some visually hypersensitive kids find bright yellows and reds too harsh). CW: Yummy pulls no punches and the Red Riding Hood tale includes an illustration of the wolf's head being cut off with an axe. CHOP!
In Ed Bryan's crisply illustrated Little Red Riding Hood (Nosy Crow, 2015; hardcover, $15.99), Red Riding Hood defeats the wolf and no one is swallowed. Each picture book in the Nosy Crow fairy tale series is produced alongside a high-quality companion app that allows children to immerse themselves in the narrative through engaging game play. The Little Red Riding Hood app is worth every penny. My son Luke (who is far more interested in his iPad than in attending to books) fell in love with the game when he was 5. It was that familiarity with the art, storyline, and characterization that lead to the book becoming something he actually requested at bedtime! I strongly believe in using screen time as a gateway drug to reading, and this isn't the first time I've recommended Nosy Crow fairy tale books.
All of Bethan Woollvin's fairy tale books are winners and usually provide a slight plot update to allow for the child characters to solve their own problems. In Little Red (Peachtree Publishers, 2015; hardcover, $16.95), Little Red realizes that the wolf has swallowed her grandmother before entering the cottage. We see her holding an axe, and then in the final spread she is wearing a wolfskin coat instead of her red hood. Woollvin's books are among the best for kids with visual sensitivities; they remind me of bold, old-fashioned woodblock prints. An easy, white background dominates against a very limited color palette of solid uses of black, white, grey, and red.
Next up, and designed for children who are beginning to read on their own, Usborne's Little Red Riding Hood, retells the classic story with few words and clear illustrations in a small, hardback format that little hands can easily hold. My son Harry loves the red ribbon marker for saving his place. It's not easy to find a new copy of this book, but it's commonly available as a used book or as part of a larger Usborne reader set.
A final spot on this list goes to James Marshall's Red Riding Hood (Picture Puffins, 1993; paperback, $7.99). This is a hugely popular, contemporary update that children's librarians always stock and teachers seem to have as a go-to. The art may be too busy for some kids, and it's way too wordy for those with attention issues, but children are likely to encounter it in schools and libraries. I wouldn't start with it, but it's a worthwhile addition later on.
Beyond the books

There are tons of multi-sensory ways to generalize a child's knowledge of this tale. I've already mentioned the "Little Red Riding Hood" app by Nosy Crow. My kids also adore the 1930s classic Walt Disney Silly Symphony cartoon, "The Big Bad Wolf." Toy company Melissa and Doug sells a fun four-puppet set perfect for pretend play. And finally, for those ready for more advanced puzzle games, my son Harry loves playing "Little Red Riding Hood Deluxe" by Smart Games. Setting up each challenge begins with copying a pattern from a booklet using the moveable pieces on the board.
---
The Three Billy Goats Gruff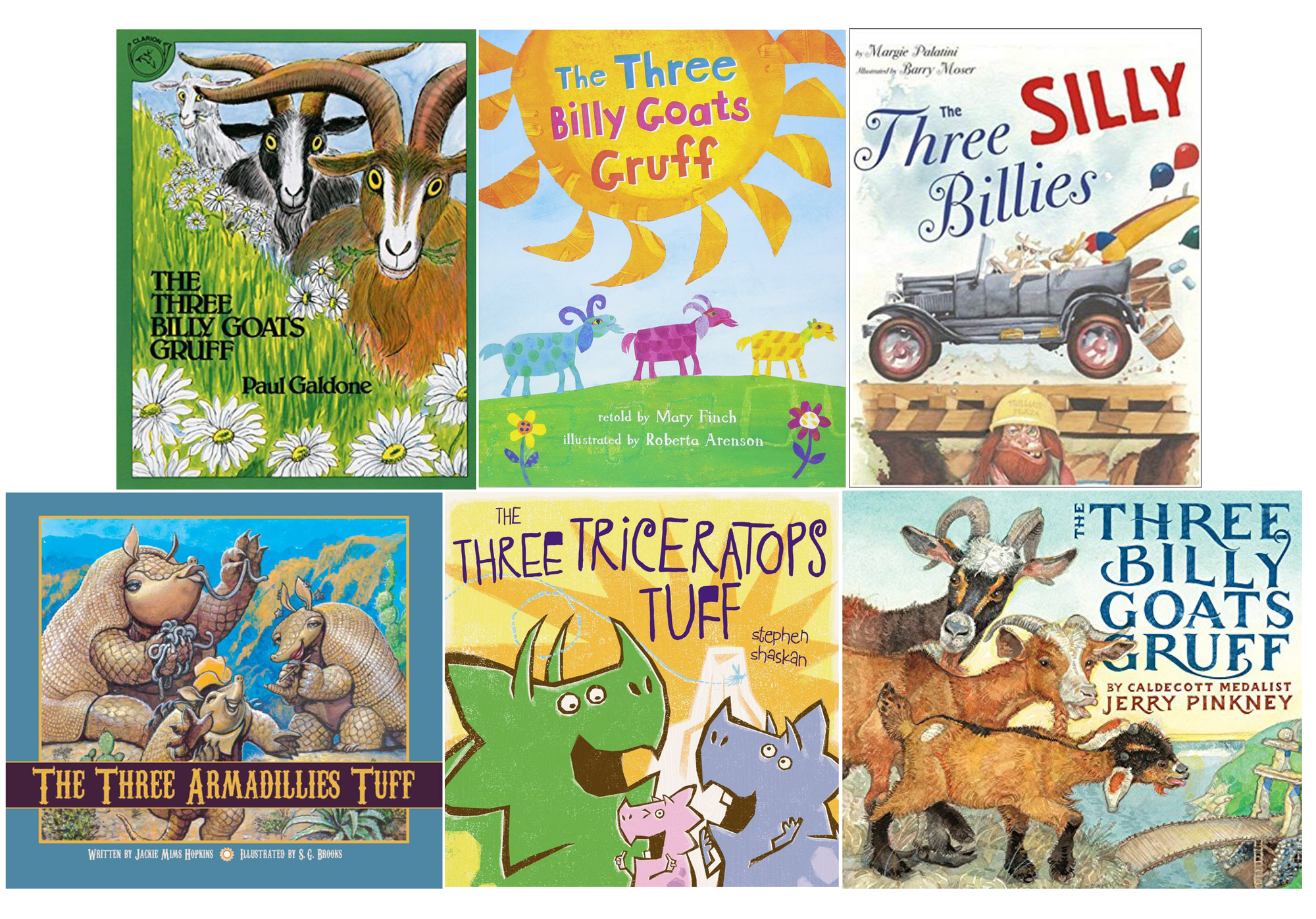 Dozens of illustrated fables by Paul Galdone and Jerry Pinkney are part of my fondest memories of a 198os childhood. Galdone's The Three Billy Goats Gruff (HMH Books for Young Readers, 1981; paperback, $7.99) was first published in 1981 and my mom definitely read it to me. Pinkney's The Three Billy Goats Gruff (Little, Brown Books for Young Readers, 2017; hardcover, $18.99) came out just a few years ago. Both are lovely, but some kids will prefer Galdone's less visually busy art. He uses thicker lines for important elements (like the three goats), which is easier for children with scanning difficulties. Both are sure to be hits with kids who enjoy lush detail.
The art in Mary Finch and Roberta Arenson's The Three Billy Goats Gruff (Barefoot Books, 2018; paperback, $8.99) is, in contrast, more cartoon-like and that simplicity is generally better for kids with greater attention issues. Arenson uses cut collages in a mix of solid colors and simple patterns. Finch's poetic writing adds special flourishes, like this chorus she wrote for the troll that begs to be sung:
I'm a troll, from a deep dark hole,
My belly's getting thinner,
I need to eat—and goat's a treat—
So I'll have you for my dinner.
There are many close adaptations of the Three Billy Goats Gruff that change the setting and characters. The Three Triceratops Tuff by Stephen Shaskan (Beach Lane Books, 2013; hardcover, $16.99) takes a prehistoric angle, with the goats as triceratopses and the troll as a T-Rex. Margie Palatini's The Three Silly Billies (Simon & Schuster Books for Young Readers, 2009; hardcover, $19.99) is a fairy tale mash-up, in which road-tripping goats (Bill Bob, Billy Bo, and Just Plain Billy) must pool their spare change with none other than the Three Bears, Little Red Riding Hood, and Jack to pay a bridge toll troll.
But my son Harry's favorite of these sorts of adaptations is definitely The Three Armadillies Tuff by Jackie Mims Hopkins and S.G. Brooks (Peachtree Publishing Company, 2011; paperback, $6.95). In it, three armadillo sisters (Lilly, Jilly, and Dilly) have to cross a highway to get to the dance hall, and decide to go through a drain pipe that runs underneath the busy road. There, they encounter a coyote who wants to make Armadilly Chili and dreams of an armadillo-skinned handbag with matching boots. While my southwestern accents need... some work, there is no doubt that this was written to showcase the beautiful tones and playful twang of the region. It's a ton of fun to read!
Beyond the Books

My kids like this really cute, amateur claymation short produced by Texas teens in 2007. (It might even inspire your kids to try to make their own goats, troll, and bridge out of clay?) We are also fans of these classic e-book apps by StoryToys Entertainment, including Billy Goats Gruff. For some fun sensory play for a kid who likes light and shadow, make (or buy) shadow puppets! Just darken the bedroom, and grab a flashlight. Finally, raid your toy chest for a bridge, some goats, and whatever will pass muster as a troll and enjoy some dramatic play. Go scripting, go!
---
The Three Little Pigs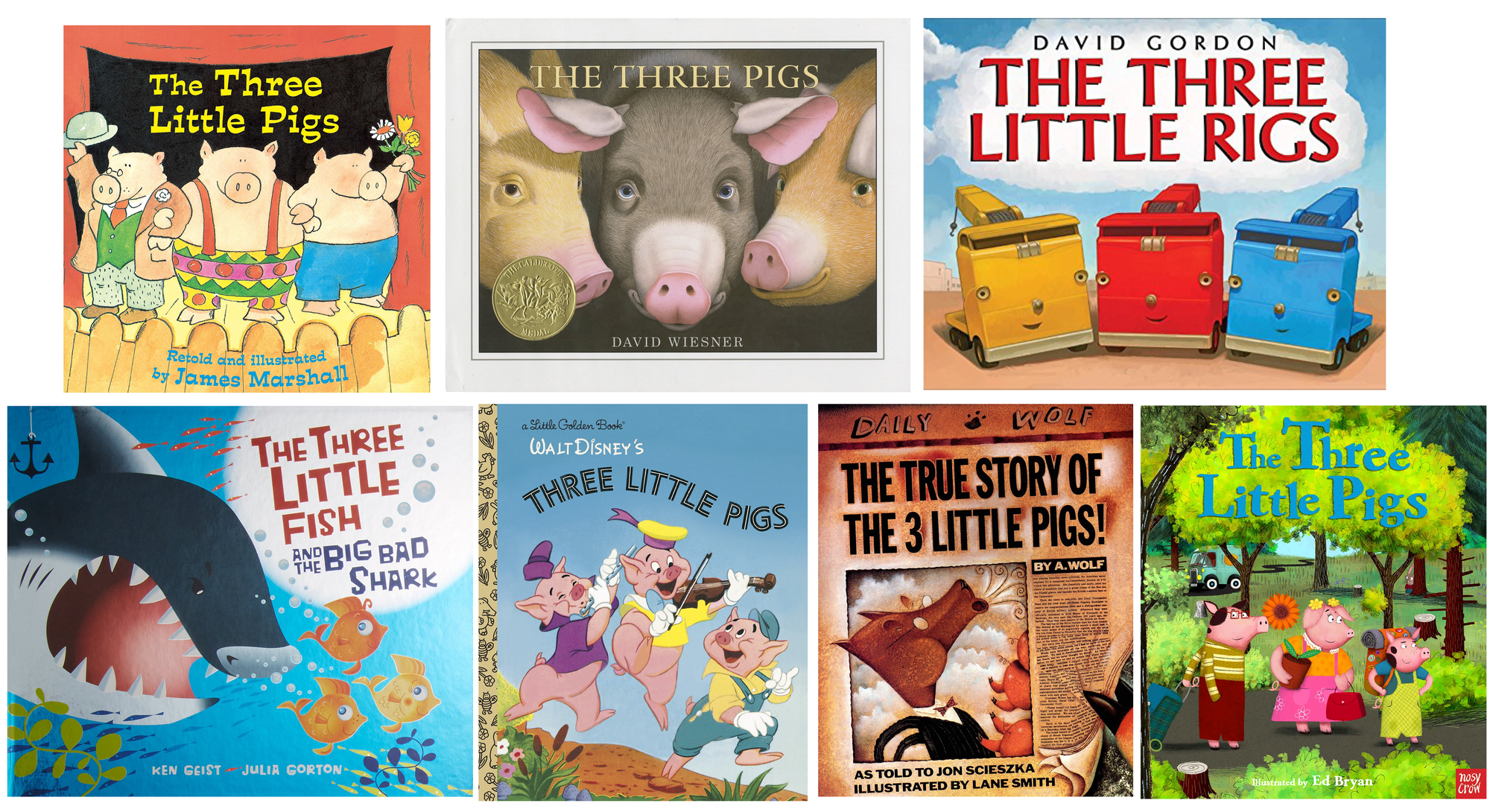 Do the first two pigs get eaten? Does the brick-house pig provide his brothers refuge? Is the Big Bad Wolf scalded or burned before running away or does he get eaten too? When it comes to introducing "The Three Little Pigs," I think there is less consensus on what exact plot is foundational—and I really wouldn't stress it.
For my son Luke, I began with Disney's "Three Little Pigs" Silly Symphony cartoon from 1933. Luke is usually interested in unfamiliar books after he sees a video adaptation of them. This short is what most people seem to reference when they talk about the "The Three Little Pigs," so it seemed like a particularly good place to begin. Sure enough, from there it was an easy jump to The Little Golden book adaptation, Walt Disney's Three Little Pigs (Golden/Disney, 2004; hardcover, $4.99), which isn't fabulous writing, but helpfully uses the same illustrative style and plot points as the cartoon.
Ed Bryan's Three Little Pigs (Nosy Crow, 2015; hardcover, $15.99) is another excellent Nosy Crow fairy tale with another amazing companion game app. I like that the stick-house pig is a girl, as well as relatable updates like the Big Bad Wolf arriving in town driving a truck.
There are many close adaptations of The Three Little Pigs that change the setting and characters for added interest. The Three Little Rigs (HarperCollins, 2005; hardcover, $17.99) features three trucks who build garages out of different materials and then must face the Big Bad Wrecking Ball. It's an obvious crowd pleaser for the vehicle-obsessed, but the pictures are very dark, so low-arousal kids will have a hard time. There are also a lot of unnecessary additional characters, and I find that too complicated for many kids. A brighter, leaner alternative is The Three Little Fish and the Big Bad Shark (Cartwheel Books, 2007; board book, $7.99), which features three little fish who make their respective homes in seaweed, sand, and a repurposed sunken ship. This one is available as a board book with foil on the cover, making it a nice choice for kids who have fine motor issues with page turning.
Perspective-taking is important to practice for many autistic kids, so I adore The True Story of the 3 Little Pigs! by Jon Scieszka and Lane Smith (Puffin Books, 1996; paperback, $7.99) for children who already know the reference story inside and out. In it, the Big Bad Wolf visits his neighbor, the straw-house pig, in search of a cup of sugar. Tragically, he has a terrible cold, and when he sneezes the shoddy construction gives way, killing the pig. Not wanting to waste "a perfectly good ham dinner," the wolf eats him. Biased policing and sensationalist media (naturally!) are to blame for the wolf's "Big Bad" reputation.

My kids don't usually respond well to abstract books, but anything by David Wiesner is beloved. His Caldecott Honor book, The Three Pigs (Clarion Books, 2001; hardcover, $18.99), is a gorgeous, dreamlike wandering that leaves my twins entranced. In the beginning, a traditional illustrative style and telling begins the story we know: The wolf huffs and puffs, but the pig is blown right out of the illustration's frame, escaping into the margins of our book. Yet, the standard text continues "...and ate the pig up." The wolf's face shows his confusion. And it's fun to coax children into noticing the mismatch between the text and illustrations. Some of the book is wordless, as many of Wiesner's are, which I love as a way to mix things up for kids whose echolalia can get in the way of engaging in social reading.
James Marshall's The Three Little Pigs (Grosset & Dunlap, 2000; paperback, $4.99), is for kids who don't mind a little extra violence. Not only are the first two pig brothers eaten, but the wolf is also eaten by the brick-house pig in the final pages. Marshall has a knack for dialogue that makes for a great, dark comedic reading. However, this is a much longer picture books that requires a 10+ minute attention span, and the font choice is distracting and too difficult for most beginning readers.
Beyond the books

Buying a felt board is a good, modestly priced investment if you have a child who might enjoy positioning cut-outs to retell stories, like they can with this Three Little Pigs flannel cut-out set by Little Folk Visuals. A wonderfully simple board game, Orchard's Three Little Pigs takes less than 5 minutes to play and you get to build the three houses from sturdy cardboard pieces. Although Harry has some anxiety about the wolf blowing the houses down, this has been a game my twins are able to enjoy together with minimal support. For a child who would be motivated by bedtime reading involving mom or dad's phone, give Moonlite a try. Buy their inexpensive, clip-on projector in any of their great starter kits (pro-tip: twist to adjust the focus; that took me forever to figure out...). Your phone's flashlight projects story reels on your child's ceiling or wall. A free app provides text to read and great sound effects to click on. Multi-sensory bedtime, FTW! Finally, for kids who can handle the fine motor challenge, Storytime's The Three Little Pigs toy set is a lot of fun and surprisingly durable. There are a lot of small pieces, but the challenge of putting the set together (and then, of course, knocking the houses down) is pretty exciting for the right kid.
---
I am not paid to promote any product or book. No affiliate links appear on this site.