Part two of my summer reading list for kids on the autism spectrum features 10 more of the year-so-far's standout picture books and board books. Click here to read last week's post for 10 other great titles.


by Andy Mansfield & Thomas Flintham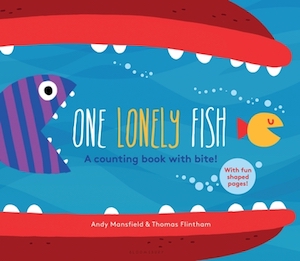 Bloomsbury USA (2017); hardcover, $15.99


One Lonely Fish is one of my son Luke's most requested books these days. He has adorably retitled it Gulp.
This is a simple counting book with a darkly funny twist. "1 lonely fish" swims through the ocean, but as you turn each die-cut page, progressively bigger fish, mouths wide open, close in to form a deadly line-up. In the end, a 10th massive fish shows up and swallows them all! We are full circle, and once again have: "1 lonely fish."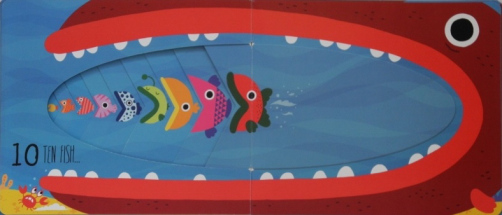 The dark blue hues of the ocean contrast perfectly with all the appealing, colorful fish. The word for each number appears next to its numeral, providing some sight word opportunities. The interactive and sensory fun of turning the thick, oddly shaped pages, the dark humor, and the short length are all great for kids with attention issues.


by Jon Agee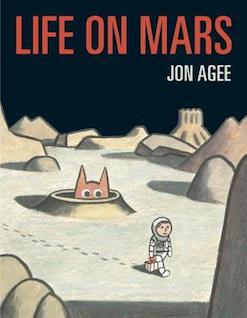 Dial Books for Young Readers (2017); hardcover, $17.99


A little boy astronaut is sure that there is life on Mars and travels there to prove it. As he traverses the craters and barren hills of the brown, beige, and grey-colored landscape, a huge Martian curiously follows him. Our hero almost gives up, but finally he finds proof of life on Mars: a flower.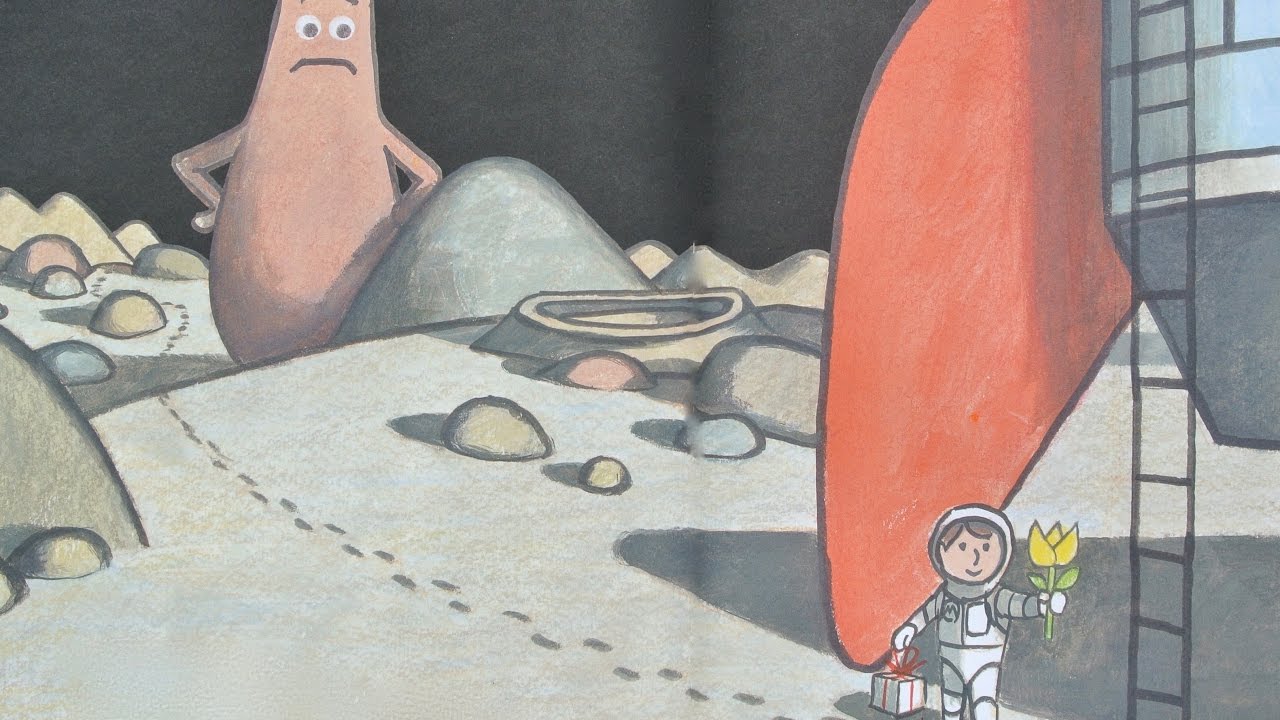 This is a beautifully illustrated book that is aesthetically minimalist, which can be helpful for kids who are easily distracted by visually noisy art. The running gag (that the Martian is right behind the boy astronaut the whole story) is simple, and it's easy to model why this is funny. I also found the book useful for emphasizing the preposition "behind."


by Jeff Mack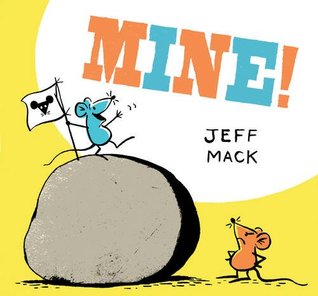 Chronicle Books (2017); hardcover, $16.99


I interviewed Jeff Mack back in March and have been looking forward to the release of this book ever since he and I chatted.
Mine! is about a blue mouse and an orange mouse who are fighting over stuff (a rock, cheese, a gift-wrapped present, etc.), a wonderfully universal conflict that children can easily relate to. The mice plot against each other Tom and Jerry style, and the feud gets hilariously physical. The only word in the book is "Mine!," and it is written in orange or blue so you know which mouse is speaking.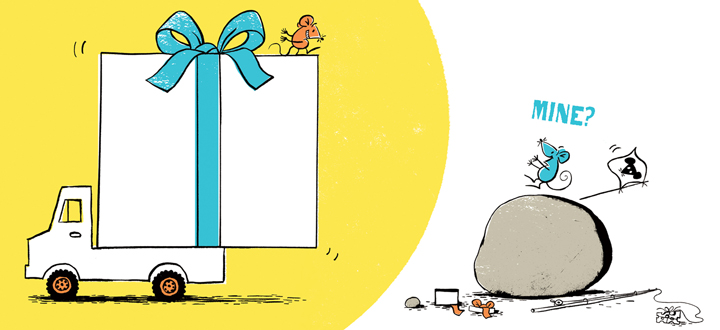 I love nearly wordless picture books for kids who script since they will inevitably be "read" differently each time. And for a child working on sharing, this is a great social skills reinforcer.


by Heather Tekavec, Pippa Curnick (Illustrations)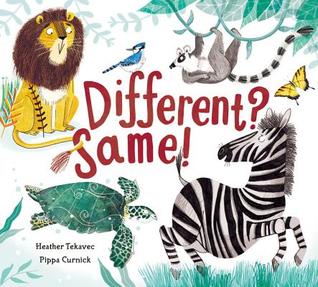 Kids Can Press (2017); hardcover, $16.95


The first two-page spread shows a zebra, a bumblebee, a ring-tailed lemur, and a tiger. The text reads: "I gallop. I fly. I leap. I prowl. But look closer now... We all have STRIPES!" With this simple format repeating, children are asked to think about what makes four creatures different in some category (i.e. color, behavior, movement, size, habitat, etc.) and then to look at them again and find the common bond that makes them the same.
While I found myself wishing the text provided a rhyming or phonemic clue (or some other hint) for guessing the common trait, this is otherwise a perfect book. Different? Same! works best for kids who already have a decent number of attributes, function of objects, and body part names (for animals) in their repertoire (like my son Harry). But a child who is reinforced by labeling animals can grow into those skills with this book if that enjoyment will carry their attention. Books that ask children to classify and categorize also tend to work well for kids like mine who are attracted to taxonomy.
Different? Same! is a great interactive science and nature-themed book with a nice underlying message about how there is still commonality amongst the diversity of living things.


by Danica McKellar, Alicia Padrón (Illustrator)


Random House Children's Books (2017); hardcover, $16.99


With pleasant (but ultimately forgettable) rhyming text, the numbers one through ten are each introduced as we go through the bedtime routine (dinner, toy clean up, bath, pajamas, brushing teeth, bedtime story, etc.). Each page reveals a different parent and child, showcasing careful diversity in gender in race. Numerals are also written as sight words and their meaning is shown illustratively: sides of shapes, pattern recognition, rote counting of items, time, and in terms of categories. Finding all the expressions of each number in a scene requires attention and scanning--great for kids who visually stim or are hyposenstive to visual input (like my son Harry), but also for kids with attention and attending issues who are reinforced by numbers and counting (like my son Luke).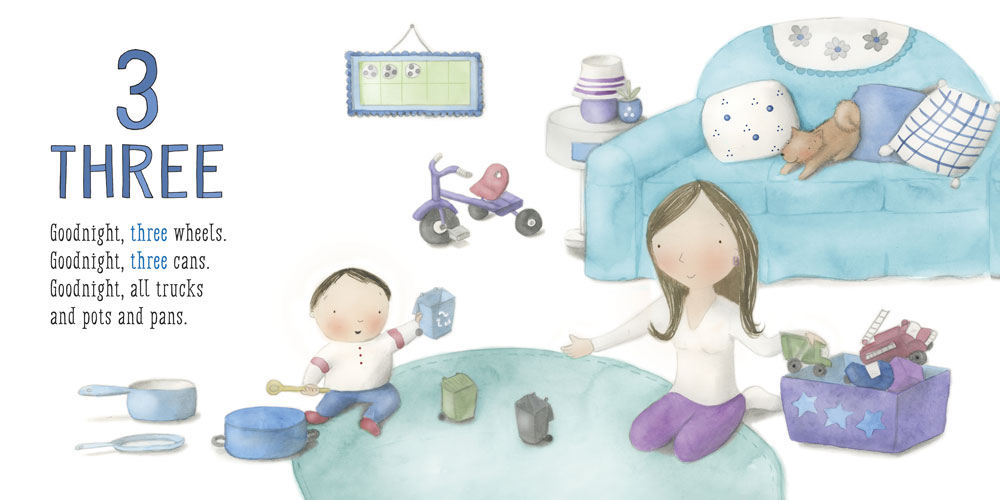 Goodnight, Numbers promotes vocabulary expansion of common household objects and actions. It also functions as
a bedtime routine social story. The format is perfect for confidence building in pre-math skills; a child knows the theme (number) for each page, so they already know the correct answer to "How many ducks are there?", for example, and can easily self-correct as they count. The natural, slow build from one to ten is helpful practice as the difficulty bar is raised.
(Disclosure: I requested an advance copy of this book for review purposes from the publisher.)


by Elisha Cooper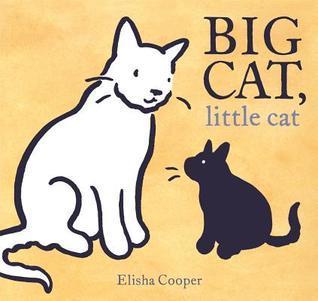 Roaring Brook Press (2017); hardcover, $16.99


A little black cat comes to live with a big white cat. The big white cat shows the kitten the ropes. They climb, hunt, and explore, and page by page we watch the little black cat grow up with its friend. One day the black cat is all alone, but surrounded by the humans it lives with, and we are told that this aloneness is "hard for everyone." Soon a little white cat shows up and the cycle of life begins anew, and the black cat begins to teach the new kitten how to be a cat too.
The illustrations are black-and-white line art against a plain white background, so it is very easy for a child to focus on the action and work on identifying verbs. The words big/little and black/white are repeated many times, so that is also great attribute practice.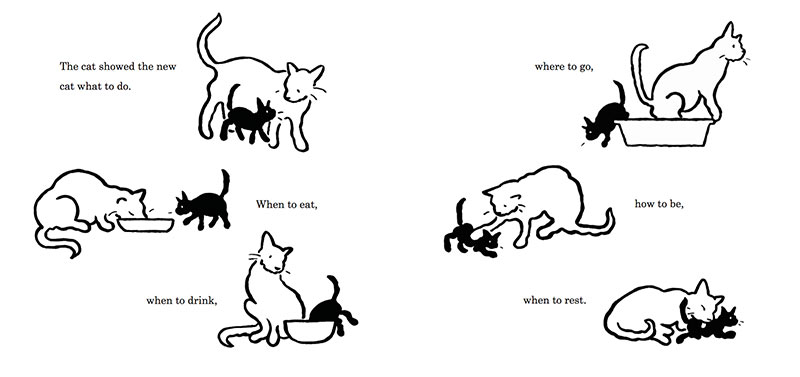 As a book about death, this is likely too abstract (unless perhaps the child has some direct experience), and the word "death" doesn't appear in the story. When I read Big Cat, Little Cat I add, "The big white cat died." Introducing the concept of death requires language.


by Tobias Krejtschi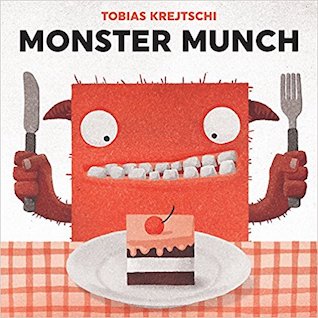 Minedition (2017); board book, $12.99


What does the Square Monster eat? Food shaped like squares of course! Each spread of this shape-matching board book features a different shape monster and a plate with a variety of differently shaped food items. "Guess what the Square Monster likes most?" the child is asked, and when you lift the flap to see into the monster's tummy, the two correct foods are shown.
Monster Munch is great for working on names of shapes, labeling shapes, matching, and food labeling. It's cute and funny and interactive. I don't normally endorse lift-the-flap books because they are just nightmares for children with fine motor delays and end up ripped (and there are better ways to get practice with fine motor skills that don't involve tearing books), but these flaps are very large and thicker than most, so that helps a lot.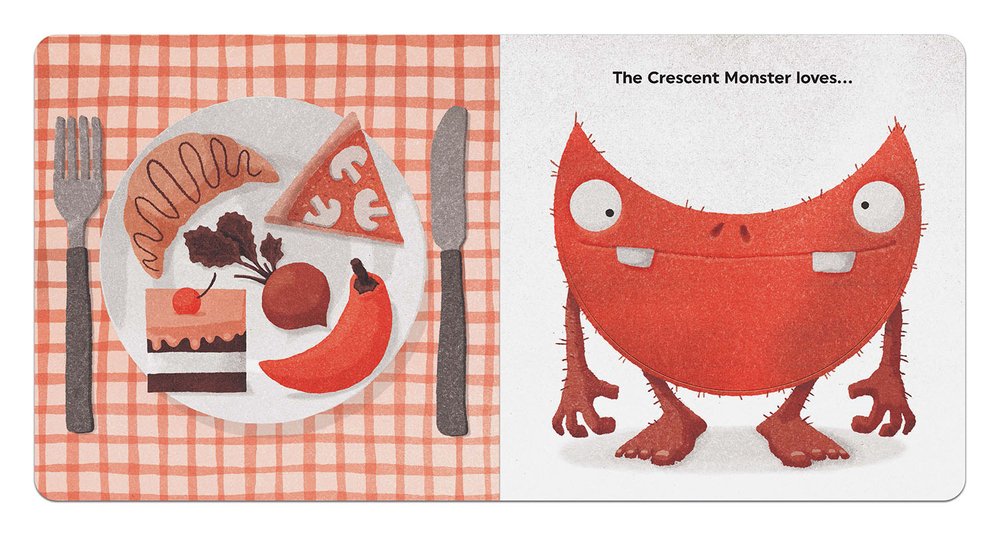 My biggest complaint is that the art is all red-toned. I imagine Krejtschi wanted kids to focus on the shape of the foods and not the color. But it might confuse some children. My son Harry, who long ago mastered labeling common foods, labeled what I think is a crescent-shaped banana as a pepper. I didn't correct him because even I am not sure!
by Ame Dyckman, Liz Climo (Illustrator)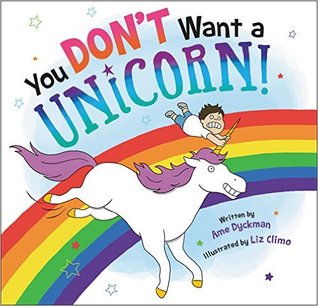 Hachette Book Group (2017); hardcover, $16.99


If your child is obsessed with unicorns, you're in luck. Unicorns are very "in" right now.
A boy makes a BIG MISTAKE! and wishes for a unicorn at a wishing well. POOF!, one appears and mayhem ensues. At first things seem super fun, but soon the unicorn is shedding golden dust, scratching up the upholstery, pooping cupcakes everywhere, eating the carpet, burping rainbows, and getting stuck in the ceiling by its own horn. Then it invites all its friends over and things get really out of hand.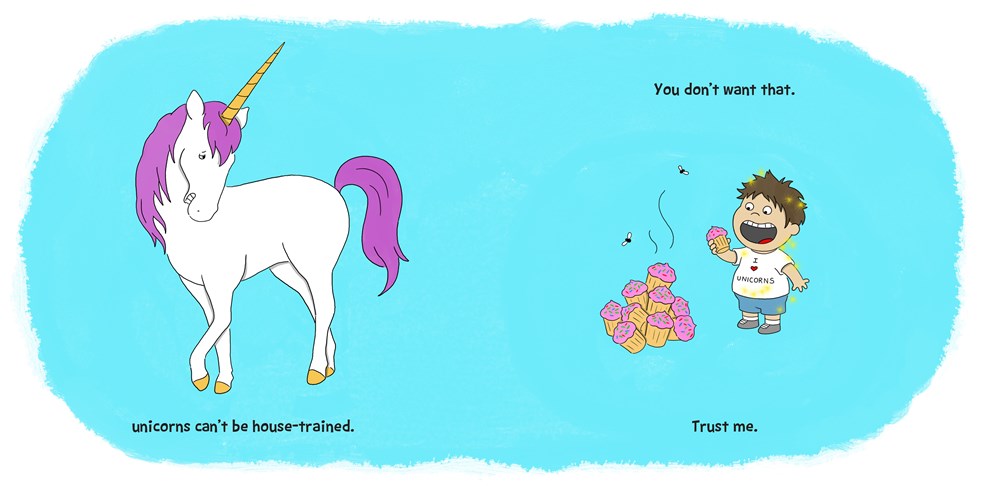 You Don't Want a Unicorn! is one of those rare picture books that doesn't rhyme, use rhythm, or have a tight structure of any kind, but still manages to engage. It does this by using physical comedy, inviting illustrations that set busy moments against a solid background, and prose that encourages an adult to read expressively and to use sound effects. There are also a lot of nice opportunities to use this book for practice identifying actions, colors, and household objects.
by Jo Ellen Bogart, Lori Joy Smith (Illustrator)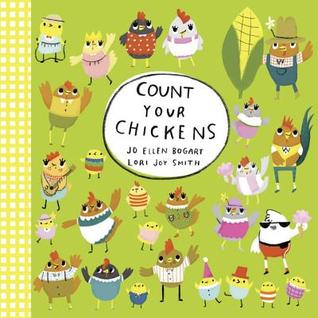 Tundra Books (2017); hardcover, $16.99


We were lucky enough to be able to take our boys to Disneyland a few months ago, and ever since then, Harry has been really into amusement parks as a subject. I picked up Count the Chickens because I wondered if a county fair subject would appeal to him, and he liked it a lot.
The title is a little misleading because while you can certainly use this book for counting, the book isn't actually structured in a way that is predictive. That is, there isn't a page with two of everything and three of everything, and so forth. Instead, the bouncy rhyming text names different kinds of chickens (Chicken grannies knitting socks. Chicken chicks with chicken pox.), and it's up to the reader to find the two grannies and three sick chicks, for instance, and count them.
The problem is that the illustrations are really detailed and there are a lot of chickens. My son Harry was super-interested in doing this, and really worked hard to find all the chickens on each page, but it was a lot of work, and I could see him fatiguing on it towards the end of the book. It was far too busy for my son Luke to focus on. I wouldn't recommend this as a read-aloud book for a group of children who are typically developing either--it's too detailed to use in anything other than a 1:1 setting.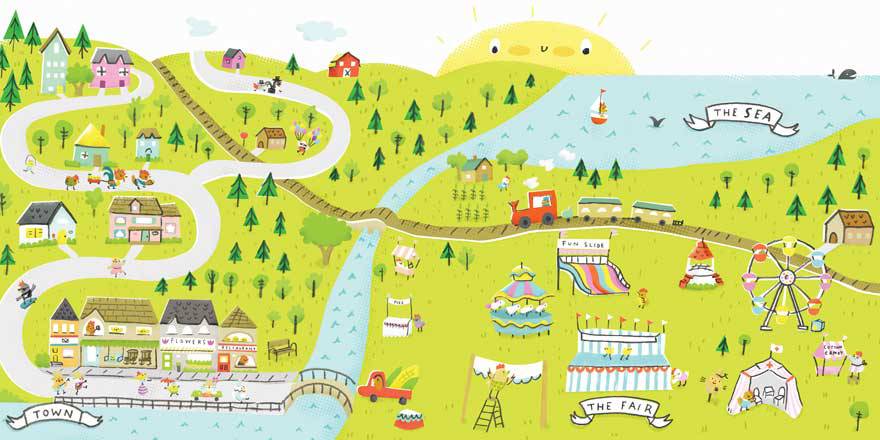 What I like best about this book is that it shows a fair ground really well, so I think it would be a good book to show a child before going to a theme park or amusement park as a sort of low-key social story about what to expect. I also like that there are so many kinds of anthropomorphized chicken characters. This book works well for expanding vocabulary around community helpers, professions, and other categories of people. In fact, in subsequent readings with Harry, I dropped all pretense of counting, and just had him find the chicken magicians, the doctors, and punks, etcetera. He loved it.
###[*Not Quite Narwhal*](https://www.goodreads.com/book/show/30312747-not-quite-narwhal) ######by Jesse Sima ![](/content/images/2017/06/not-quite-narwhal.jpg)
Simon Schuster Books for Young Readers (2017); hardcover, $17.99 ![3/5 Stars](/content/images/2016/04/three-star-1.png)
Unicorns and narwhals are a great combination. Not Quite Narwhal is about a little unicorn named Kelp who lives in the ocean and is raised by narwhals, but always suspects that he is a bit different. One day, he is whisked away by a strong current and ends up on land. He meets other unicorns and realizes what he is ("Land Narwhals!"), but he misses his family too much not to go home. When he tells his family that he's a unicorn they of course have known this all along, and it doesn't change anything. They move closer to the land so that he can spend time with both his family and his new unicorn friends.
This is obviously a great message about difference, family, and finding your place, and as a lesbian I found it beautiful. But while it may work best as an LGBT book (the rainbows in unicorn-land are plentiful), it's a good general message about difference and finding your place for any child. That said, my kids are not picking up any of this subtle messaging. They enjoy that this is a story about a unicorn who doesn't know he's a unicorn, and in general, their attention wanes because it is a bit text-heavy.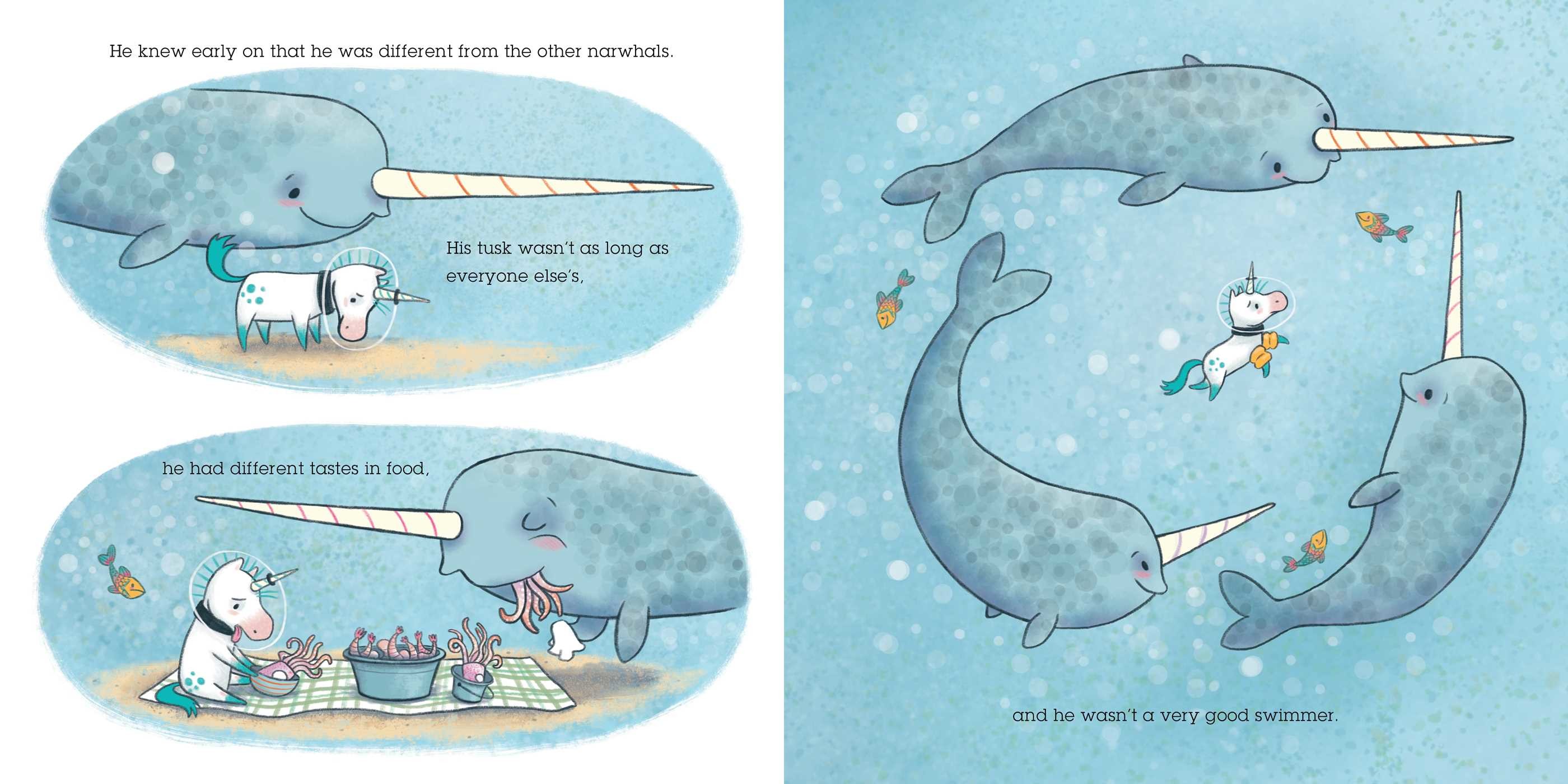 While this book doesn't work as much as I want it to, I think it will in a few years when the subject of difference will begin to matter more socially. On that level, it seems to be well crafted. If your child has more advanced narrative skills, give it a try.