So many kids with autism love numbers. And why shouldn't they? Numbers are predictable, familiar, and orderly. My 5-year-old twin boys became really, really interested in numbers when they were two, and they still love them today.
Parents are sometimes concerned when their child obsesses about anything, even numbers, and more so when scripting or stimming is involved. Some behaviors may be interfering, but I choose to lean in to my kids' interests as a general rule—and the teachers and therapists my kids work with seem to agree. Highly motivating interests can open up the world to a child.
As obsessions go, numbers are particularly awesome. In addition to a plethora of number-themed games, puzzles, and toys, counting books are everywhere. They are a perfect bridge, not only for transforming a child's love of numbers into a love for books and social reading, but also for developing pre-math skills.
Here are 15 awesome counting books for your number-loving kid. I'll release another number post in a few months that features books with slightly more advanced pre-math language.
by PatrickGeorge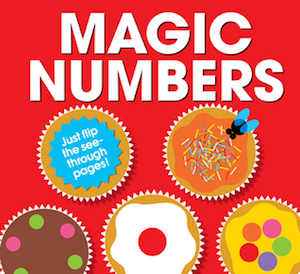 Boxer Books (2014); hardcover, $14.95


Ten flies buzz precariously near a spider web. The number "10" and the sight word "ten" are shown. But when the transparent acetate page is turned, one of the bugs flies with it and—oh no!—the fly gets caught in the spider web. The pages to come feature new predators and foes (bats, car windshields, fly swatters, birds, etc.)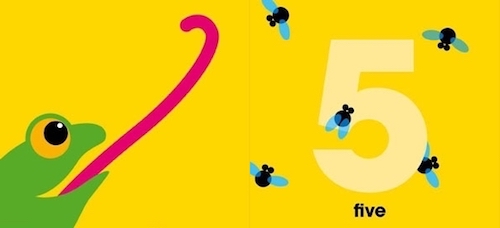 Magic Numbers is a counting down book that is funny and perfect for social engagement. It's also a very multi-sensory book. The acetate transparencies provide a nice tactile and visual sensory component. Each page demands sound effects and physical movement.
The numbers (10 through 0) pair with lower-case sight words. You can practice labeling numbers, sight words, and 1:1 correspondence counting the flies.
If a child is ready, you can also ask, "There were ten flies, but the spider ate one! How many flies do we have left?" and introduce a simple math word problem.
by Cathryn Falwell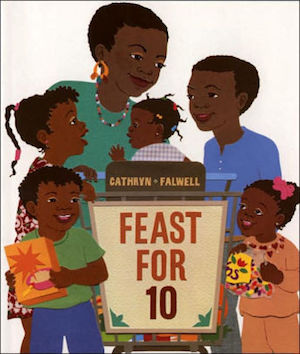 Clarion Books (1993); paperback, $16.99


A classic! An African American family shops at the grocery store, cooks dinner, and eats together. Feast for 10 is a moderately advanced counting concept book. Each page has a scene from the story featuring something that is being counted. The numeral is shown and the sight word for that numeral begins the text for the page. The colorful, and often patterned illustrations, are offset against a plain white background that perfectly focuses a child's attention on the people, what they are doing, and the things to count.
The text on each page is a tightly constructed, brilliant poem with a subtle, easy rhythm and rhyme scheme: one cart into the grocery store // two pumpkins for pie // three chickens to fry // four children off to look for more.
This kind of writing is perfect for kids with autism, the beat and sound of the words anchor children in the text and help them attend to the story. The story also counts up to ten twice; one set takes place at the grocery store; the other set takes place at home, splitting the book into two distinct acts.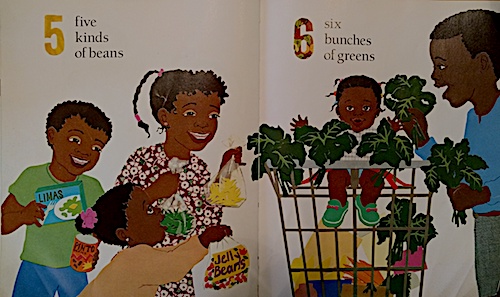 I love that this has a real narrative and interesting, true-to-life characters. First, there's the hero mom who goes shopping with 5 children! Then, there are the kids who help by finding the things in the grocery store that the family needs and with loading and unloading the car. At home, dad helps with the baby and cleans up the recycling. All the kids help mom prep and cook and set the table—and of course everyone eats! I would have liked to have seen dad cooking too, but it's a pretty great representation of the whole family pitching in. Families in the suburbs (who drive and go to big grocery stores) might be able to use this as a social story.
Lastly, there are wonderful tacting (labeling) opportunities for commonly consumed foods (greens, beans, chicken, vegetables, etc.) and actions related to shopping/cooking (shopping, buying, washing, peeling, mixing, baking, etc.).
by Nicholas Blechman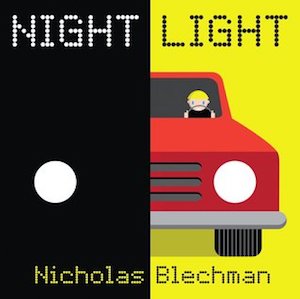 Orchard Books (2013); hardcover, $16.99


Night Light is a counting book about vehicles that incorporates a clever die cut technique. Each number is introduced by a guess-the-vehicle introduction on a two-page, all-black spread.
1 LIGHT, SHINING BRIGHT? the first page asks. The right-facing page has a small circular hole that reveals a white color. Turn the page and we see that it's the headlamp of a train bursting out of a tunnel! As the book progresses, the number of die cut "lights" goes up and the little holes appear in all different sizes, colors, shapes, and placements on the page.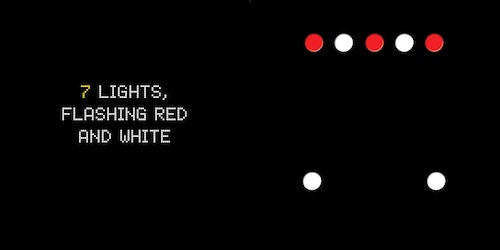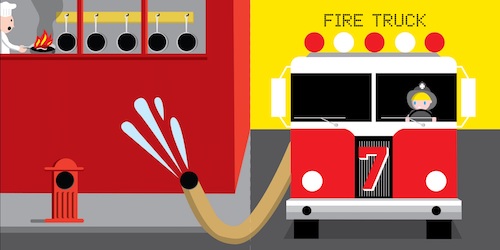 Die cut books provide nice tactile and visual sensory integration for children, and guess-what format books are social interaction gold. I love that the last spread returns to the number one, and reveals a child reading Night Light in bed, all the vehicles we have identified are strewn across his bedroom floor.
If your child loves vehicles this one is a must-have.
by Emma Dodd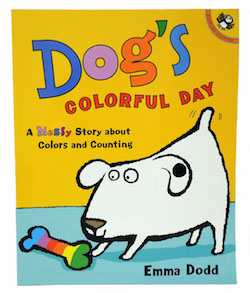 Puffin Books/Penguin Putnam Books for Young Readers (2003); paperback, $5.99


Dog is a white dog with a black spot on his ear. At breakfast time, he sits under the table and—splat!—a drop of red jam lands on his back, and now he has two spots. After breakfast he brushes past a man painting a door and—splish!—gets a blue spot on his tail, and now he has three spots. Throughout his busy day Dog gets messier and messier, accumulating colorful spots all over his body.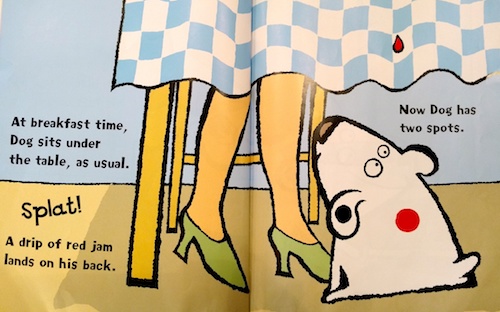 The book ends with a careful review of the number of spots Dog has and the color of these spots. Of course, his child-owner, Vicky, gives him a much-needed bath.
There are a lot of great things going on in this book: pleasing digitally-rendered cartoon illustrations with solid colors, sound effects, physical comedy, a pairing of color labeling and counting, and a simple day-in-the-life narrative about a family pet. Getting messy is always a fun theme, and Dog's Colorful Day is good for a giggle-fest.
As an aside, I'm sure Harry's speech therapist thought I'd lost my mind when I emailed her with the subject: OMG DOG'S COLORFUL DAY IS AN S-CLUSTER BOOK!!!, but I was so excited. I'd just met with her that day and we'd discussed how pronouncing s-clusters is something Harry struggles with. Well, every page in Dog's Colorful Day has the word spot and all the sound effects (one per page) are also s-cluster words: splat! splish! squash! squish! swish! splosh! splash! splurt! As a bonus, the book includes the words stain, street, splatters, steps, smudge, and smear.
by Nancy Tafuri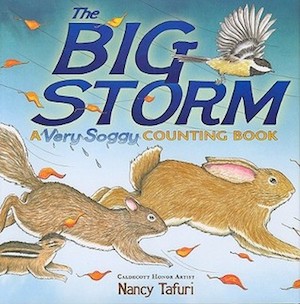 Simon Schuster Books for Young Readers (2009); hardcover, $15.99


A rainstorm, as the main conflict in a children's picture book, is certainly overdone, but there is no denying how effective it is with kids. The sky turns grey as dark clouds settle over a rural landscape. One by one, different kinds of prairie animals rush to take cover in a cave (inexplicably called the "hill hollow" throughout).
The next morning, the storm has passed and the animals realize that there are 2 bears snoring in the cave! Counting down from 10 to 1, the animals race out of the cave and discover a beautiful day with (of course) a rainbow across the sky.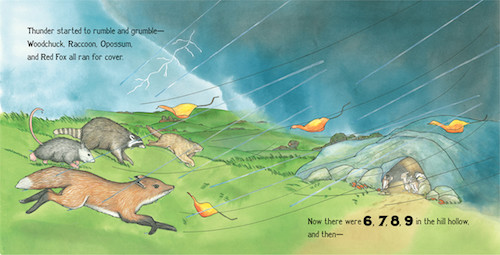 Nancy Tafuri is a Caldecott-winning illustrator, and it's easy to see why in this classic pencil-illustrated book. She effectively shows not just the clouds coming in and the sky darkening, but the wind blowing, the leaves swirling, lighting cracking, and rain falling harder while still focusing attention on the animals and the plot.
This book includes many common animals that may be unfamiliar to kids: a bird, mouse, squirrel, rabbit, chipmunk, woodchuck, raccoon, opossum, red fox, skunk, and two brown bears. Kids with autism don't get enough practice with media featuring animals local to places like where we live (New York). I think that's too bad, because kids need to develop the language of their own natural environments as well as this broader cultural language of knowing what an elephant is. I really appreciate that this author chose prairie/meadow animals as her subjects.
As a counting book this is a really good one for animal lovers and kids who enjoy weather plots. I like the bolded numerals that replace the words for numbers. I also like that as we go, we are counting how many animals (total) are "in the hill hollow," which ever so slightly introduces the concept of addition.
by Andy Mansfield & Thomas Flintham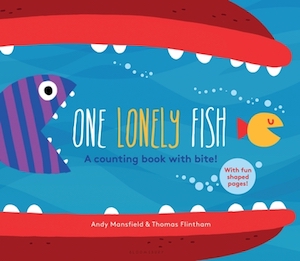 Bloomsbury USA (2017); hardcover, $15.99


I just reviewed this book last summer, but I had to revisit it for this list. One Lonely Fish is an engaging counting book with a slightly dark twist.
The book begins as "1 lonely fish" swims through the ocean, but as you turn each die-cut page, you see that each little fish is being stalked by a bigger fish, mouth wide open to eat the ones in front of it! When the 10th ginormous fish swallows them all we come full circle to "1 lonely fish."
The plot is quickly apparent, so there is a lot of fun anticipation in turning the high-interest, thick diecut pages and they are well designed for tactile input. As a counting book, I love that the sight word for each number is paired with its numeral.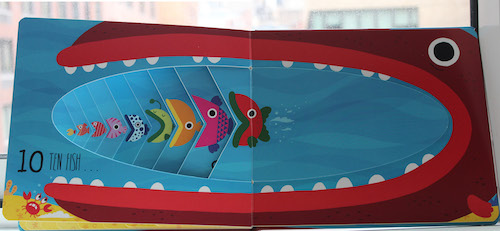 The vibrant and colorful fish pop against the blues of the ocean. It's an art piece that looks nice on the shelf, which never hurts!
Many children with autism have attention issues. This is also true for my son Luke. This book is extremely short (you can read it in under a minute), so, coupled with the interactive, sensory elements (and twisted humor) it's ideal for a child still struggling to attend at storytime.
by Nosy Crow, Illustrations by Ed Bryan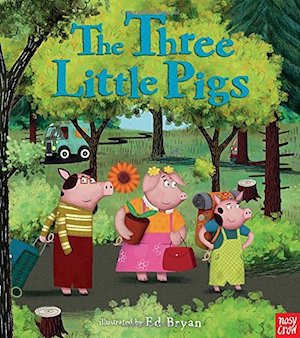 Nosy Crow (2016); hardcover, $8.99


I'm always looking for a good fairy tale picture book, because, astoundingly, they are almost universally terrible. That is why I'm so excited to have discovered the Nosy Crow Fairy Tales series. Their fairy tale books (Cinderella, Little Red Riding Hood, Jack and the Beanstalk, and The Three Little Pigs), all captivatingly illustrated by Ed Bryan, are extremely successful adaptations.
Because my kids have autism, I'm always straining to avoid fairy tale books that twist the story. My kids still need to learn the foundational narratives—and I say need for a reason.
Fairy tales are critical literary building blocks. They are woven into the fabric of our culture and teaching them, in their classic form, to young children with autism is a important way to help them decode the world around them. Twisted fairy tales are fun, and there are many good picture books in that genre, but my kids aren't ready for them yet.
Nosy Crow's series is a big help for kids with language and social delays who need access to an accessible, straight telling. They more or less keep to the original story, adding only subtle contemporary updates that make the story more familiar to little kids or more in keeping with updated values. In The Three Little Pigs, one of the pig brothers is re-cast as a sister, for instance—and no one is eaten or cooked.
This book is also perfect for working on the ordinal words first, second, and third. As is traditional, the little pigs are nameless and we refer to them only by their ordinal number ("The First Little Pig," etc.). The repetitive structure of the book also gives us lots of opportunities with this. Also, the conceptual relationship between the ordinals and numerals is brilliantly reinforced by the illustrations; the numerals 1, 2, and 3 are displayed on the straw, stick, and brick houses the little pigs each build. And the words for these numbers are shown in slightly larger typeface to highlight them as sight words.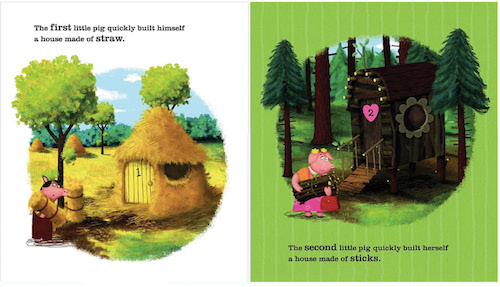 We don't have The Three Little Pigs Nosy Crow app yet, but it (and all the other fairy tale apps by Nosy Crow) are most definitely on the holiday gift list. They look amazing!
I strongly believe in the reinforcing power of a screen to condition a reluctant child's interest in picture books. Many kids with autism who have trouble attending to books may first come to love picture books by watching TV shows, movies, or playing apps that are media tie-ins. This is definitely my plan for introducing fairy tales to my less interested son Luke!
by Jerry Pallotta, Illustrated by Shennen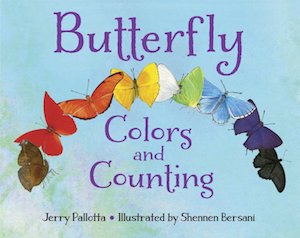 Charlesbridge (2013); board book, $5.95


Butterfly Colors and Counting is just a simple board book—but a pretty perfect one. There are lovely paintings of colorful butterflies to count, increasing in number from 1-10 on each page.
If your child isn't attending to books or has deficits in pointing and 1:1 correspondence, but loves numbers and rote counting, don't overlook the simple benefits of easy-going counting concept board books even if in chronological years your child is "too old" for board books.
If your child isn't fussed about butterflies, that's fine. You should be able to find a board book as well done and as simple as this one with a different subject. I picked this one as an example, because it's visually pleasing, and I do happen to like that it also includes colors and their sight words. It's possible that this might be too many variables for some children; if so, it's easy to skip over saying the color.

Some further tips: When a child is new to 1:1 correspondence (and/or pointing), they may skip counting items because they aren't really counting, just reciting the memorized sequence of numbers (aka "counting by rote"). Using hand-over-hand prompting, move your child's finger from butterfly to butterfly, firmly touching each one and saying the numbers aloud with them. Quickly move past any attempt to count beyond the number you are working on and then praise your child's hard work, whatever that means for them!
by Derek Anderson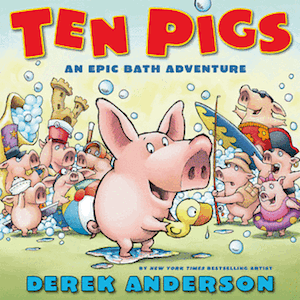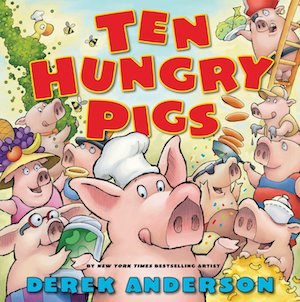 Orchard/Scholastic (2015 & 2016); hardcovers, $16.99/ea



My friend Cheryl, who is also a fellow special needs mom, gifted the boys Ten Hungry Pigs and Ten Pigs: An Epic Bath Adventure last summer, and they have been huge hits. Both books have essentially the same plot: Pig number one and his duck friend are just trying to enjoy a bubble bath/a sandwich when all the other pigs (numbered 2-10) decide to join in.
In Hungry Pigs the uninvited pigs add all kinds of things to his sandwich that don't go with PB&J (pickles, ice cream with sprinkles, macaroni and cheese, etc.).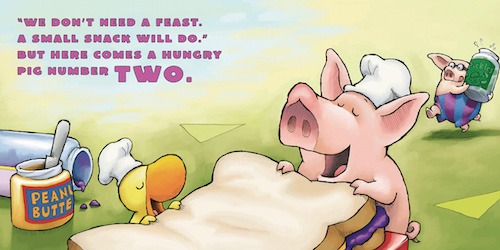 In An Epic Bath Adventure they crowd his small bathtub with their toys and props (the surfer pig brings a surfboard, a beach bum pig brings a big beach ball, etc.).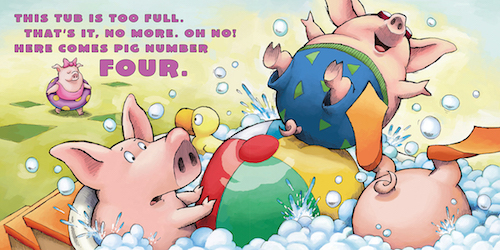 In both stories, the other pigs are finally scared away by the arrival of a wolf (really duck or pig number one in a wolf costume), and we get to quickly count down back to one pig as they run off.
The illustrations are crisp and modern and somehow aren't too busy despite how much is going on. The lettering is a miss though; the sans serif, all-caps, bolded font takes up too much room on each page and isn't the best choice for kids learning sight words. And there is a missed opportunity in not including numerals along with the words for numbers.
I also wish that all the pigs were identifiable as a character and not just some of them. When you see a pirate, a magician, a chef, etc., you begin to expect that all the characters will have a thing and it's confusing when some don't.
I love that both of these books are told in verse, even if the rhythm is a little awkward. And this series wins huge points with me for making my kids laugh and providing lots of tacting/vocabulary building opportunities (costume/clothing items, character types, food, and things that go with water). These are fabulous, silly stories that many kids will really enjoy counting with.
by Denise Fleming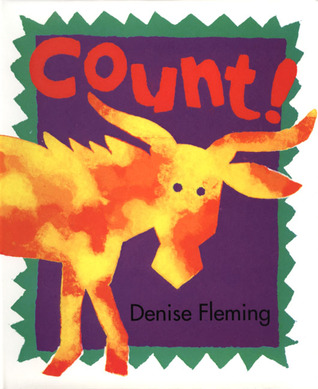 Square Fish (2005); paperback, $6.95


Count! is a simple counting concept book themed on animals by paper-making, illustration goddess Denise Fleming.
I am a passionate Denise Fleming convert. Her breathtaking art, for which she is deservedly renowned, is often visually noisy, and I avoided her books for a long time because of that. And some of her books will never work for my son Luke; they have too much going on, so he can't focus on anything and quickly gets bored.
But what I've come to realize is that (surprise!) kids are different. My son Harry, who is hyposensitive to visual input, loves busy art—so long as it's not confusing-busy, blurry-busy, or abstract-busy. (...They say it's a spectrum, but do I listen?)
I am pleased to say that I'm including Count! on this list... as a LUKE recommendation! For this book, Fleming used high contrast both in color and texture to make the subject animals really stand out well. Luke delights in pointing out the number and animals on each page. He can easily find and focus on them.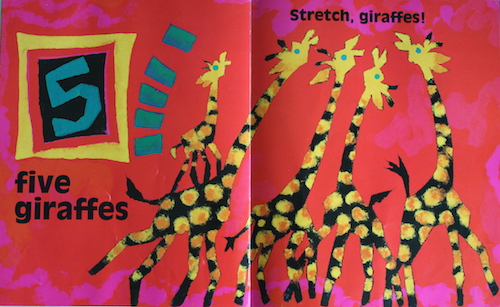 Fleming also includes a motion for each animal set, which provides a great opportunity for gross motor imitation (i.e., for 5 giraffes, the text reads stretch, giraffes!), another element that helps with attention.
Each page includes a large, colorful numeral, the sight words for the number and the animal name set apart from the other text, and unit blocks that a child can also count. The use of the blocks is wonderful because decoding unit representations for number is one of those abstract skills that our kids need as a foundational concept for early math. This is great early exposure.
by Danica McKellar, Alicia Padrón (Illustrator)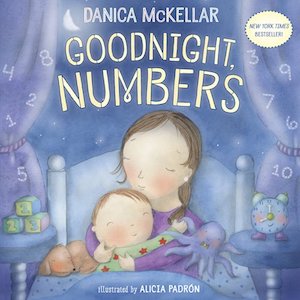 Random House Children's Books (2017); hardcover, $16.99


The classic 1970 children's book Anno's Counting Book by Mitsumasa Anno is beautiful, but the art is very small and very delicate, and features outdated rural life settings, which is pretty unfamiliar for most children. Still, I wanted something almost like it for my kids. Luckily, 2017 brought us Danica McKellar's Goodnight, Numbers, which I consider the perfect updated version of Anno's brilliant, original concept.
McKellar takes us through the bedtime routine with a racially diverse cast of children and parents of different genders. We are shown dinner, toy clean up, bath, pajamas, brushing teeth, bedtime story, etc. Each scene depicted is assigned a number from 1 to 10.
The child's task (after you read the text for the page, which provides some initial hints) is to find as many illustrated expressions of each number in the scene as they can. This requires a lot of attention and scanning, which can be challenging for some kids with autism. But that challenge is precisely what makes this book so perfect as a teaching tool for kids who are motivated by numbers.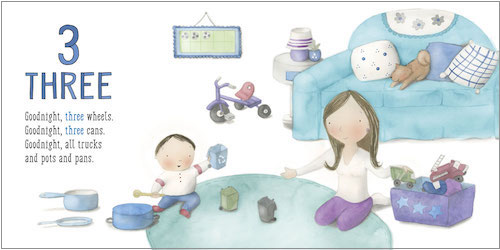 McKellar does a lot right in this book. Numerals are shown and also written as sight words. There are spatial, abstract, pattern-based, geometric, time-based, category-based, and simple rote counting ways to "find" each number. Scarcely any of the illustrated details miss an opportunity. (I am still finding new things on re-reads!)
The text is rhyming verse, which is great for kids on the spectrum, but it's not the strength of the book. Parents may be able to use Goodnight Numbers to expand vocabulary/tacting of common household objects and actions and to reinforce the bedtime routine.
by Guido van Genechten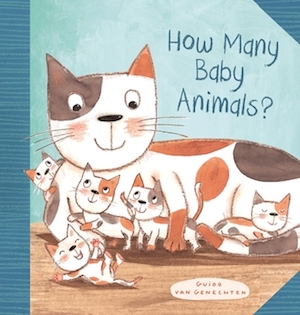 Clavis Books (2017); hardcover, $17.95


Sweet illustrations of pregnant animals about to give birth are set against spare, colorful backgrounds of farm life. How many babies will there be? Sturdy, half-page flaps turn and the babies are revealed.
The rhyming verse is a little strange in moments (it's a translation from the original Dutch), but passable. I love how the verse includes animal sounds as our way of "counting" out the animals. Meow, meow, meow, meow, meow, / Mama Cat had five playful little kittens!
The counting gets progressively more difficult. We begin with 3 baby sheep, then move on to 5 kittens, 7 chicks, 8 piglets, and 11 mice. The final animal (a goldfish) has over 30 babies (!) but the text let's the kids off the hook if they aren't able to count that high: Mama Fish had more little fishies than ever before! / Three or six or ten? / No, many, many more. I like this a lot. It introduces the abstract concept of the word more as it relates to number.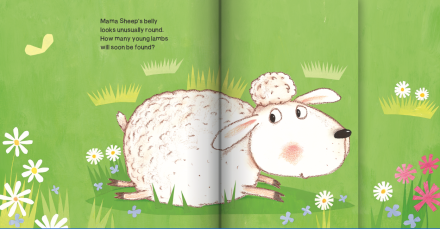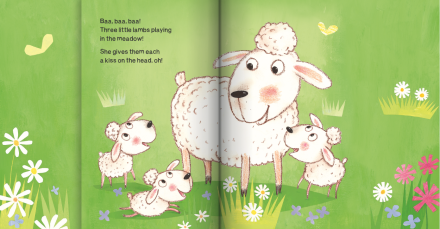 This book certainly invites a child to learn about pregnancy, albeit in a very general, sanitized way. That may be handy if, say, you are expecting and want to find more ways to explain pregnancy. But on the other hand, it's a fairly weird and tricky concept, and it might be confusing. It also (and this was my unfortunate experience) may result in your child pointing out anyone with round bellies and announcing that they are making babies...
For kids with less language, I like the focus on animal sounds because producing a variety of sounds is great practice for kids with emerging speech and it's good to give them a way to count that doesn't involve saying the number if they can't form those words. Animal sounds are also a lot of fun. The animal sounds are also another great way to reinforce 1:1 correspondence; have your child tap their finger on each baby animal as they make the animal noise.
by Juana Medina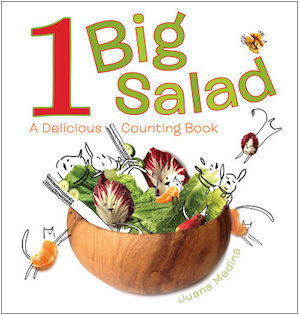 Viking Books for Young Readers (2016); hardcover, $17.99


When I first flipped through 1 Big Salad, I was skeptical. Sure, it has an ingenious premise for a concept counting book; photos of salad ingredients are digitally incorporated with illustrated elements to form whimsical animals! Five Tomato Turtles? Hilarious! Six Cucumber Alligators? Brilliant! ...But radicchio or radishes? Those are some pretty obscure vegetables for a little kid.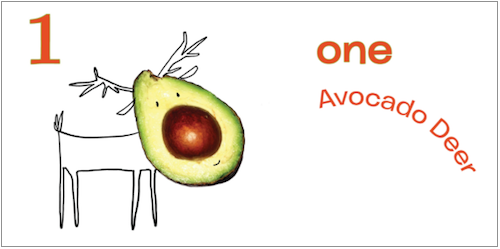 But the concept won in the end. My sons are intrigued enough by the "Nine Romaine Dogs" that they humor me when I say it's a kind of lettuce called "Romaine." I considered taking parental license, and just calling it lettuce, but my son Harry can easily sound-out unfamiliar words now, and I was legit afraid of being caught in a lie.
As a counting concept book, this is perfection. The spare white background is ideal for practicing 1:1 correspondence. The numeral and the sight word for each number both appear. And the veggie-animals are adorable and interesting. This also provides a nice opportunity to expand vocabulary around animals and vegetables.
At the end of the book, the veggies combine to make what does look like one very appetizing salad—for an adult. I do think that there is an overall missed opportunity here to hone in on vegetables that are more likely to be consumed by kids. But from an autism sensory defensive/picky eater standpoint, I still am trying to use this book to interest my kids in new foods: Mmmmmm. Avocado deer!
by Eric Carle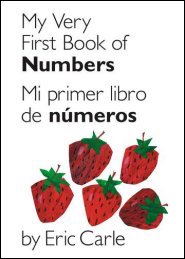 Penguin/Philomel Books (2013); board book, $5.99


My Very First Book of Numbers is part of a series of split-page matching concept board books by Eric Carle. I highly recommend saving money and buying them as a set. The counting book is probably the least popular book of the four that comes in the set of four (the others are colors, words, and shapes). My son Luke is obsessed with the shapes book, but he doesn't love this one. And there's a reason: this book is much harder.
While the upper half of the split pages progress in order from one to ten, the bottom pages are scrambled. The idea of the book is that a child must find the matching page. For the number one, the top half shows one black square and the numeral "1." You must flip through the book to find one of something. Soon (it's the second page, actually), you come across a picture of one pineapple. The left-facing half-page says one pineapple with the sight word bolded (and in the bilingual edition copy I borrowed from the library it also says, una piña).
I was amused by the number of parent reviewers with (I assume) neurotypical children on Goodreads who were put off by all the flipping of pages and the fact that the progression of illustrated food items is out of order. For me, this is what makes the book so powerful. Kids with autism do very well with order and it is precisely the lack of order and the need to sort through it all that is so tricky.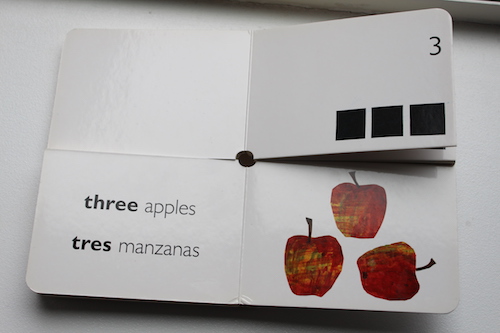 What fewer reviewers picked up on that I struggle with is that the skill that is being developed with this book is also about subitizing. Subitizing is the ability to quickly and accurately ascertain the number of items in a set. Think about rolling a dice and calling out the number, or seeing three apples on the counter—you don't need to actually count them to know there are three. The skill of subitizing relies on visual spatial working memory, and it seems that this can be a deficit area of cognition for individuals with ASD.
Basically, it's no wonder that Luke isn't thrilled with this book even though he loves the format and the others in its series. It's really hard for him. I recommend buying the whole set of 4 partly because this one is so hard. If it were not for his fondness for the others in the series, I'm not sure he'd try. The love for the format is critical.