I want my sons to be as independent as they aspire to be in life, and that means encouraging them to do things for themselves. More and more, an important daily living skill my 5-year-old twins are working on is dressing.
My son Harry's OT and ABA therapists are focusing on his manipulation of buttons and zippers, putting on a shirt, and putting on and taking off socks. My son Luke's ABA team is working on him zipping up his own jacket and selecting clothes appropriate for the weather. All of these skills require tons of labeling vocabulary, specific action words, and new language-based concepts. It also requires some social-emotional skill-building. We all have feelings about clothes! Here are 15 great picture books to support these important goals.
by Jean Reidy, Geneviève Leloup (Illustrations)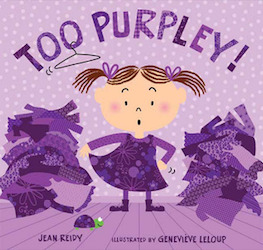 Bloomsbury (2011); board book, $7.99
The story begins with the girl yelling, "NOT THESE CLOTHES!" as her mother presents a towering array of options. She (along with her fashionable pet turtle) tries on outfit after outfit announcing her complaints with each possibility. Some of the problems are aesthetic (like "TOO PURPLEY"), while others are sensory (such as "TOO ITCHY"). Every complaint provides kids with well illustrated examples of useful adjectives for describing clothes.
Children who can't tolerate tags in their clothes will find a kindred spirit when the girl complains that an outfit with a half-dozen or so tags is "TOO TAGGY."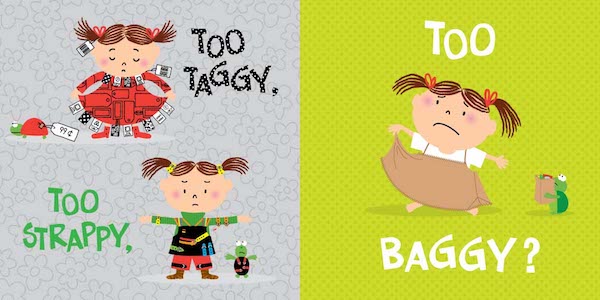 Board books in the getting-dressed genre don't tend to show sensory issues like this. It's nice to see a more relatable character.
by Sandra Boynton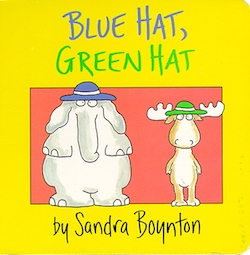 Little Simon (1984); board book, $5.99
An elephant, a moose, and a small bear wear a hat, a shirt, pants, a coat, socks, shoes, and swim trunks—but silly turkey never has his clothes on right!
This is a brilliant little book. Kids who enjoy labeling colors will be drawn in because the order of the colors changes on each page. And the humor is simply contagious. My son Luke calls this book, "Oops," and he always says it with a huge smile and giggle.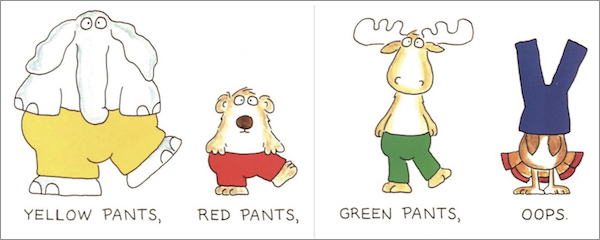 Blue Hat, Green Hat is quite useful when you are working on basic labeling skills for clothes. But fundamentally, you have to have at least an emerging understanding of the function of clothing to get the joke. That's what makes this such a great book for kids who are working on dressing skills at any level.
by Olivier Dunrea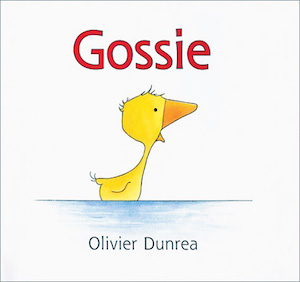 HMH Books for Young Readers (2002); board book, $6.99
Gossie is an entry point for the larger Gossie & Friends series, and it may just get your family hooked.
There is great repetitive text throughout the story that repeats like a chorus, reminding you what's important: "Gossie is an adorable little gosling. She likes to wear her bright red boots. Every day." We learn about all the places she wears her boots (spoiler: everywhere and doing everything) with simple, poetic prose that is always presented with the kind of parallel construction that helps kids follow along easily.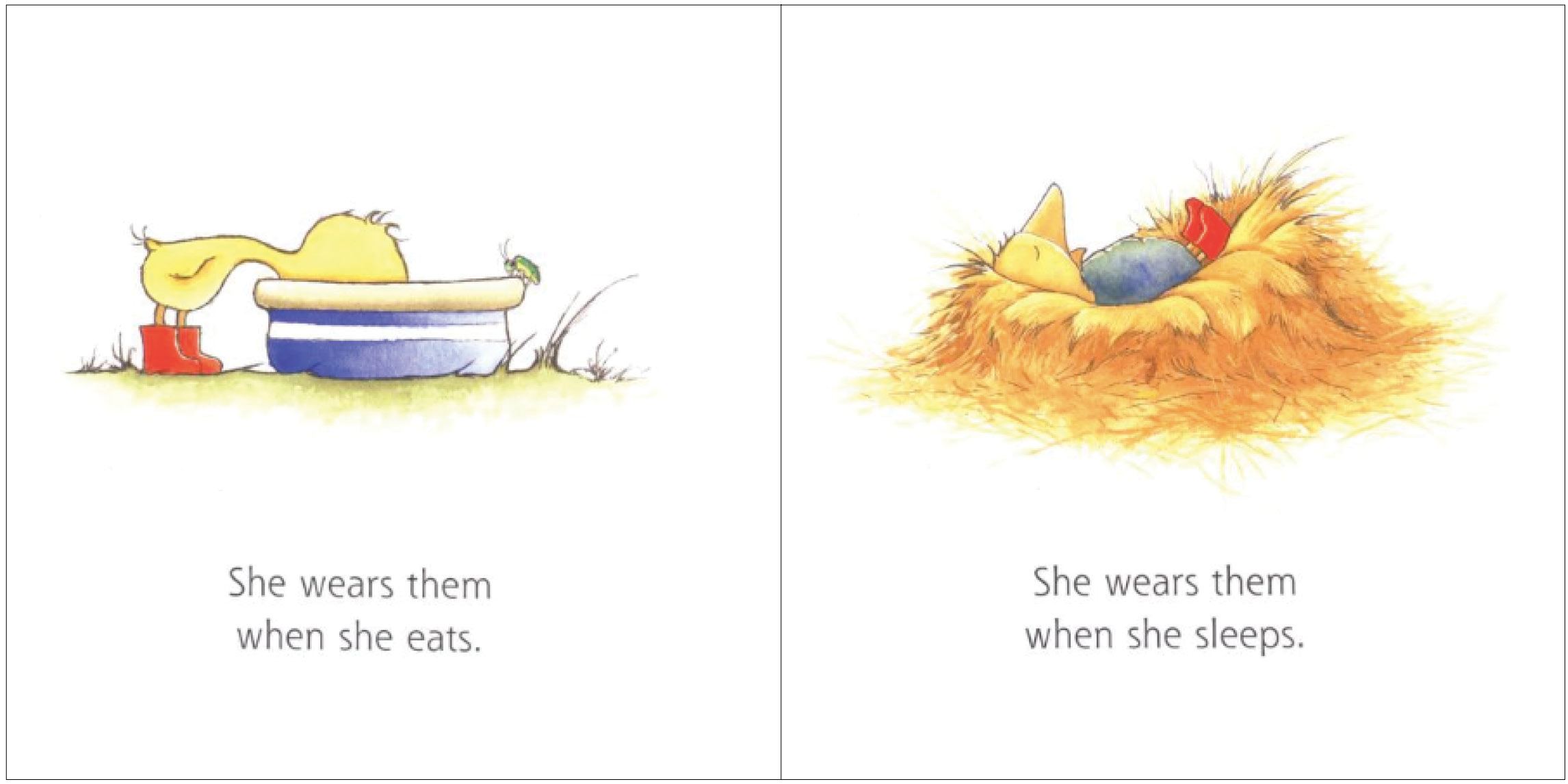 Of course, Gossie's boots go missing one morning. She looks everywhere and finds them on Gertie's feet. Gertie smiles, compliments the boots, and gives them back immediately. Now Gossie has a friend.
Gossie doesn't have a ton of clothing vocabulary or dressing concepts; it's just about the boots. But the social-emotional issues around clothing that it addresses are dealt with beautifully.
Gossie's insistence on wearing the boots at all times will be familiar to many! (My son Luke is fixated on his rainboots, so this was perfect for him.) Gossie also models how to take a calm and rational approach to her boots going missing (look for them, calmly) as well as to the unpleasant discovery of a strange kid (Gertie) having borrowed them (be forgiving and friendly). A gem.
by Janet Morgan Stoeke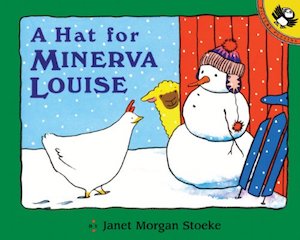 Penguin Young Readers Group (1997); paperback, $6.99
Minerva Louise is a spunky chicken who wants to play outside in the snow, but it's too cold, so she sets off in search of winter clothes. She finds a garden hose ("A scarf might help. But not this one. It's way too big."), a pair of gardening gloves ("And these boots are too big, too."), before deciding that what she really needs is a hat.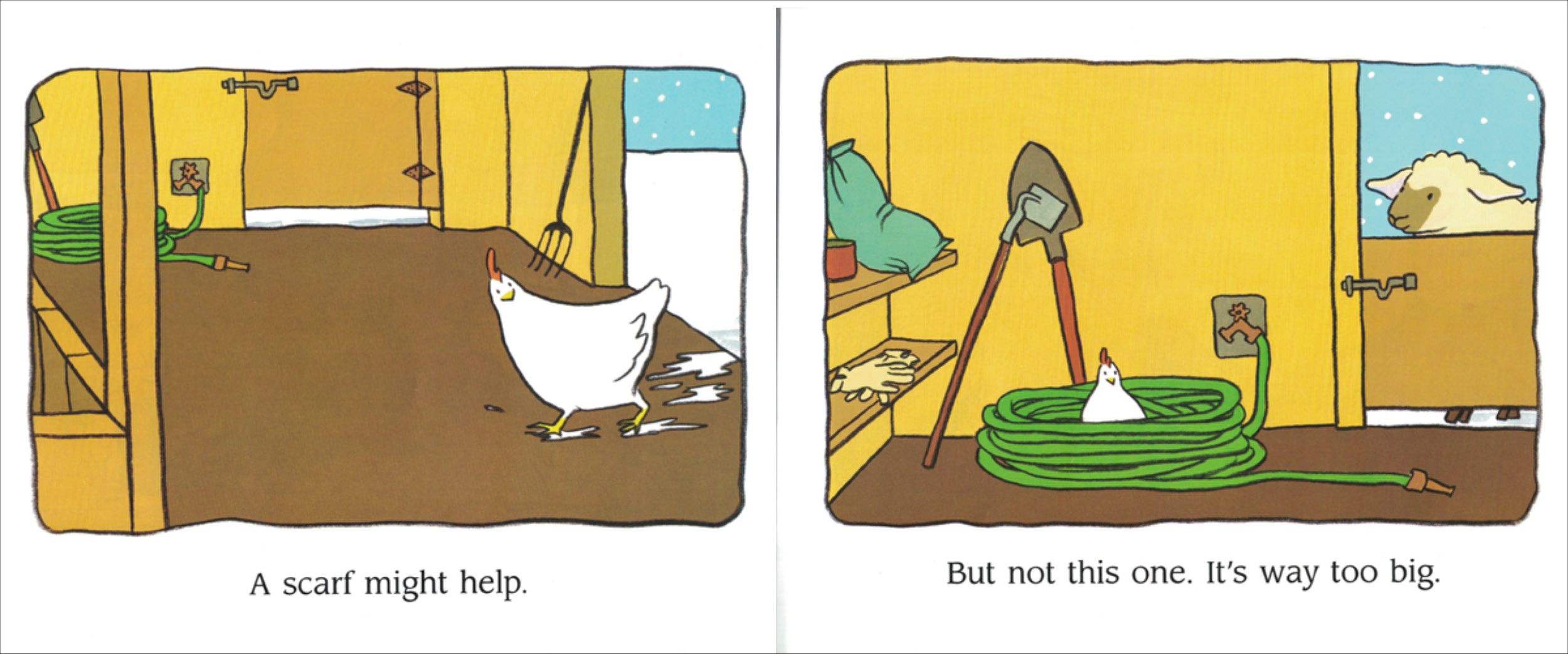 Minerva Louise's silly quest is sure to get a lot of laughs as she continues to mistake objects on the farm for things they are not. In the end, our plucky chicken heroine finds a pair of mittens and uses one of them as a hat—and the other one as a "hat" for her tail feathers! My son Harry loves that Minerva Louise "is pretending the mitten is a hat for her bum."
Simply told with clear, crisp illustrations, A Hat for Minerva Louise is tons of fun, and a perfect introduction to the popular Minerva Louise book collection.
by Karen Katz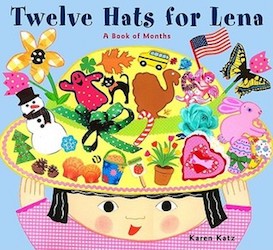 Margaret A. McElderry Books (2002); hardcover, $17.99
My son Luke has sensory issues with hats that cause real problems in extreme weather. So I'm always on the lookout for ways to make hats more exciting.
Twelve Hats for Lena is a months-of-the-year concept book about a little girl who decorates a new fabulous hat for each month to complement the change in seasons or celebrate that month's holidays. The text provides a simple rhyming sentence for each page, displaying the month in larger font. Lena models her latest hat on the facing page. Each creation is colorful, fun, and has lots of elements to label. Karen Katz' illustrations have a wonderful collage sensibility.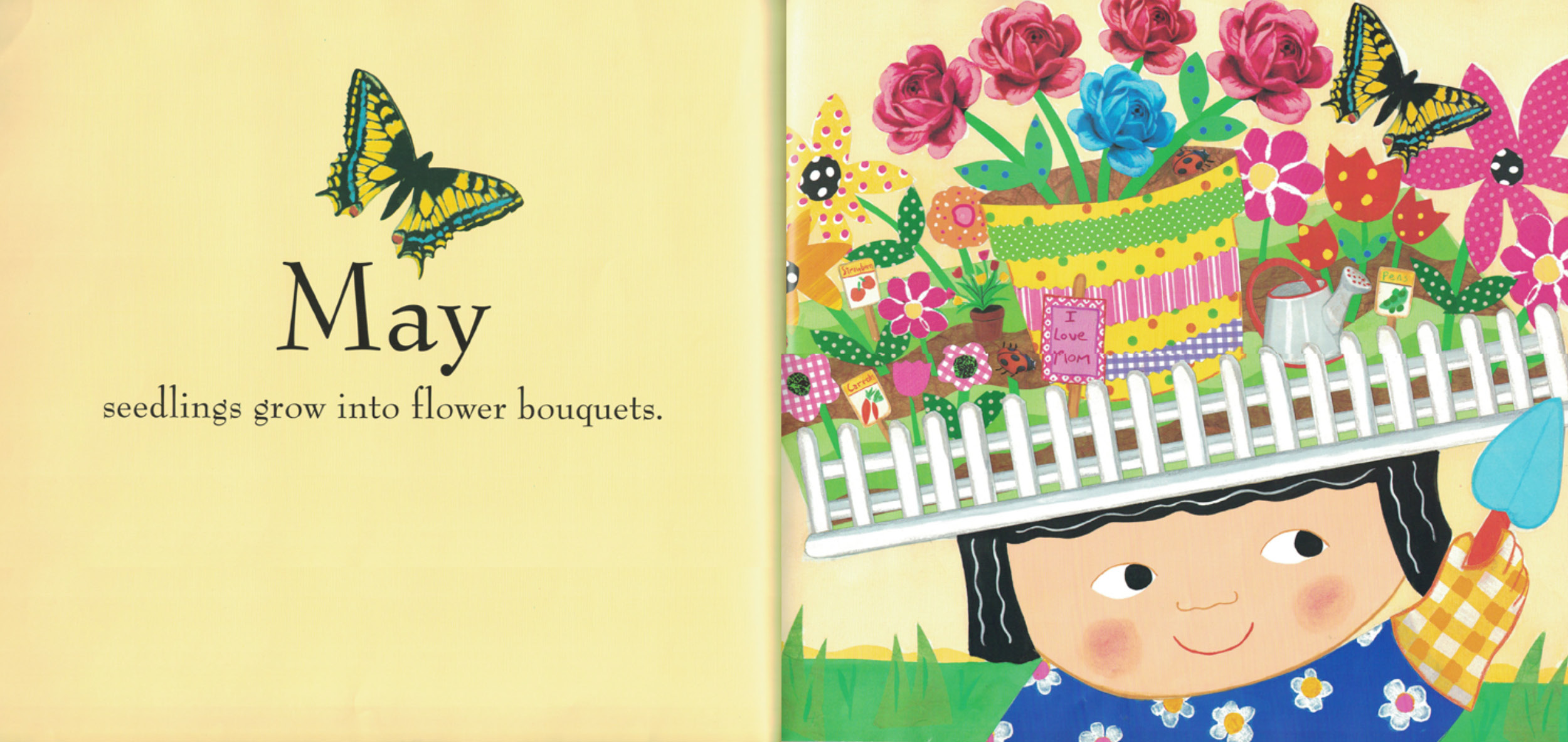 There's a strong American and hemispheric point of view to this book; July's hat celebrates the Fourth of July, November's is Thanksgiving themed, and so on. And the seasons being attached to specific months wouldn't make sense in a place like Australia. But there is some universality. For December Lena makes a hat with Hannukah dreidels, Kwanza fruit, and Christmas lights. That December page also folds out to be twice as large, providing an oversized finale.
by Harriet Ziefert, Arnold Lobel (Illustrator)

Harper & Row (1986); hardcover, out of print (I found it used for $14.99)
Early every morning Bear begins to dress. What will he wear? See if you can guess.
Bear Gets Dressed is a fun guessing game. In each spread, the left-facing page presents three or four possible articles of clothing and rhyming text about the weather. The right facing page shows Bear looking outside at the weather. Lift the flap and see Bear outside wearing the correct choice along with a rhythmic line of prose reinforcing the answer.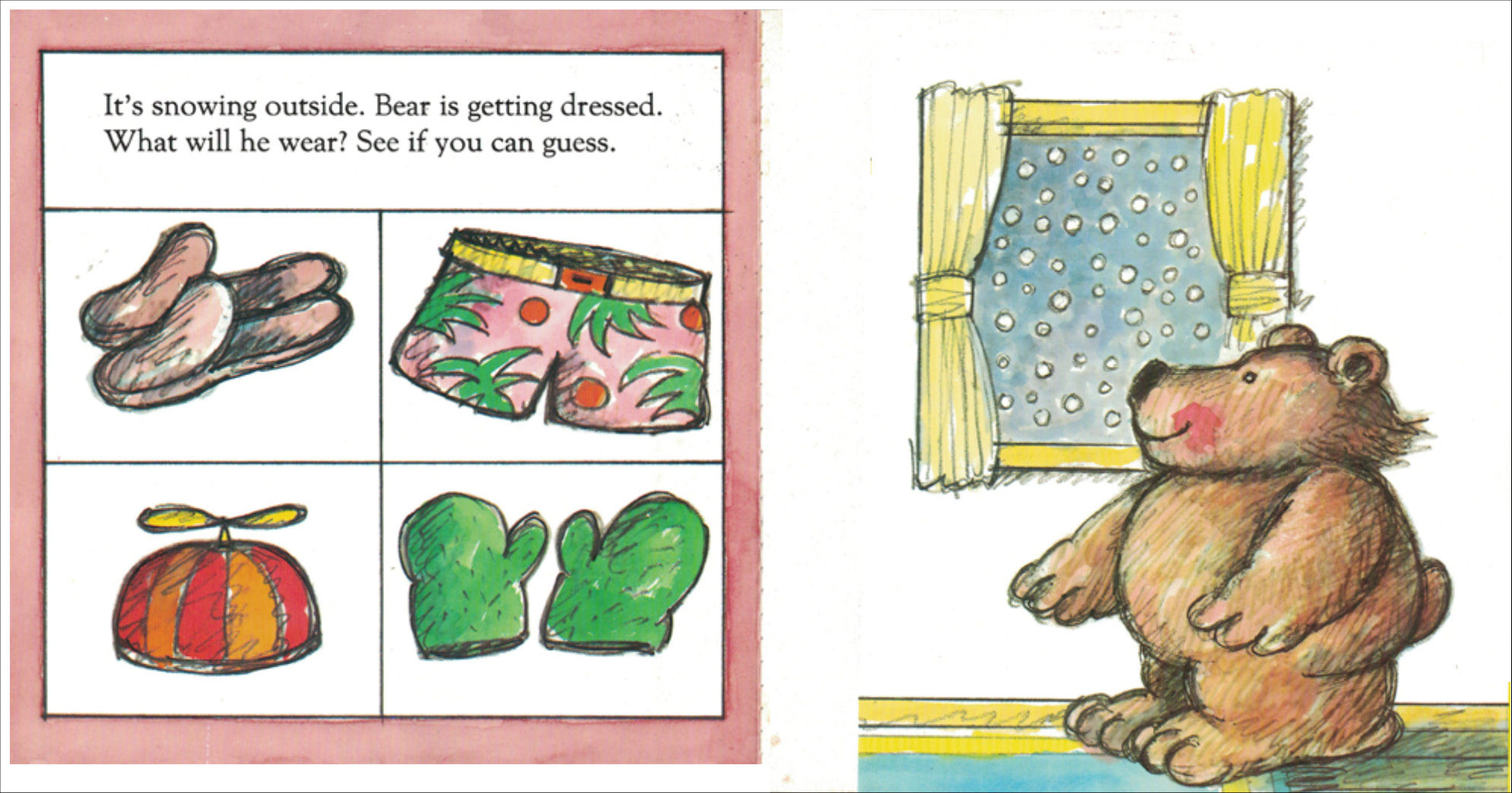 If you are worried about this being a lift-the-flap book for your child with fine motor issues, don't be. The "flaps" are entire pages, and the paper used is extremely thick.
Dressing for the weather is an important daily living skill. Right now, my son Luke has an ABA goal of sorting his own clothing into weather categories. This is a perfect book to get extra practice working on those skills.
I'm always hesitant to include out-of-print books in my lists, but when they're this excellent and still widely available in libraries or as used books, I make an exception!
by Shirley Neitzel, Nancy Winslow Parker (Illustrator)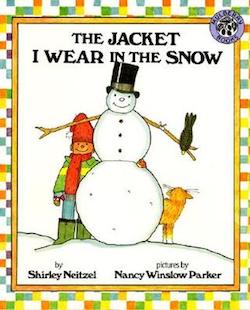 Greenwillow Books (1989); paperback, $6.99
The Jacket I Wear in the Snow is a fun cumulative poem (think: "The House that Jack Built"). Cumulative poems are great for kids with autism because of the built-in repetition and predictable structure.
In this story, a young girl's scarf gets snagged in her zipper, trapping her in layer upon layer of offending clothing. We hear about each piece in terms of her complaints: "These are the jeans, stiff in the knee" or "This is long underwear, bunchy and hot." When the girl falls to the ground weeping, it's not depicted as a meltdown, per se, but it's a moment that many of our kids can relate to—and it's a very good thing to see yourself sympathetically portrayed in a book.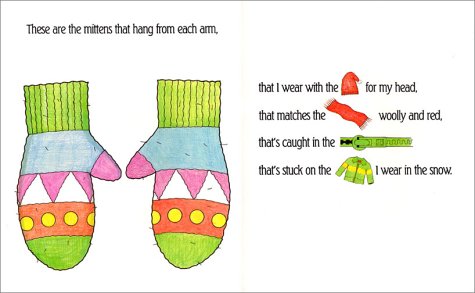 The mini illustrations that sub for clothing words within the sentences provide a huge boon for kids who organize their thoughts better with visuals. Kids can point and label at the correct moment in the text and "read" along, helping to develop their sense of sentence structure. It also provides an overall visual chart of the story.
In the end, the girl's mother dries her tears and helps her out of all the clothes. We last see her happily eating donuts and drinking hot cocoa.
by Kathryn Heling, Deborah Hembrook, Andy Robert Davies (Illustrator)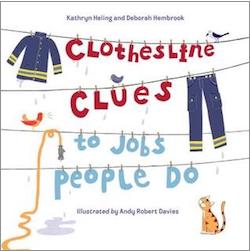 Charlesbridge (2012); hardcover, $14.95
Look at the clotheslines and see every clue! Who uses these things for the jobs that they do?
My kids love guessing game picture books! This one is about matching clothing to the kind of job it is worn for. First we see a clothesline with clothes associated with a particular job (along with a few accessories to provide extra clues). When we turn the page, we are told the answer, and we see the worker doing the job in their community. These scenes are often quite busy with lots of details, but the empty white background helps a lot. There is also a welcome diversity of gender and ethnic representations.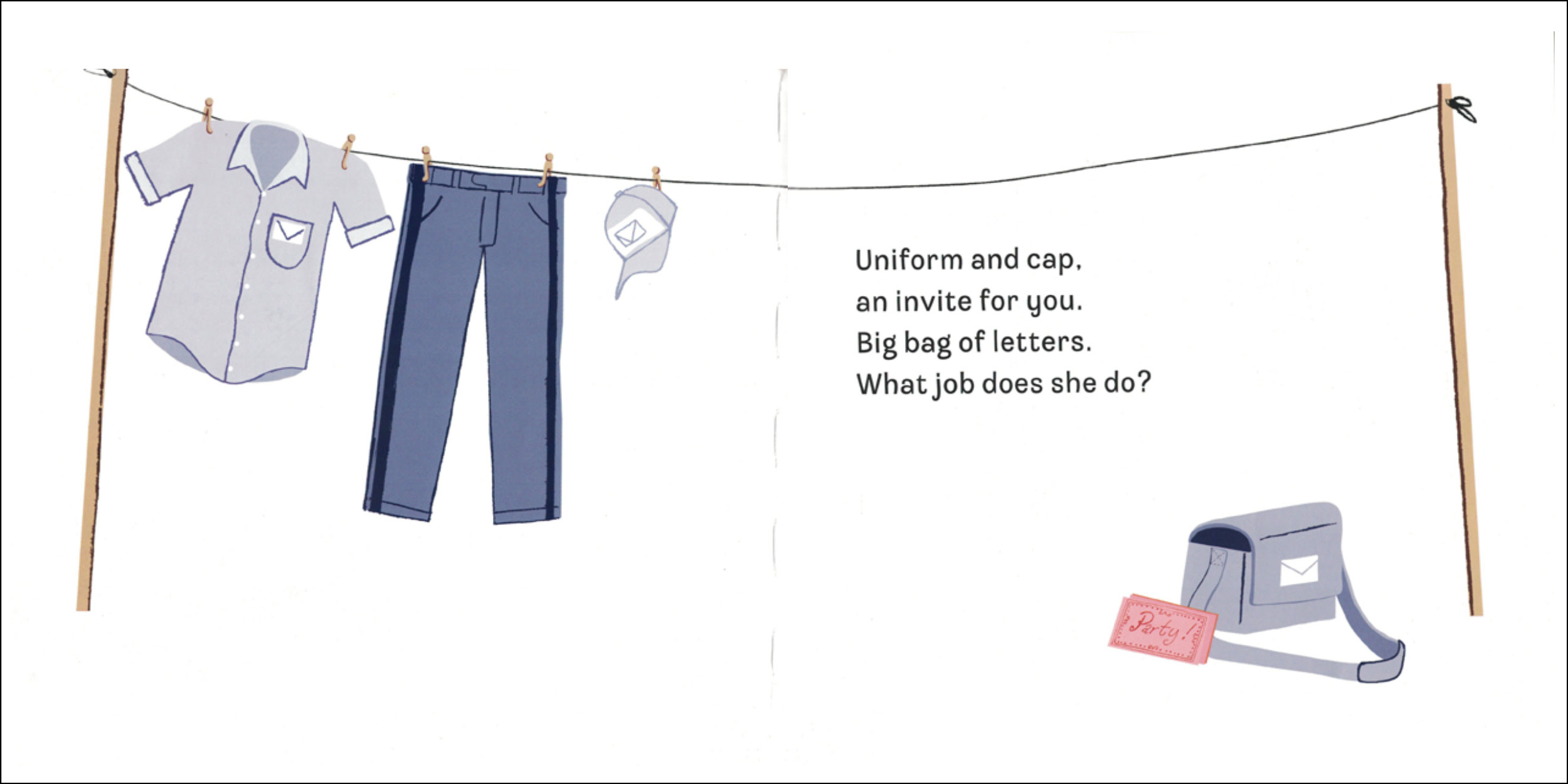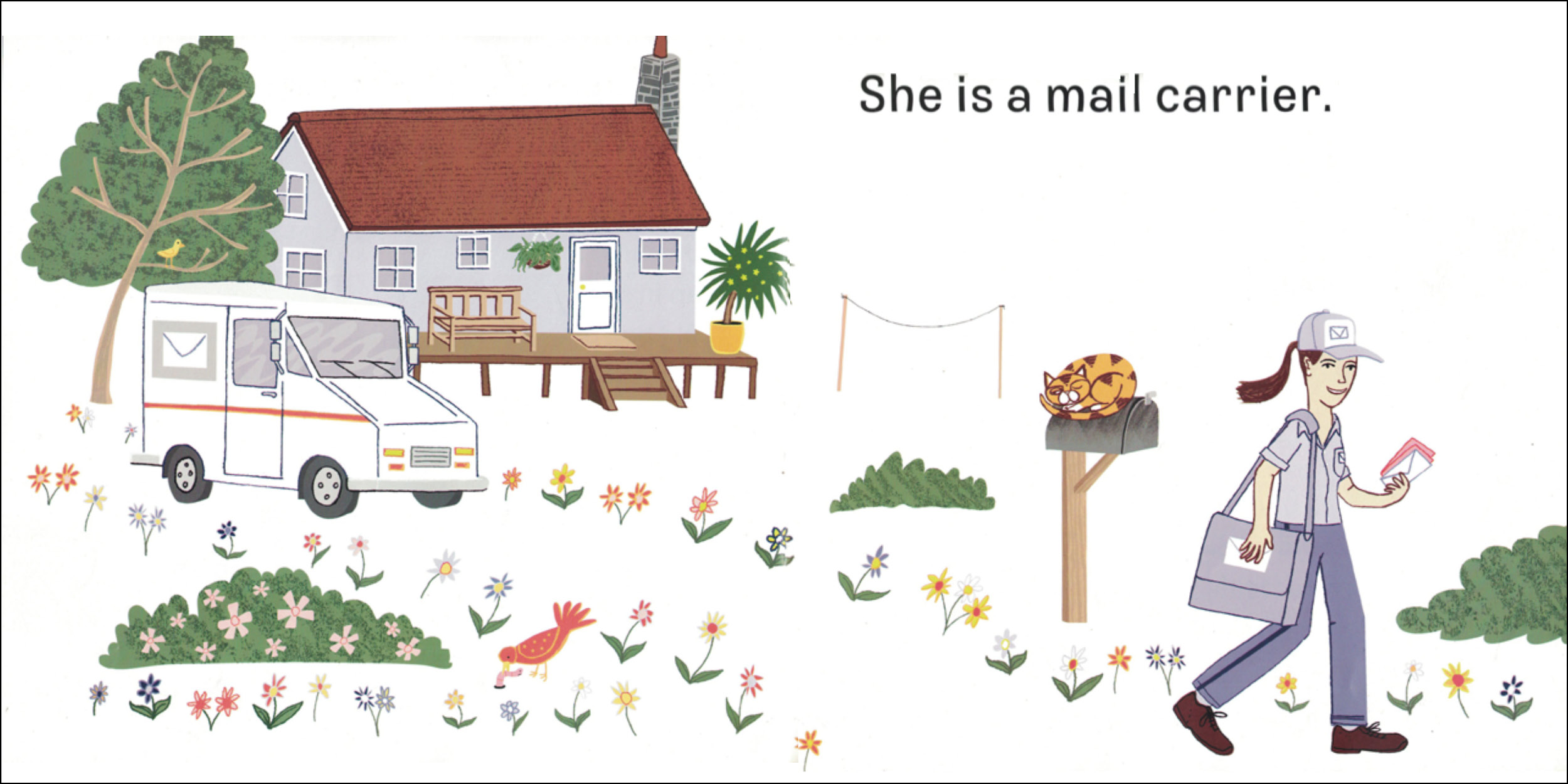 Throughout the book we see the first person we meet, a mail carrier, delivering party invitations to all the others: a farmer, a chef, and artist, a carpenter, a firefighter, and finally an astronaut. At the end, the astronaut gets into her rocket and we discover that we are at a launch party!
Understanding that some clothes have occupational functions is an important concept for kids, and learning about the components for particular professionals also helps support dress-up skills and pretend play.
by Jonathan London, Frank Remkiewicz (Illustrator)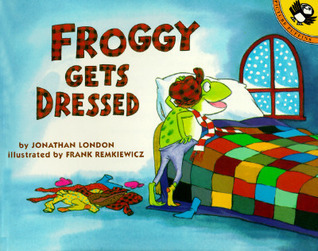 Puffin Books (1994); paperback, $6.99
Froggy is supposed to be hibernating, but he wants to play in the snow. Froggy puts on his socks (zoop!), his boots (zup!), his hat (zat!), his scarf (zwif!), and his mittens (zum!). Then flop flop flop he runs out to play. No sooner is he outside than his mother is calling for him. (He's forgotten his pants.) Froggy goes back in, undresses, puts on his pants (zip!), and puts all the other clothes back on.
This cycle repeats because Froggy has also forgotten his shirt and coat—and then it happens again when it is revealed that he forgot his underwear! But that last time, after pulling on his (long) underwear, he is just too tired and decides to hibernate after all.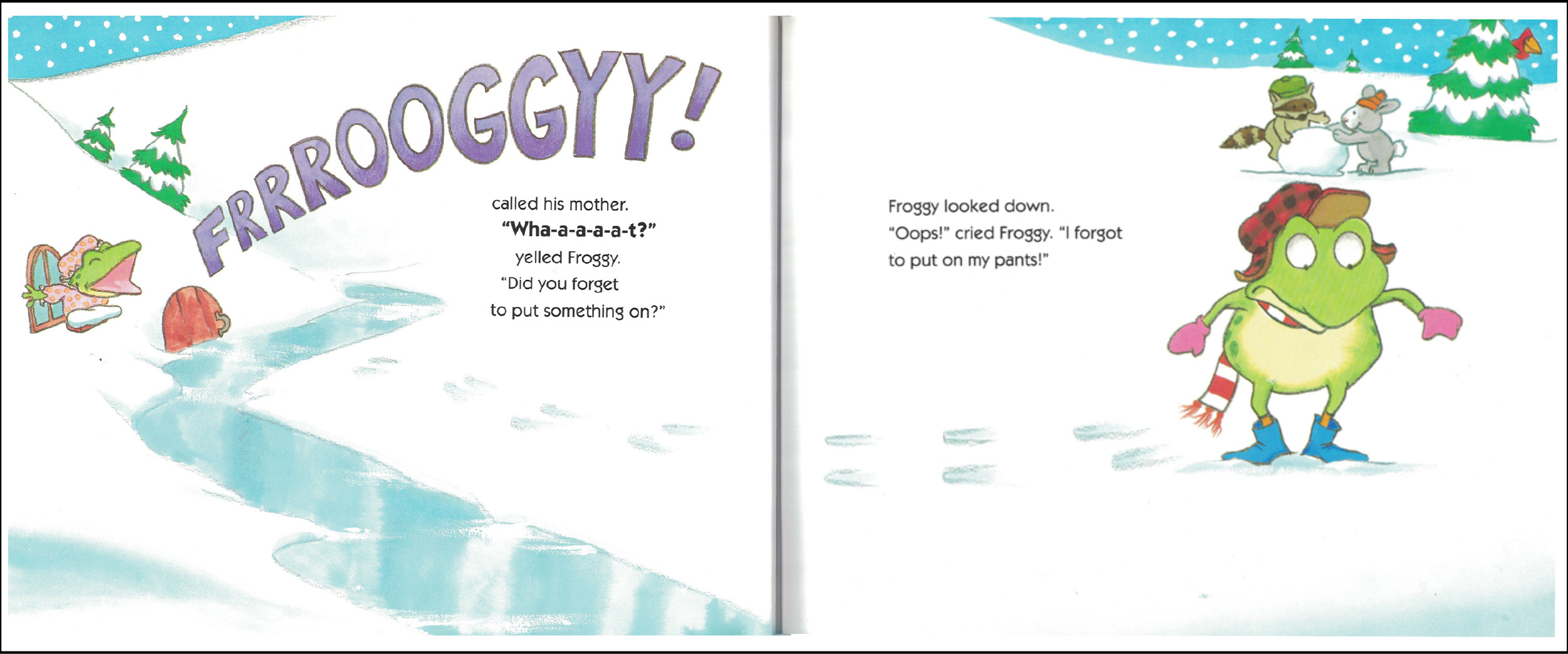 The dressing and undressing antics are what makes Froggy Gets Dressed so funny, and they provide wonderful opportunities to practice labeling the many action words for dressing and undressing. Every stage of the process is illustrated.
I love the nonsense words all starting with Z as sound effects. It's great practice for kids who are pre-readers to sound these out, and they are helpfully the only words italicized.
by Denise Fleming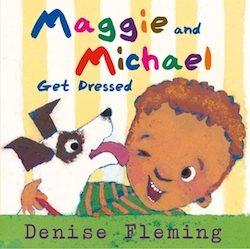 Henry Holt and Co. (2016); hardcover, $17.99
Michael, it's time to get dressed. The book opens with this everyday directive from mom. But Michael decides to dress his dog, Maggie, instead!
With carefully constructed repetition, this is both a dressing concept and color concept book: "Look, Maggie—socks. Yellow socks." Whenever a color is mentioned the word is hand-printed in an ink of that same color.
When it comes to dressing, Michael knows exactly what he's doing, even if Maggie is a bit confused. "Socks go on your feet, Maggie," he says, "not in your mouth." Sometimes he even gives the dog a choice of clothing.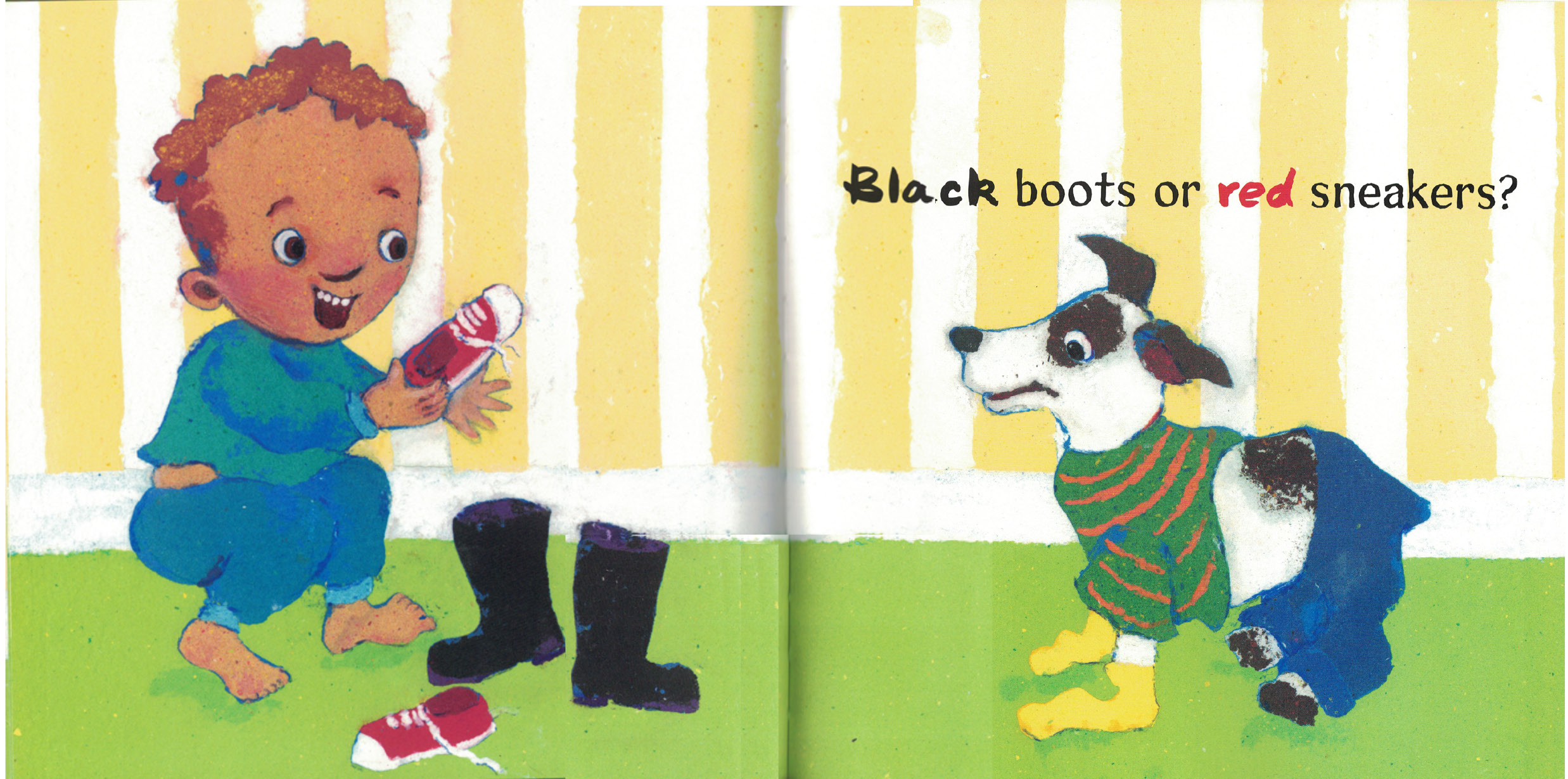 I adore Denise Fleming's writing, but I always have to warn people that while her artistic style is beautiful, it's also visually busy with soft, undefined edges and bright jewel tones. My son Luke can't attend to her books because of this, while my son Harry stims off them. So YMMV. Also, while I think she is a brilliant writer in general, the last few pages of this particular story didn't work for me. But overall, there is a lot of heart in the scenes between Michael and Maggie in this lovely picture book.
by Jan Brett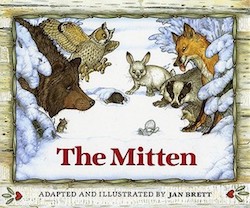 G.P. Putnam's Sons (1989); hardcover, $17.99
Has your child ever lost a glove or a mitten? Of course they have. In this classic Ukrainian folktale, Nicki's grandmother (Baba) is reluctant to knit Nicki the white mittens he wants because she is sure he will lose them in the snow. Grandma's right, and he loses one immediately.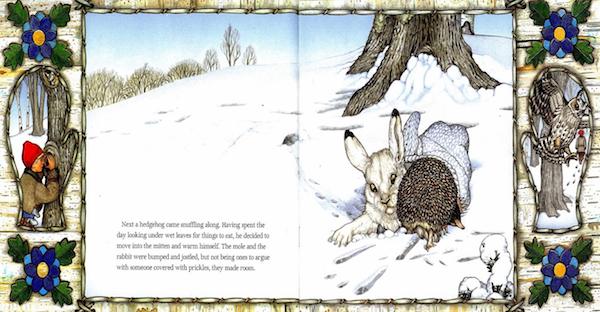 While the middle of the book will be too wordy for some, there is a helpful repetitive structure: some animal arrives and decides to get into the cozy, warm mitten, the other animals decide not to make a fuss, the new animal squeezes in, and the mitten stretches but doesn't break. Each page also has a left and right margin with cut-out art that give us a window into the action in another part of the woods. We are always able to see Nicki playing, and we get a clue about the next animal we will encounter.
This is not the best choice for kids who are easily distracted by lots of little details or who can't attend to a book for at least 5 minutes. But for a child who loves animals, detailed illustrations, and can manage the length, this book will be a hit. My son Harry adores it.
A very fun and gentle way to reinforce the idea that we should try not to lose our mittens!
by Margaret Chodos-Irvine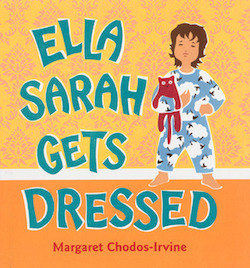 Harcourt Children's Books (2003); hardcover, $16.99
Ella Sarah wants to wear "my pink polka-dot pants, my dress with orange-and-green flowers, my purple-and-blue striped socks, my yellow shoes, and my red hat." But her family members don't like her choices, and they each try to get her to put on something else.
In the end, she wears just what she wants, and the occasion is revealed: three of her friends, all dressed up in clashing colors and patterned finery, have come over for a tea part. Ella Sarah fits right in.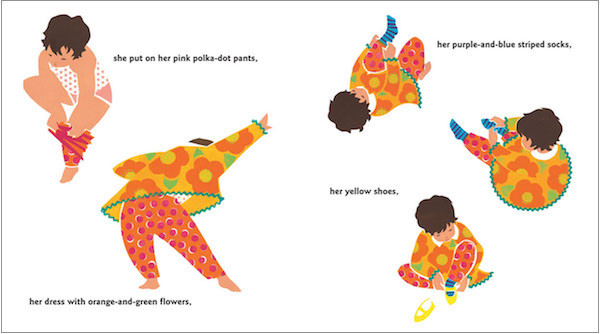 The illustrations throughout the book have an almost tropical palette and are rife with patterning. It's busy, but not too busy for most, thanks to the thoughtful interspersing of solid colors. The artist's perspective is also carefully chosen. We see everything from a low angle, including that the adults are never shown above the shoulders.
This is another great book for exploring the intersection between the social-emotional and clothing. Ella Sarah gets increasingly upset, until she has a full-fledged tantrum, screaming and throwing toys. While a behaviorist might grimace when the story resolves with Ella Sarah getting what she wants, I think the context matters. It's a playdate at her home; it's entirely appropriate for her to choose her dress-up outfit for her own tea party.
by Alice Schertle, Petra Mathers (Illustrator)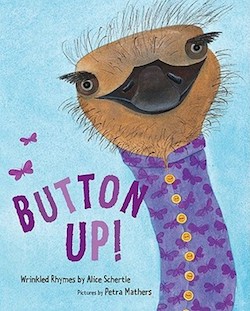 Harcourt Children's Books (2009); hardcover, $16.00
In Button Up!, each short poem tells a story about a new animal character from the point of view of an article of clothing that character wears.
"The Song of Harvey's Galoshes" is about a four rainboots belonging to a pig who loves to splash in muddy puddles. "Bob's Bicycle Helmet" is about a red helmet who is "on the job" protecting a dog named Bob who rides a bike. There are poems about wool sweaters, Halloween costumes, swimsuits, soccer jerseys, pajamas, underwear, sweatshirts, hiking hats, shoelaces, dress-up clothes, jackets, shoes, and even an old T-shirt that doesn't fit anymore.
The poetry is top-notch, with great rhyme and rhythm to keep kids engaged. I find that picture books with a longer length are most successful when they are poetry collections like this one. It's easier to keep a child's attention when each page has something new to offer.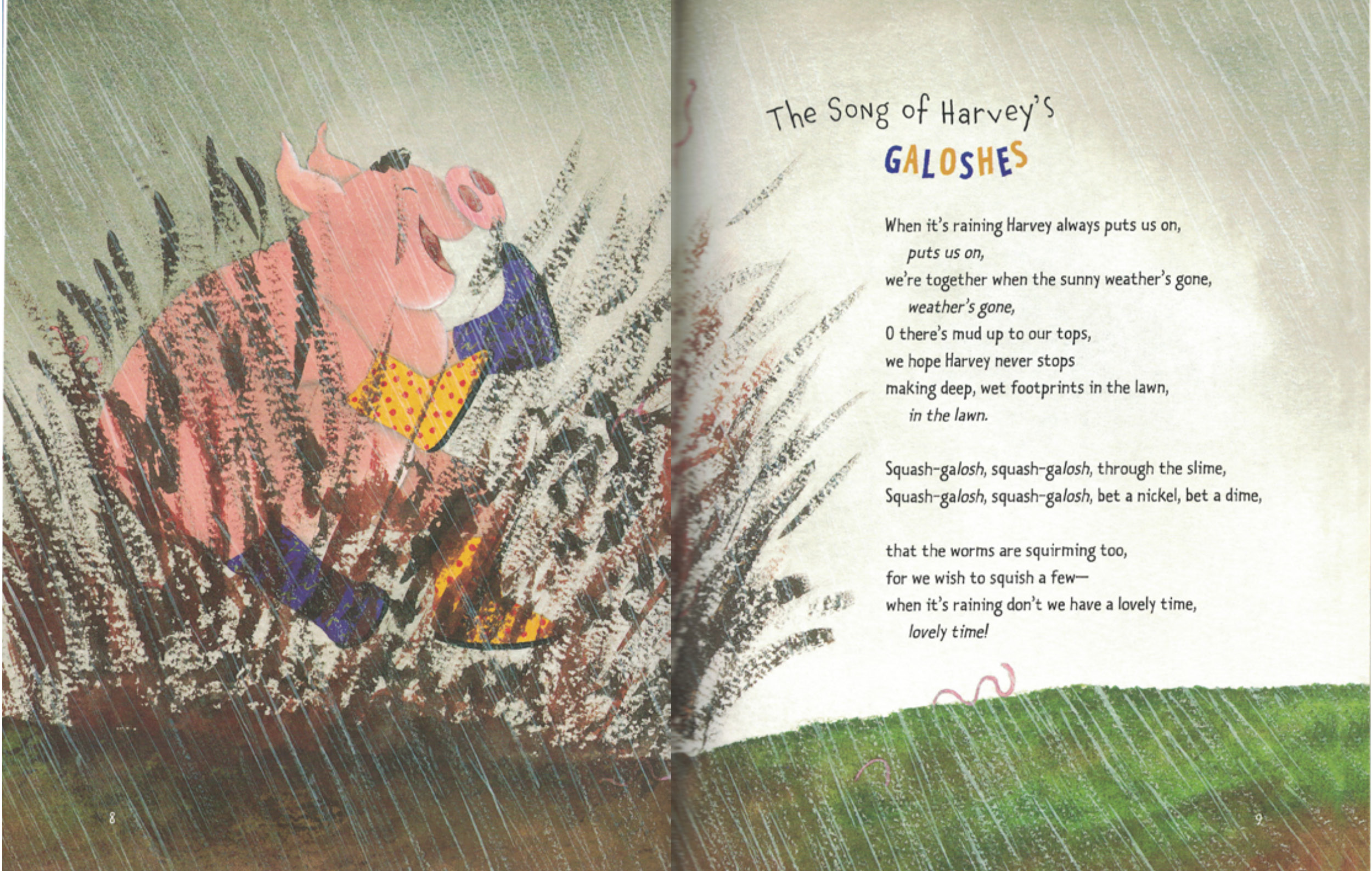 I don't think either of my sons understood that the "point of view" of each poem was the clothing's. That's a pretty abstract concept! But I like the idea of continuing to use Button Up! to work on point of view.
by Boni Ashburn, Julia Denos (Illustrator)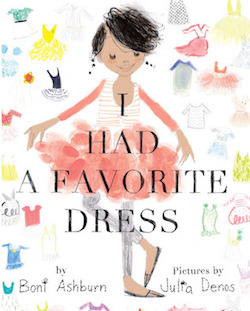 Harry N. Abrams (2011); hardcover, $16.95
A little girl has a favorite dress that she wears on Tuesdays, until one day it is too short. Luckily, her Mom has the great idea! "SNIP, SNIP, and sew, sew" the dress is transformed into a new shirt with ruffles. Now the girl wears her favorite shirt on Wednesdays.
As the girl grows, the garment is reborn as a tank top, a skirt, a scarf, a pair of socks and a hair bow, and then finally mom uses the last scraps to make a piece of art. Throughout the story, the new favorite item becomes attached to the next day of the week.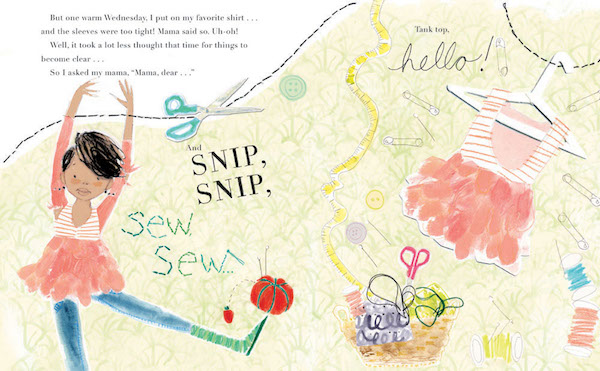 The story is told in the form of a happy poem that brightly bounces. My kids enjoyed the "SNIP, SNIP" and "sew, sew," refrain most of all.
This is a days-of-the-week concept book that also shows the passing of seasons and illustrates aging. The variety of clothing is great for labeling. As a social-emotional theme, it's nice to see a book deal with the common childhood conflict of having to let go of a favorite piece of clothing that no longer fits. Re-imagining it as something else is a tidy solution that some might want to actually try!
by Raymond Briggs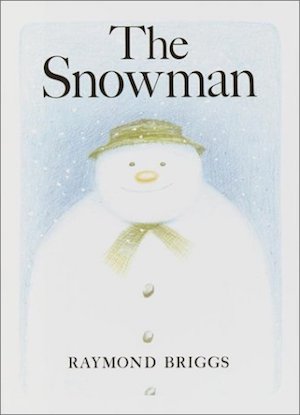 Random House Books for Young Readers (1978); paperback, $17.00
A little boy awakens to a huge snowfall and spends the day making a snowman. At night, he sneaks outside and the snowman is alive! They spend most of the night exploring and having adventures. Eventually, the boy tires and goes to bed, and in the morning, tragically, the snowman has melted. The entire story is told in series of frames (like a comic book) with no words at all.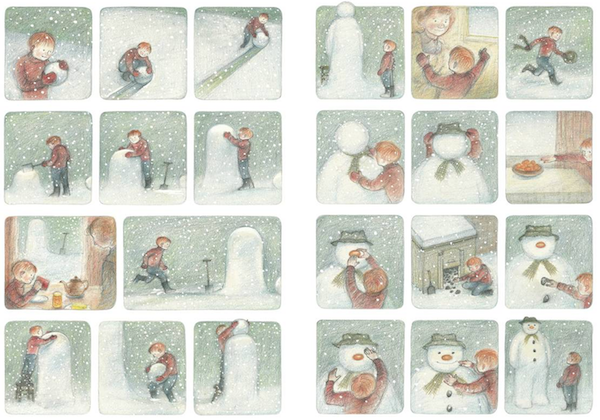 Clothing appears throughout the story. First, there is the boy getting ready to go outside. He takes off his pajamas and puts on clothes and outerwear (although his hat falls off). Then there is the construction of the Snowman: he gets a hat, a scarf, and buttons. Finally, the boy and the Snowman sneak into the parents' room and the Snowman hilariously tries on their clothes, giving us labeling opportunities for glasses, tie, pants, and suspenders.
Wordless picture books are ideal for kids with echolalia. They compel the reader (including the grown-up) to approach the book a little differently each time. They are also perfect for working on storytelling skills, like sequencing and the skill of understanding the meaning of words like before or next.
A few months ago, I did a post about how to use screen time to encourage reading. There is a marvelous Academy Award-nominated short film based on this book from 1982 that is spell-binding and definitely worth watching.