Holiday themed picture books are a fabulous way to introduce important celebrations to your child, especially kids on the autism spectrum who may need some extra exposure. This year, I decided to make a picture book advent for my 6-year-old autistic twin boys and really dig into the holiday season.
As a Christmas-loving, secular Jew, the spiritual celebration of Advent isn't really my thing. But those drug store advent calendars with the cheap milk chocolate candies behind each perforated window? Covet. This is just like that, but with books!
For my book advent, I am largely keeping with a frugal library book approach mixed with some books we already own that have been packed away since last year. (This way Santa's toy budget isn't unduly impacted.) There were three books that I really wanted that the library system didn't have, so I allowed myself to buy inexpensive editions of just those titles. I'm wrapping the books to keep things exciting, for fine motor practice, and also because ripping and crumpling paper provides a wonderful sensory beginning to a read aloud. Advent stickers, numbered 1-24 in festive colors are pretty easy to find on Amazon, Etsy, and other retail sites.
Some books may miss. I've never posted a list on this blog that I hadn't already tested to weed out the duds. But I've decided that it's the experience that counts, and it's fine if a few of the books are only read once. (That said, I will add short updates to this blog post and on my Facebook page throughout December.)
My book advent is not a recipe to follow.  My 6-year old twins have mostly moved on from board books, and our household is a blend of secular and interfaith. Pick books that make sense for your family traditions, beliefs, and your child's needs.
Happy holidays!
based on the song by Richard B. Smith and Felix Bernard; as sung by Peggy Lee; Tim Hopgood (Illustrator)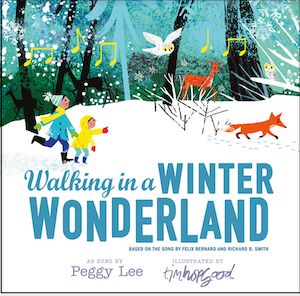 Singalong books create lots of multi-sensory interest. Tim Hopgood's retro illustrations are eye candy and perfectly pair with this classic song and slightly updated lyrics. Unfortunately, the line "We'll frolic and play, the Eskimo way," is still in there, using 'Eskimo,' which the Inuit people of Greenland and Canada find insulting. Belt your heart out with your own edit. This is a perfect choice to kick of the season as your kids are sure to hear this song out in the community—I think I've heard the Bublé, Sinatra, and Aretha versions already this year and it isn't Thanksgiving yet!
by Jane Yolen, Mark Teague (Illustrator)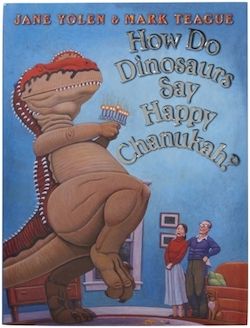 The 'How Do Dinosaurs...' series is one of the best sources for social-emotional learning through books I've come across, so I'm so excited to see what they came up with for Chanukah! The first candle of 2018 will be lit on December 2nd, so I'm front-loading this list with the Chanukah-related and more winter-themed titles to give the Jewish holiday a bit of room to breathe.
by Jan Brett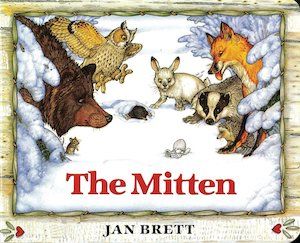 This is an old favorite of my son Harry's. It's a wonderful book for sequencing and always a big hit with animal lovers. I love Jan Brett's illustrations, and I see real value in her panels that bookend each spread and show bits of action off-stage. Wintery goodness and a reminder not to lose your mittens.
4. The Latke Who Couldn't Stop Screaming: A Christmas Story
by Lemony Snicket, Lisa Brown (Illustrator)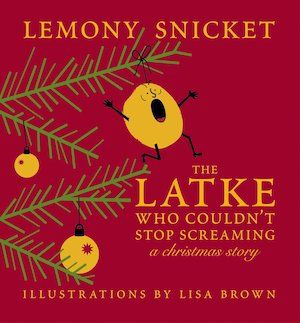 This one's new to me, but I gather that it's about a very upset latke (a kind of potato pancake eaten at Hanukkah), which escapes a hot frying pan. From there, the latke is apparently not taken seriously by Christmas ornaments. I can't wait to try to use this to get my boys to try latkes this Hanukkah. And who can resist Lemony Snicket?
by Raymond Briggs
This classic wordless picture book has too many panels on a page and uses extremely thin lines with scarcely any contrast. Not ideal. However, the 2014 animated short film "The Snowman," which features gorgeous classical music, is an absolute delight to have on during the holidays, and my kids find it completely hypnotizing and that interest has transferred to a tolerating a quick read of this book. Wordless picture books are ideal for kids who script and are great for practice with sequencing language. As of when I am posting this, the short film (27 minutes) is streaming for Amazon Prime members and HBO subscribers and can often be found on YouTube.
by Tanya Simon & Richard Simon, Mark Siegel (Illustrator)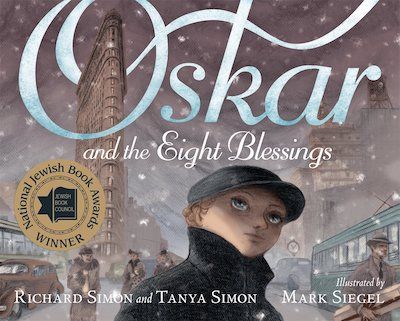 Oskar has sailed across the ocean to escape Nazi Germany. His father's last words to him: "Even in bad times, people can be good. You have to look for the blessings." It is the last night of Hanukkah and Christmas Eve in 1938. Oskar walks 100 blocks through Manhattan to reach his aunt's home, trying to make it there before she lights the menorah at sunset. As he walks down Broadway, Oskar meets kind and wonderful people, and finds his eight blessings. I'm not sure how much my kids will understand of this, but it's important to me to try.
by David Milgrim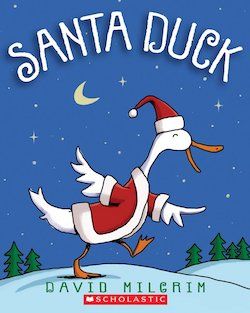 This book had me at "Jingle quack, jingle quack, Jingle all the quack." A Santa suit is mysteriously delivered to Duck's house, but when he puts it on all the animals start calling him Santa Duck and reading him their Christmas lists! The real Santa saves the day. This book is simple and funny with the kind of clean graphic art that is great for visually sensitive kids.
by Julia Donaldson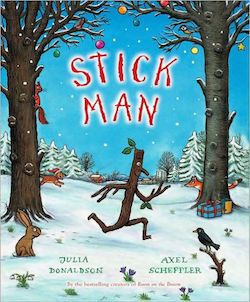 A family favorite! My son Luke adores Julia Donaldson's Gruffalo books, and he's warming up to the 2015 "Stick Man" short film (27 minutes) that we sometimes watch on Netflix. Stick Man is swept away from the family tree (where "his stick lady love and his stick children three" miss him dearly) and sets out on an adventure through all the seasons and many different landscapes, desparately trying to find his way home. In the end, Santa gets him home for Christmas. Julia Donaldson's lovely writing uses lots of repetition and rhyme; so while this book is longer, it's well constructed for autistic kids.
9. Must Be Santa (Big Little Golden Book series)
by Tim Moore, Pete Whitehead (Illustrator)
"Who has a beard that's long and white? Santa has a beard that's long and white." I remember this song from a Raffi album I had on cassette in the 80s. I've never seen this Little Golden Book, but I'm excited to get my library copy. Singalong books are wonderful from a sensory perspective, and call-and-response songs are particularly good for encouraging interaction and participation. The lyrics are great for learning about Santa.
by Dr. Seuss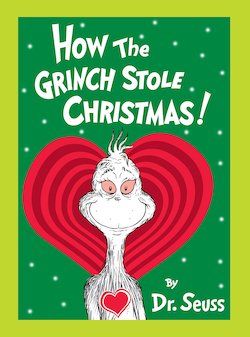 Such a fun Christmas standard, although it's twice as long as most picture books, which is probably too long for my son Luke. But, since movies are something my twins really enjoy, and I suspect we will take them to see the new Grinch movie over the Thanksgiving break, we may have a shot. Dr. Seuss' perfect rhythm and rhyme will help too, as will the super-fun 3D cover for this special "Grow Your Heart" edition our library happened to have.
by Laura Murray, Mike Lowery (Illustrator)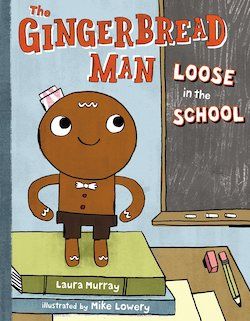 I love the bouncy rhythm of this book and the hilarious, slapstick chase plot. This isn't an explicitly Christmas-themed book, except that it stars a gingerbread man. I like it because it shows the baking of the gingerbread man, which not only connects to the original story, but also to making gingerbread men during the holidays. My kids haven't experienced this popular series yet, so if yours are more familiar, you might want to check out The Gingerbread Man Loose at Christmas.
by Susan Jeffers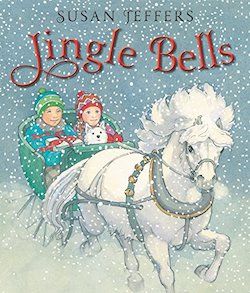 I looked at a few different adaptations of the song "Jingle Bells" before settling on this one. I think the right word for Susan Jeffers' illustrations is lavish. They are achingly pretty. Two children (a boy and girl) are in a horse-drawn sleigh making their way through the snowy woods on their way to their Grandmother's. The horse is playful and goes off-course to interact with a different forest animal on each spread, adding a cute look-and-find feature. Jeffers has also illustrated bestselling adaptations of The Nutcracker and The Twelve Days of Christmas.
by Britta Teckentrup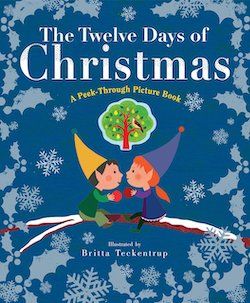 This book may be a little fragile for some kids with fine motor issues, but I love this die-cut, peek-through version of the "Twelve Days of Christmas;" it has enormous multi-sensory appeal. The cut-outs really add a lot of interest and get the kids involved in counting and sequencing.  The art is very fancy and intricate, but as the cumulative carol builds up in number, the visuals may get too busy for some. My kids enjoy the little embellishments of silver and gold shiny foil. The whole thing oozes festive.
by Walter Rollins & Steve Nelson, Sam Williams (Illustrator)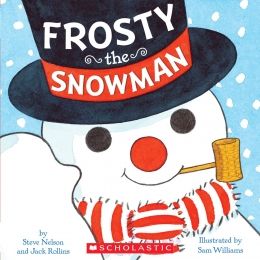 This is a lovely board book version of "Frosty the Snowman." It isn't connected to the 1969 cartoon special (which my kids love), but those tie-ins retell the entire Frosty movie, and I wanted a simple singalong book because my children love the song most of all. The book itself is sturdy and slightly larger scale (square-shaped) and the cover has textured glitter for the "snow." It's also nice to see a few kids of color playing with Frosty; holiday-themed books are particularly bad at racial diversity.
by Jonathan London, Frank Remkiewicz (Illustrator)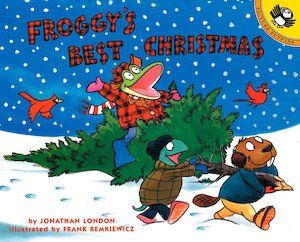 My son Harry loves the Froggy series, and he's never seen this one, so I know he'll be excited. Froggy is hibernating, but Max, a beaver, wakes him up so that he gets to celebrate his first Christmas. Froggy books are always funny, filled with action, hone in on topics that are interesting or challenging to children, and involve discovery. Sound words and exclamations make for a lively read. London is always careful to make sure his plots incorporate some repetition, so his writing is easy to follow.
16. I Spy Christmas: A Book of Picture Riddles
by Jean Marzollo, Walter Wick (Author/Photographer)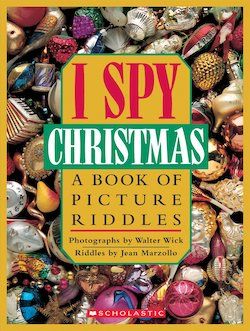 I loved these when I was a kid, and I'm excited to rediscover them. Each spread has a simple rhyme that tells you what to look for, and features a different photograph absolutely crammed with delightful thematic things—wonderful for practice with scanning. But be forewarned: I Spy books are fairly difficult. This series often requires an adult's help and a lot of patience. For a child with a lot of visual sensitivity this will probably not be a good pick. I'm expecting my son Luke to hate it and my son Harry to love it.
by Anna Dewdney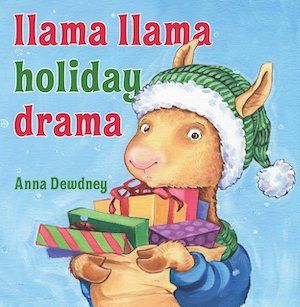 Llama Llama holidays.
Jingle music. Lights ablaze.
Sparkly candles. Yummy bread.
Dress-up clothes in green and red.
How long till that special date?
Llama Llama has to wait.
Fans of Llama Llama Red Pajama (like my son Luke) will love the "HOLIDRAMA!" meltdown that Mama Llama has to soothe when Llama Llama has trouble waiting for Christmas to come. And with all the build-up and overstimulation, who can blame him? The Llama Llama series is the best at sweet, rhyming books that teach social-emotional lessons. This one is no exception.
by Laura Numeroff, Felicia Bond (Illustrator)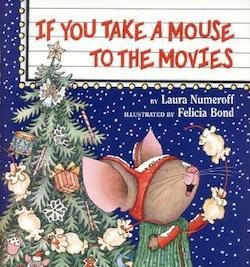 If you take a mouse to the movies, he's going to ask you for some popcorn. But if you give him some popcorn, pretty soon, he's going to ask for string so he can thread it to hang on a Christmas tree... Kids who are familiar with If You Give a Mouse a Cookie, will recognize the silly, circular structure immediately. These books are a joy, and I love how this one incorporates all kinds of seasonal activities (decorating a tree, making homemade ornaments, building a snowman, singing carols, seeing a holiday movie in the theater, etc.). The illustrations are on a spare white background so it's also a great pick for kids who can't tolerate busy visuals.
by Eric Carle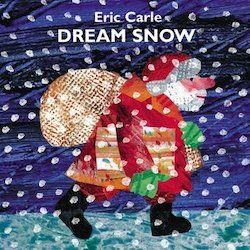 A $26.99 list price for a hardcover is steep, but this is one of those dazzling Eric Carle books that you may want to shell out for. Transparent pages are snow drifts on sleeping animals. A musical button adds surprise at the end. (Warning: the cheaper board book lacks these elements, relying on flaps.)  The plot is simple and lulling: On Christmas eve, a farmer lays down for a nap, wondering how Christmas can come when there is no snow. He has a dream in which his animals (named One, Two, Three, Four, and Five, and his tree, named Tree) are blanketed in a snow storm. When he awakens to a real snowfall, he puts on a red suit to leave gifts for the animals under Tree. Can you tell I'm excited? It's a multi-sensory book about gift giving—and it's a counting book!
by Jane O'Connor, Robin Preiss Glasser (Illustrator)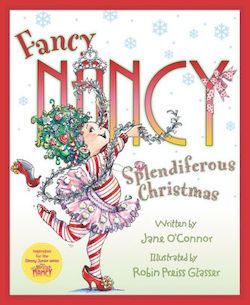 Last summer, while out on a playdate, my son Harry picked up a Fancy Nancy book and just ate it up. A few months later, I noticed that my son Luke was enjoying the cartoon on Disney Junior. It's about time that I dove into this series, and what's "fancier" than Christmas? Fancy Nancy decks the everything with tinsel, but has to cope with Christmas not turning out exactly as planned. I like this slight nod to rigidity as a main conflict, and I'm generally intrigued by the writing too. Fancy Nancy loves using unusual words, and she talks about that in a self-aware way: "It is important to find a tree with a wonderful right aroma. (That's a fancy word for smell.)." Many will love that the pretty illustrations are so detailed and descriptive. A child with auditory processing deficits or receptive language delays could look at the pictures and follow the story.
by Janet Morgan Stoeke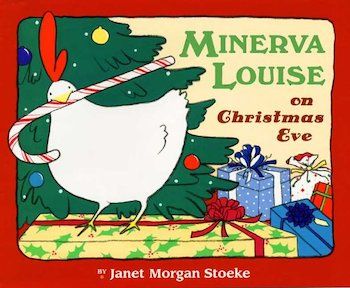 Silly is always a winner, and Minerva Louise is so silly. For those not familiar, Minerva is a chicken who never quite gets things right, usually because she doesn't understand the human world. On Christmas Eve she sees decorations and assumes her farmer is having a party. When she notices Santa's reindeer on the roof she thinks, "The party must be up here on the roof. Oh look, they've invited some goats. And the goats have put on their fanciest horns for the party." My son Harry loves to correct Minerva Louise, providing wonderful social interaction. My son Luke usually needs me to model what to say the first few times so that he gets the running gag ("Silly, Minerva! Those are Santa's reindeer, not goats!", etc.). Minerva Louise is a series that ultimately works for most, and involves lots of giggles. I can't wait to read this one!
by Kristen L. Depken, Linda Karl (Illustrator)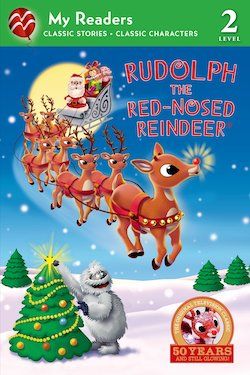 There are tons of good singalong adaptations of "Rudolph the Red-Nosed Reindeer," but I settled on spending $3.99 for an early reader version that isn't a singalong. It's a retelling of the story from the 1948 movie, and the book's bright, graphic art is in the same style as the film. The writing is meh (because it's an early reader), but my son Harry enjoys does enjoy reading books like this independently. The story itself, of Rudolph being ostracized because of his differences, is a good one, and while the song includes it, I wanted to slow down and spend some time with this particular topic.
by Natasha Wing, Mike Lester (Illustrator)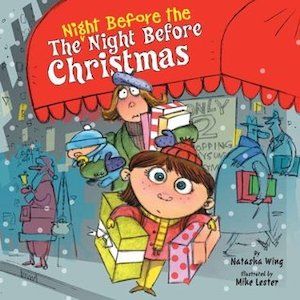 'Twas the night before the night before Christmas,
with too much to do.
Our tree wasn't up yet,
and Mom had the flu.
One adorably hopeless family can't get their act together on December 23rd. Using the structure and rhyme pattern of Clement C. Moore's "The Night Before Christmas," The Night Before The Night Before Christmas is a hilarious homage to the original. My son Luke loves it when things get broken, hurt, or just plain go wrong, so I'm sure his twisted funny bone will be tickled plenty by this. But for both kids, this serves as a perfect primer for reading the Clement C. Moore poem on Christmas Eve, really emphasizing that text as important cultural canon.
by Clement C. Moore, Henry Fisher (Illustrator)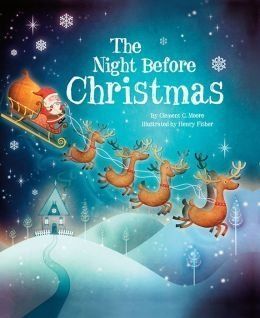 My particular edition of the The Night Before Christmas is nothing special. I picked it from a discount shelf a week after Christmas a few years ago at Barnes and Noble because it was dirt cheap and the art wasn't too busy. Even though the poem itself is archaic (1823!), and I dislike that it is written in first person from the point of view of a father, since I'm a mother in a two-mom household, none of that matters. It's a cherished family tradition to read it on Christmas Eve; it rhymes and bounces, and the underlying message is perfect: Go to sleep. Santa's coming.