Hands down, Halloween is my favorite holiday. I'm that person who doesn't take the cobwebs off my door until the Thanksgiving turkey is actually being basted.
It's possible that I go a little overboard with planning my (genius) couples costume for my twins each year (Harry and Hedwig! Christopher Robin and Pooh! Ernie and Rubber Ducky! And this year: Hiro and Baymax). My wife tells me that I don't need to spend so many hours making the costumes by hand, and that store-bought is good enough, but I actually derive joy from the labor of making Hallowe'en happen all October long with a sewing kit, fabric from Michael's, and a million bottles of Rit dye.
So obviously Halloween books are my thing. How could they not be? Here's a roundup of my 5 favorite picks.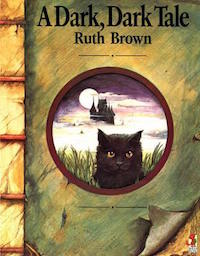 This is an enduring childhood classic and a great choice for children with autism. The book is like a gothic Russian nesting doll, opening on a dark moor and slowly zooming in to a creepy house, exploring it almost cautiously, until arriving at a mysterious wooden box in a dark and dusty cupboard.

On every page, a black cat can be found by the careful reader, and that is a great way to involve a child in the book, and as I've mentioned in previous posts, illustrations that promote scanning are great for children who need visual input. For Luke, I ask, "Where's the cat?" and have him point and show me (although the cat is sometimes really hard to find and he may need a hint). On certain pages I may model language to pair with this, like "in the hall" and get him to echo me. For Harry, who is ready for a bit more, I might ask "Where is the cat going next?" He's memorized the book and following the cat's path is a good opportunity to practice sequencing.

For both children, I hover on all the fabulous prepositions as the book follows the cat "behind" the door and "up" the stairs and "in" the box. The twist at the end (there's an adorable mouse in the box) always makes my boys erupt into fits of giggles. With all the repetition of words and structure, gorgeous atmospheric illustrations, and just the right amount of new vocabulary, "A Dark, Dark Tale" is a Halloween home run.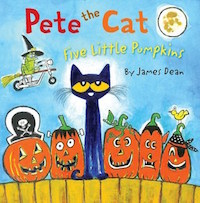 It's great to have a title featuring jack-o-lanterns before any scary looking pumpkins make their appearance. And who better to introduce the holiday than a trusted friend? Luke loves Pete the Cat -- he actually calls him Pita Cat, which I hope he does forever because it's freaking adorable. And one of my favorite things about this franchise is its songbook collection because it has helped me introduce key nursery rhymes and songs to Luke, in particular, that are critical to the social childhood experience.

"Five Little Pumpkins" is sure to come up in most preschool classrooms since it's a seasonal pick that is also perfect for introducing the words for the first five ordinals: First, second, third, fourth, and fifth. This isn't something I'd necessarily expect Luke to pick up yet, but he does understand "first/then"-based behavioral strategies, so we'll see. Harry's ready, so what I'm trying is holding up one finger for first, two for second, etc., with the hope that he can make the connection with this visual cue.

A final tip for those who are not screen averse: If your child loves watching videos but doesn't love reading as much, consider introducing short animated movies of books, including "Five Little Pumpkins." People often have strong feelings about screens, but media tie-ins can be a great way to nurture a child's interest in physical books.
3. Room on the Broom by Julia Donaldson, Axel Scheffler (illustrations)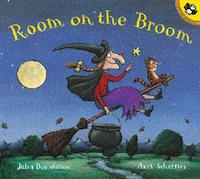 Speaking of books that have been made into high quality animated movies, Julia Donaldson's partnership with Magic Light Pictures has yielded incredible results. So incredible, in fact, that the short film adaptation of "Room on the Broom" was nominated for an Academy Award in 2014. Harry regularly requests that we watch it on Netflix and it's just wonderful; Simon Pegg narrates and Gillian Anderson is the witch.

The first half is all sequencing through parallel structure. The clumsy witch drops something while she's flying around, lands to look for it, and encounters an adorable animal who asks to join her. This repeats until the broom gets over-crowded and snaps just in time for a ferocious, hungry dragon to start chasing the broomless witch for his dinner. Her new friends use their wits (in what I assume is a literary nod to the classic picture book "Swimmy" by Leo Lionni) to scare off the dragon. Afterwards, they magic a new and better broom with proper seats for them all.

There's a lot to love here. Harry gets great intraverbal practice finishing the ends of the rhyming stanzas when I give him a beat to do so. And he particularly loves to jump in for the broom's sound effect ("Woosh!"). But what I am most excited about is how good this book is for tacting actions. The illustrations are evocative, active and do a good job depicting the verbs the author uses. When "they searched for the hat" you see the dog and the witch very clearly searching with their body language, expressions, and the scene's staging. When the witch "pulled the hat firmly down on her head" the pulling is easy to see the motion of. "Room on the Broom" is an active verb goldmine.

A quick warning: "Room on the Broom" is longer than the other books I'm featuring in this post, and it's more appropriate for a child who can attend (or is working on attending) for 7-10 minutes.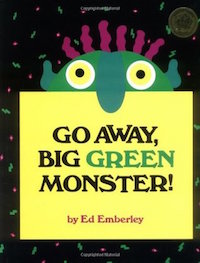 A die-cut hardback with a bright and sparkly cover, "Go Away, Big Green Monster!" is usually billed as a book to help kids get over their fear of monsters. I suspect that abstract fears are a developmental milestone of sorts, and maybe we just haven't hit that stage yet. So for us, this book isn't therapy. It's just silly!

The monster's face is built up as the die-cut elements are added with each page's turn. Then the child-reader says, YOU DON'T SCARE ME!, and is prompted to order away each element until the monster is undone. The structure is easy for kids to follow, and the face-building is really anticipatory, engaging, and the bright and contrasting colors provide a lot of interest.

I know some preschools carry this book over to art class (or OT time) because making the face with construction paper (or craft foam) and glue is an obvious next step. Academically, it introduces the concept of assemblage, or what's sometimes called "parts of a whole." (Related: I don't own this, and so can't recommend it from experience, but I lust after the "Go Away, Big Green Monster!" puppet toy that Lakeshore Learning sells.) The book can also be used to practice tacting and naming facial body parts (eyes, nose, ears, hair, mouth, and teeth), colors, size words, and a few other common attributes. It is wonderful for lengthening utterances because Emberley uses more than one attribute for each body part ("big yellow eyes," "sharp white teeth," etc.).
One cautionary note: if your child has big problems with fine motor control, this book may be easy to tear. We have had lots of issues with pop-up books and lift-the-flap books, but this one has managed to stay intact. YMMV!
5. It's Pumpkin Day, Mouse! by Laura Joffe Numeroff, Felicia Bond (illustrations)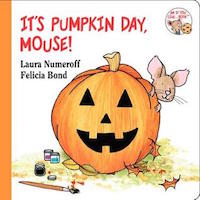 Fans of "If You Give a Mouse a Cookie" will recognize the cute rodent protagonist, but this story is much less complex. This is a board book, and while I'm trying not to go backwards and show my kids too many board books as this becomes less and less age appropriate, I make frequent exceptions for sentimental favorites and excellence.

Mouse has seven pumpkins to decorate, and he paints each with a different expression. There is a happy pumpkin, sad pumpkin, silly pumpkin, surprised pumpkin, scary pumpkin, and two friendly pumpkins.

As Mouse paints his pumpkins, his little face expresses or interacts with the moods he's bringing to life. At one point, one of the pumpkins goes missing (a great introduction to this concept--and you can have a child count to check), and Dog has painted a scary face on it to surprise Mouse! To end on a not-so-scary note, Mouse paints the last two faces "friendly."

Obviously, this is fabulous practice for kids who need a lot of help identifying emotions, and a great opportunity to make a game out of making all the different kinds of faces and pairing them with the correct words. My plan this Halloween (Don't tell my wife, she'll freak out!) is to buy 7 (very small) pumpkins and work with the boys to make all these faces on them just like Mouse does. While this isn't a social story per se, "It's Pumpkin Day, Mouse!" is great for modeling this Halloween tradition.
Book Summaries:
A Dark, Dark Tale



by Ruth Brown (HarperFestival)
$8.99 USD, board book edition

What we love: A "scary" book with a funny twist; word repetition ("...dark, dark...") and parallel structure throughout; great practice with prepositions; sequencing/nesting structure of book is easy to follow; illustrations work for scanning (for the cat).

Challenges: Illustrations are dark and muted in tone and may not hold a child's interest if they have trouble making out details.
Pete the Cat: Five Little Pumpkins



by James Dean (HarperCollins)
$9.99 USD, hardcover

What we love: Pete the Cat character models costume wearing/trick-or-treating, classic nursery rhyme, introduction of first five ordinals; Pete the Cat short film adaptations can be used to reinforce book's interest.
Challenges: Illustrations could have gone further to show more of what Halloween night looks like.
Room on the Broom



by Julia Donaldson, Axel Scheffler (Puffin Books)
$6.99 USD, paperback edition

What we love: Fabulous rhyme and meter anchor the child in the text and allow for intraverbal practice; Animal characters and a friendly witch; just the right amount of "scary"; active illustrations pair well with action verbs used; Oscar-nominated short film adaptation can reinforce book's interest.
Challenges: The parallel structure doesn't carryover to the end of the book (something better handled in Donaldson's "The Gruffalo"). Also, this is a longer book and may take 7-10 minutes to read in full.
Go Away, Big Green Monster!



by Ed Emberley (Little, Brown and Company)
$12.99 USD, hardcover edition

What we love: social story to deal with monster anxiety; encourages child's participation (ordering away monster elements); great cross-over for art projects; assemblage/parts-of-a-whole conceptual book; practice identifying and tacting body parts (facial); bright, contrasting colors; practice with size, color and other basic attributes to expand utterances; easy-to-follow story structure.
Challenges: Die-cut pages are fairly thick and the book is well-made, but a child with serious fine motor issues may tear the book.
It's Pumpkin Day, Mouse!



by Laura Joffe Numeroff, Felicia Bond (Balzer + Bray)
$6.99 USD, board book edition

What we love: models Halloween ritual of decorating pumpkins; practice identifying emotions/expressions; counting; introduces the concept of something going "missing."

Challenges: The two "friendly" pumpkins inexplicably have dog-faces while the rest do not (Harry always wants to tact them as "dogs" instead of naming the expression). It may also be confusing for other kids that the "friendly" pumpkins aren't also called "happy" since they are both smiling.