Reading seasonal and holiday books is the best way I know of to connect my kids to the cycle of the year. And that connection is critical.
Holidays may be challenging for kids with autism; new seasons bring sensory changes and adjustments to daily living routines and the environment itself. But while these changes are gradual, holidays happen suddenly, complete with all manner of different foods and trappings, places to go, and complex social expectations. But there is a structure to the year itself and the holidays that communities celebrate. When kids begin to get this, and feel comfortable in the flow of it, their world expands.
Halloween was challenging for my kids at first. But now it's a beloved, much-anticipated holiday, and I owe much of that to reading good picture books throughout the fall each year.
This is my third published list of Halloween season books. (Find past years here and here.) Happy Halloween!
by Stephen Savage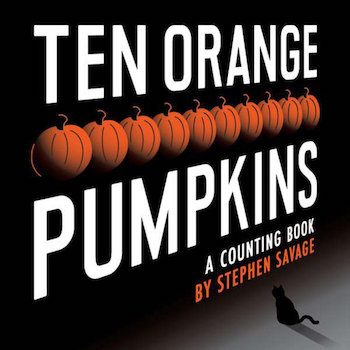 Dial Books (2013); hardcover, $16.99
This delightful counting down book is the breakout hit in my household this year. Savage's adaptation of this popular Halloween poem is wickedly clever. Each rhyming verse features a Halloween-y character or spooky event claiming a pumpkin in a unique way: lightning zaps a pumpkin out of existence; a ghost bakes a pumpkin pie; a mummy makes off with a pumpkin, wrapping it in bandages.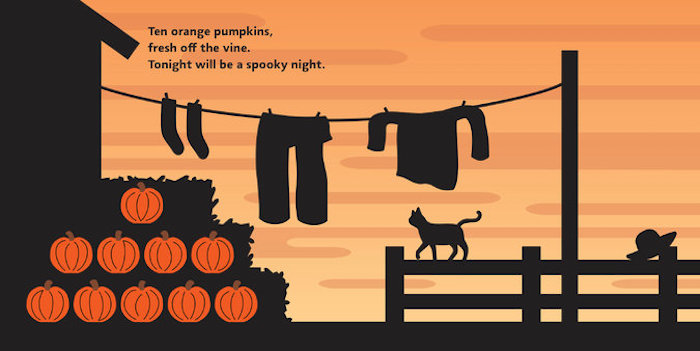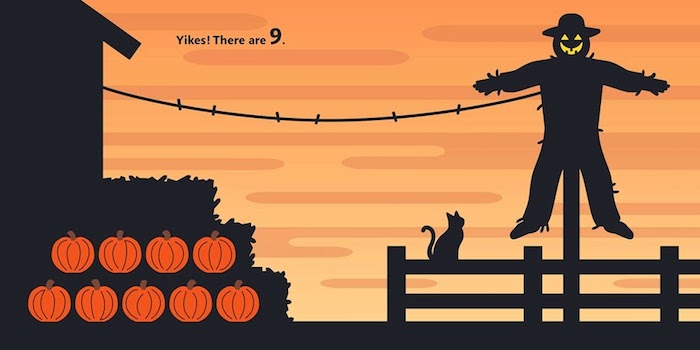 For kids with autism, everything about this book works. The graphic art isn't busy and features solid colors and thick lines. The poetry is well-constructed and reads well aloud. The repetition of the structure allows for predictability, which makes the book easier to attend to. And it's funny! A perfect non-scary choice for kids who love counting that introduces many of the tropes and characters of Halloween.
by Sandra Boynton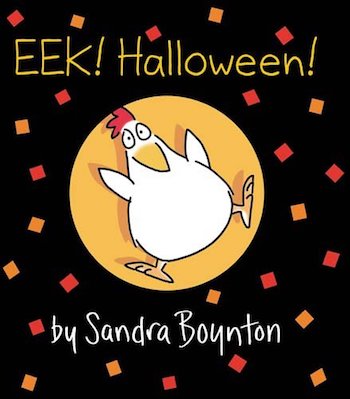 Workman Publishing Company (2016); board book, $6.95
A brood of chickens, anxiety-ridden by the other animals all dressed in costumes, star in Sandra Boynton's latest work of genius. In her classic illustrative style of sweet cartoon animals against solid backgrounds, and with her easy rhyming prose, Boynton gently addresses the anxiety that kids may feel about seeing others dressed up.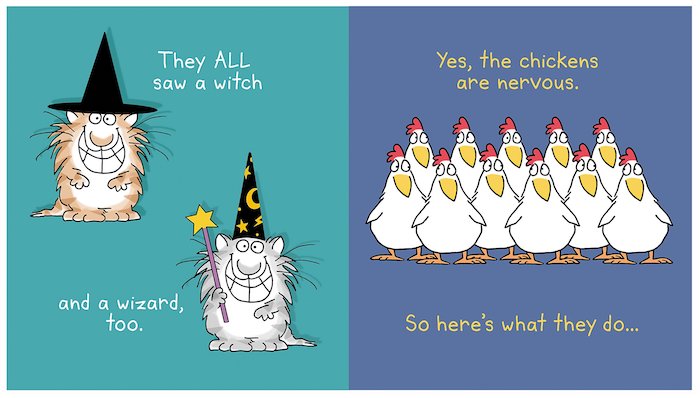 Chickens cover their eyes and are "nervous," but everything is shown to be okay when a pig friend (it's the character Pookie, from her other books, I think) tells the "silly chickens" that it's only Halloween! It's nice to have that "silly chicken" line as something you can encourage a child to echo if anxiety around costumes is an issue.
by Sandra Boynton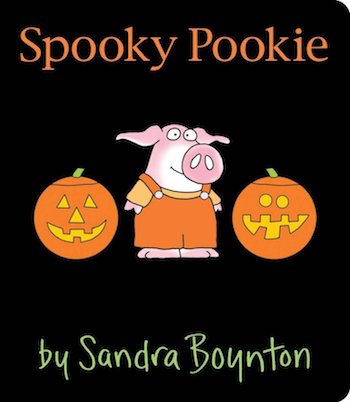 Little Simon (2017); board book, $5.99
I'm sad that I didn't have this book when my son Luke was struggling with wearing costumes and trick-or-treating when he was 3. It's a perfect social story for all of the above.
Pookie is an adorable little pig, who your child may already know from many other classic Boynton books (like What's Wrong, Little Pookie?). Pookie's mother explains that tonight is Halloween:
Tonight when it's dark
we will walk down the street.
We will visit our friends.
You can say, "Trick or Treat!"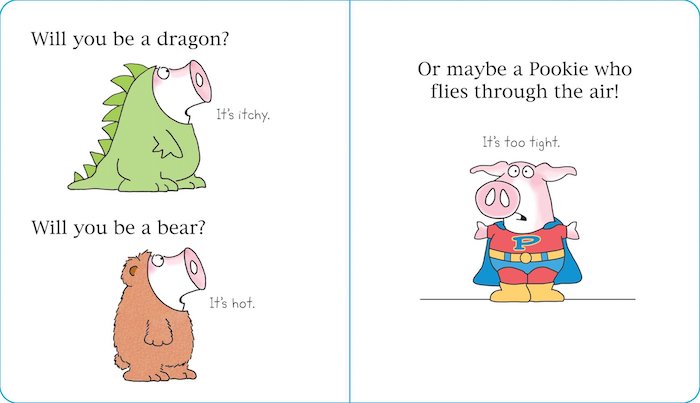 Pookie's mom tells her son to choose a costume, but he has sensory issues and is choosy. Kids with a variety of special needs can easily relate to many of the strong feelings Pookie has about these choices. Finally, he finally settles on what he wants to be: a ghost.
by Greg Paprocki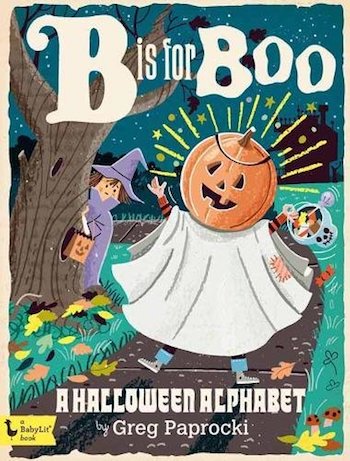 Gibbs Smith (2017); board book, $9.99
These sturdy board books are a great way to introduce a lot of Halloween vocabulary to a little alphabet lover. While a lot of the BabyLit books are pretty useless and appeal to adults more than children, the many holiday themed alphabet primers (D is for Dreidel, S is for Santa, etc.) by the artist Greg Paprocki are truly fabulous.
Many autistic kids are obsessed with the alphabet as young children and alphabet books are a great way to encourage interest in books and to expand a child's vocabulary and introduce new concepts.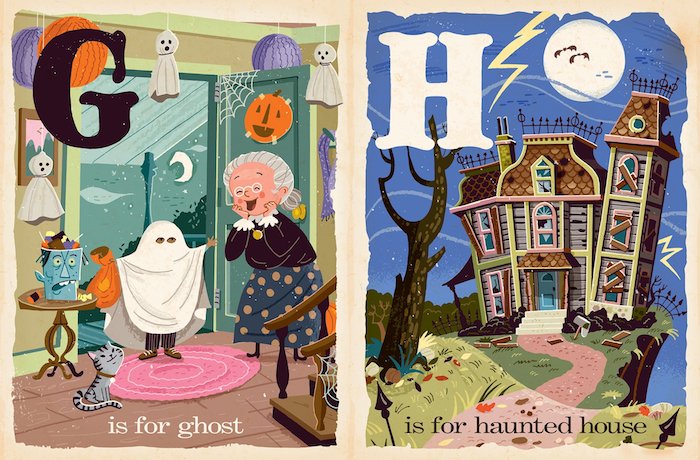 Visually hypersensitive kids (like my son Luke) will find these books way too busy, but for the right child (like my son Harry who stims off books like this) the beautiful illustrations are a feast for the eyes.
by Michael Rex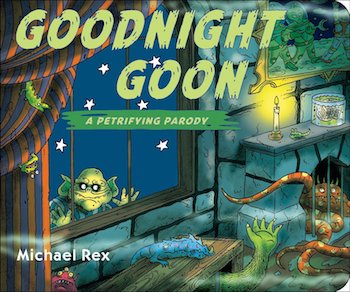 G.P. Putnam's Sons Books for Young Readers (2008); hardcover, $16.99
Parodies of a famous favorite are a wonderful way to expand a child's interest in books. Goodnight Goon won't be interesting or useful to anyone who doesn't already love Margaret Wise Brown's classic Goodnight Moon, but kids who are familiar should be delighted.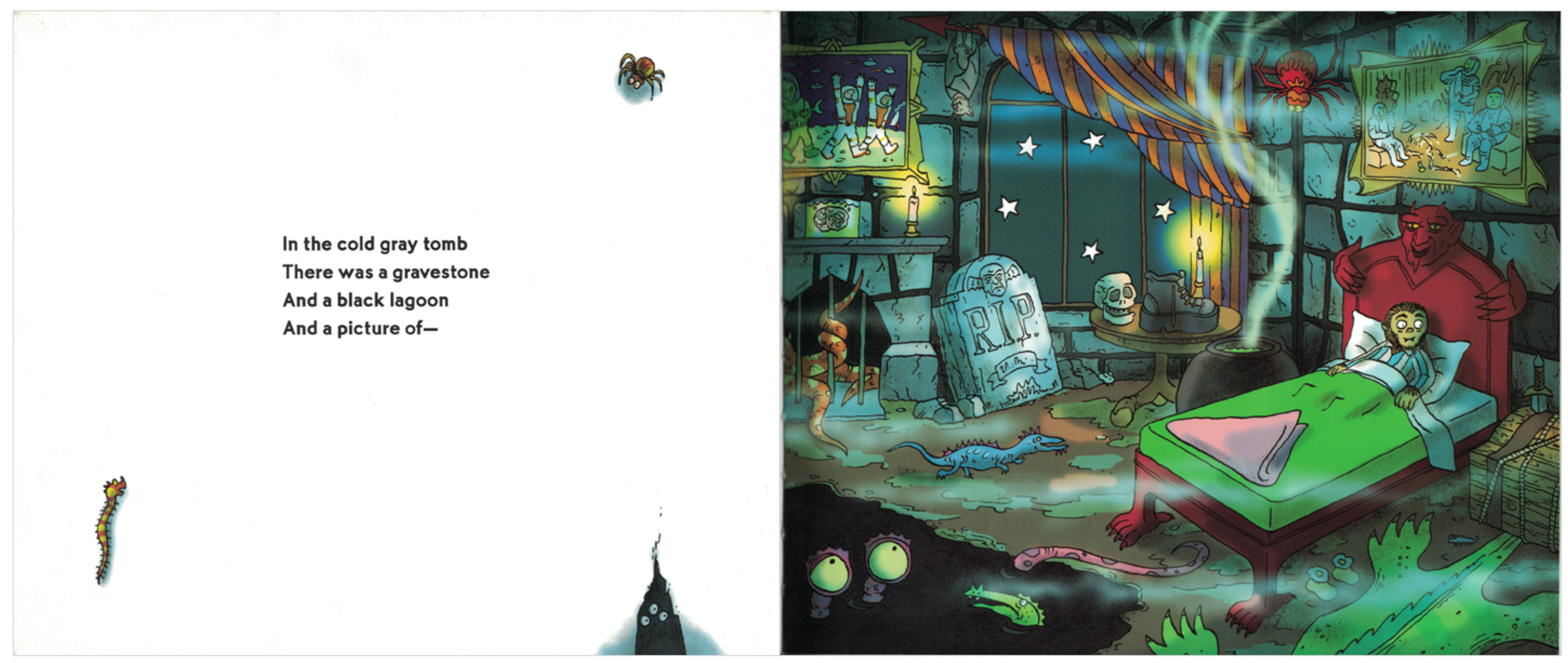 This didn't happen with my kids for Goodnight Goon, but if your child is anxious because the story isn't the way they expect, try to encourage talking about that. Try saying, "That's so silly! It's supposed to be 'Goodnight Moon!'" With other books that riff on the familiar, giving my kids a functional way (and permission) to express rigid feelings has helped tremendously.
by Jan Thomas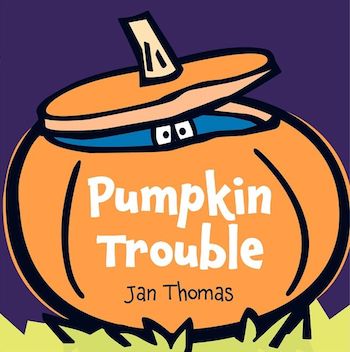 HarperCollins (2011); hardcover, $9.99
Duck leans too far into a pumpkin he's cleaning out and gets stuck. He runs around with the pumpkin on his head looking for help, and Mouse and Pig think he's a Pumpkin Monster. Duck, hearing of the Pumpkin Monster, doesn't realize it's him and the result is a wonderful chase/crash scene.
The bold, graphic art is super easy on the eyes (perfect for hypersensitive kids) and Jan Thomas mostly tells her slapstick stories visually, through the illustrations.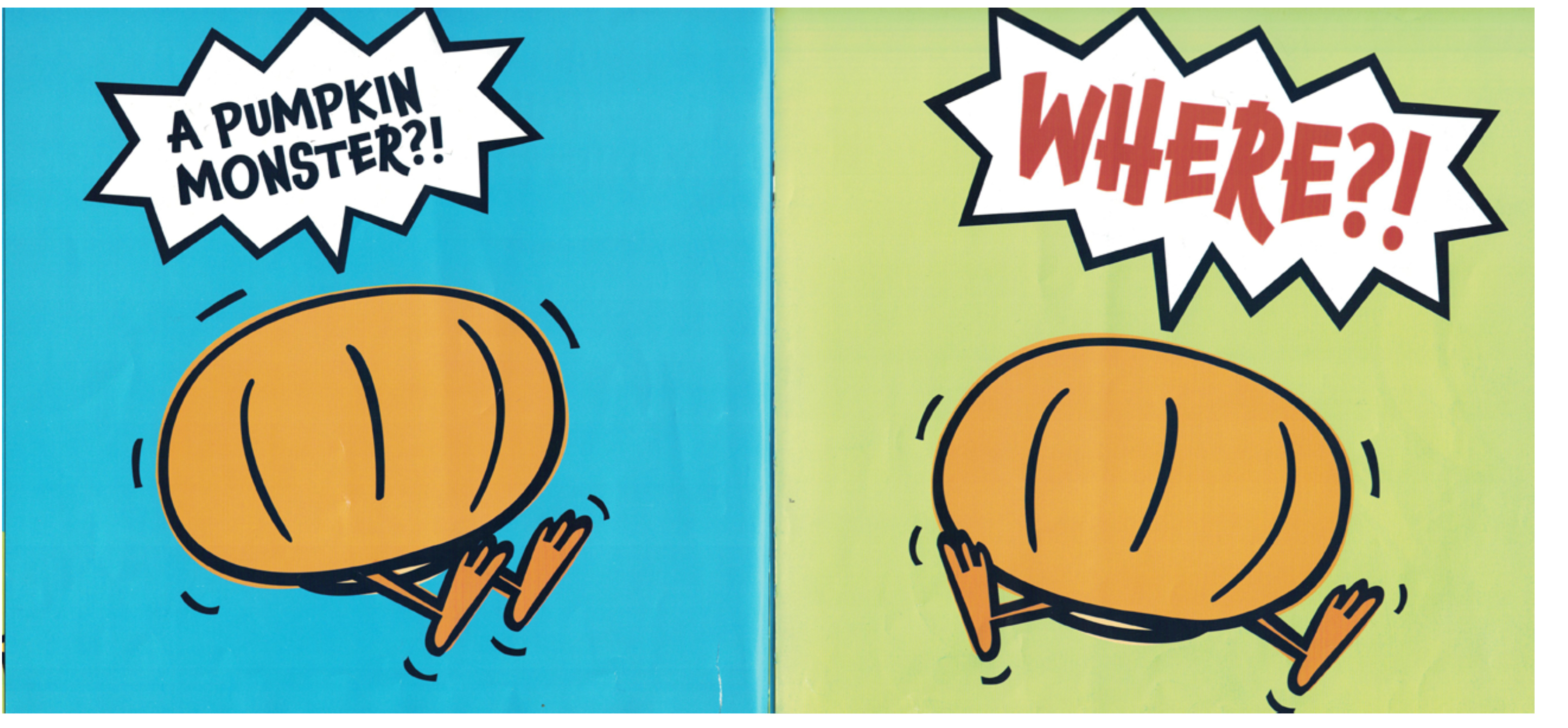 This is a book about perspective-taking, which means it's also a book about Theory of Mind. Take the opportunity of reading Pumpkin Trouble to flex this muscle. Your child may enjoy Duck crashing into a wall and smashing his pumpkin—and that's your way in. Help them to see why it's also funny that Duck doesn't realize that he is the Pumpkin Monster. This is one of those moments when the joke is not ruined by explaining it!
by Bob Barner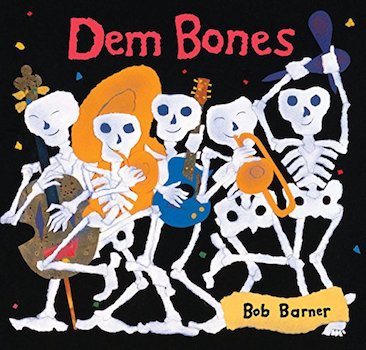 Chronicle Books (2016); paperback, $7.99
Most of us are familiar with "Dem Bones" as a childhood song that is great for learning about the parts of the body, but you may not know that it was originally an African American spiritual inspired by the prophet Ezekiel's visit to the "Valley of Dry Bones."
This adaptation by Bob Barner has sidebars with technical information about the parts of the human skeleton that I find a little much for a picture book, but they are easily skipped over. Some may also find the illustrations a little wonky and hard to follow, but I like how each spread shows a close-up of the bone we are singing about as well as a full-length skeleton so that we can see that bone in context. Also, the bone in question is highlighted in a solid color, so it's easier to label.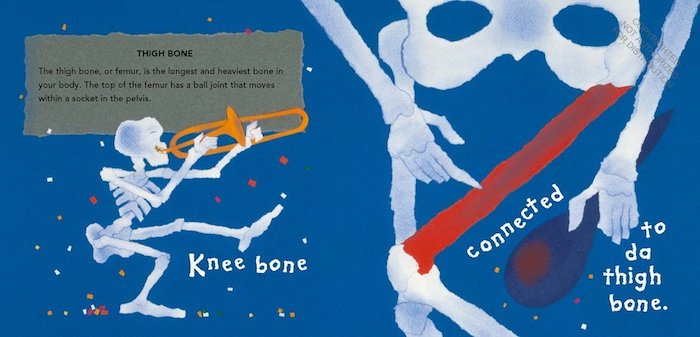 If you're like me and not thrilled by religious references, there are many secularized ways to sing this song that don't include mentions of "the Lord." I like this version that I found on The Kiboomers YouTube channel:
by Mary McKenna Siddals; Jimmy Pickering (Illustrator)

Random House Books for Young Readers (2014); hardcover, $12.99
With repetitive, rhyming verse and a color primer format, Shivery Shades of Halloween is a perfect choice for kids who are learning their colors or are reinforced by labeling them. Color primer formats are a wonderful structure that many autistic kids enjoy because they are predictable.
This is a fabulous book for taking turns saying, "I see a...", to practice pointing and tacting.
My more verbal child, Harry, picked up on the fact that there was an unusual noun mentioned before the end of each verse right before the color was named: tinge of green; blotch of purple; wisp of white; shroud of gray; wash of blue; glint of yellow; smudge of brown; blot of black; stain of red; and blaze of orange. He wanted to know what all these things were, and I loved trying to explain it to him (which inevitably involved practical, messy demonstrations). These trickier vocabulary words are also repeated in a list on the final page for extra emphasis.
by Stephen Wunderli; Tim Zeltner (Illustrator)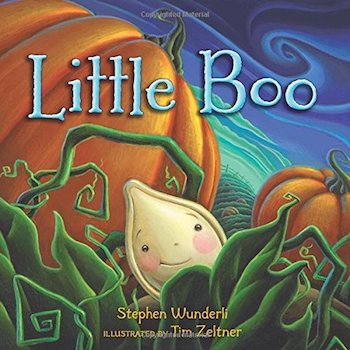 Henry Holt and Co. (2014); hardcover, $16.99
Little Boo is about a pumpkin seed who wants to be scary. He tries saying "Boo!" but everyone (leaves, grubs, snowflakes) tell him that he's not scary. Seasons pass and eventually he is planted and grows into a plant. Then he grows orange flowers, green fruit, and finally a large orange pumpkin. In the end, of course, he is a Jack O'Lantern and fulfills his dreams.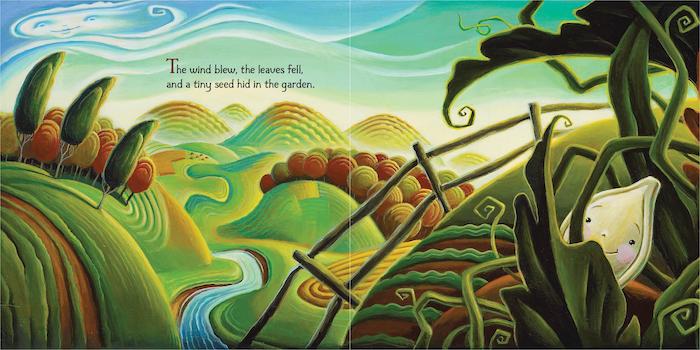 There are so many wonderful things about this story to love. Little Boo is wonderfully repetitive, explores the lifecycle of a pumpkin, and shows the changing of seasons. I enjoy reading this to my kids and practicing how to say "Boo!" at first in a whisper, gradually increasing our volume as the story progresses.
by Helen Ketteman; Nate Wragg (Illustrator)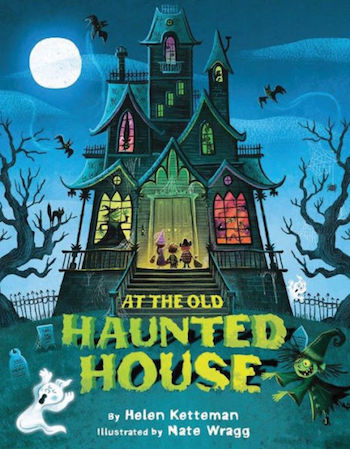 Two Lions (2014); hardcover, $16.99
For children who already know the song "Over in the Meadow," this is a particularly good Halloween choice. "Over in the Meadow" is a lulling counting poem (and song) with repetitive verses. In At The Old Haunted House, numbered animals and their mothers making animal sounds are replaced by Halloween monsters, starting with a witch and her daughter:
At the old haunted house in a room with no sun
lived a warty green witch and her wee witch one.
'SPELL!' cried the witch.
'POOF!' cried the one.
And they both practiced spells in the room with no sun.
Alongside this poetry, there is also an overall plot to follow: Three children are trick-or-treating on Halloween night, and it is they who approach these Halloween creatures in the old haunted house.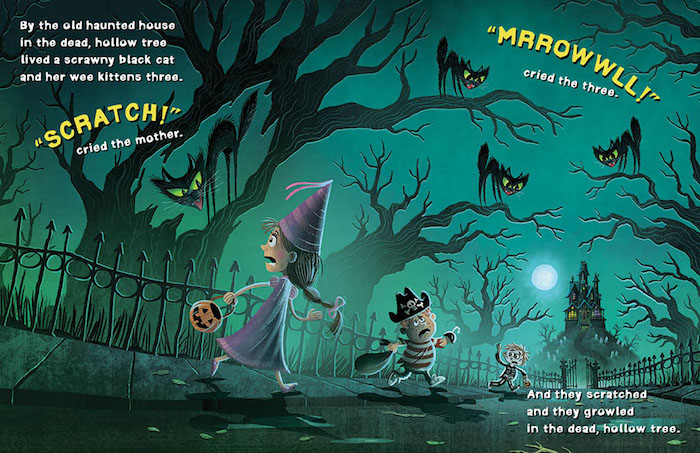 I enjoy singing this book with the same sweet, carefree energy I put into "Over In the Meadow" and then twisting the singing into a "scary voice" when we get to the Halloween sounds the creatures make. My kids find this incredibly silly.
by Anne Mortimer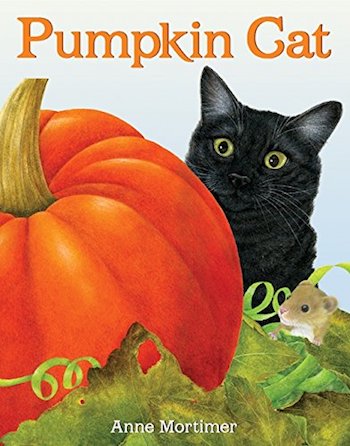 Katherine Tegen Books (2011); hardcover, $12.99
Cat and Mouse (inexplicably friends) work together in a garden through the seasons to grow a pumpkin. Cat acts as student, asking questions about what to do next, while Mouse provides the expertise.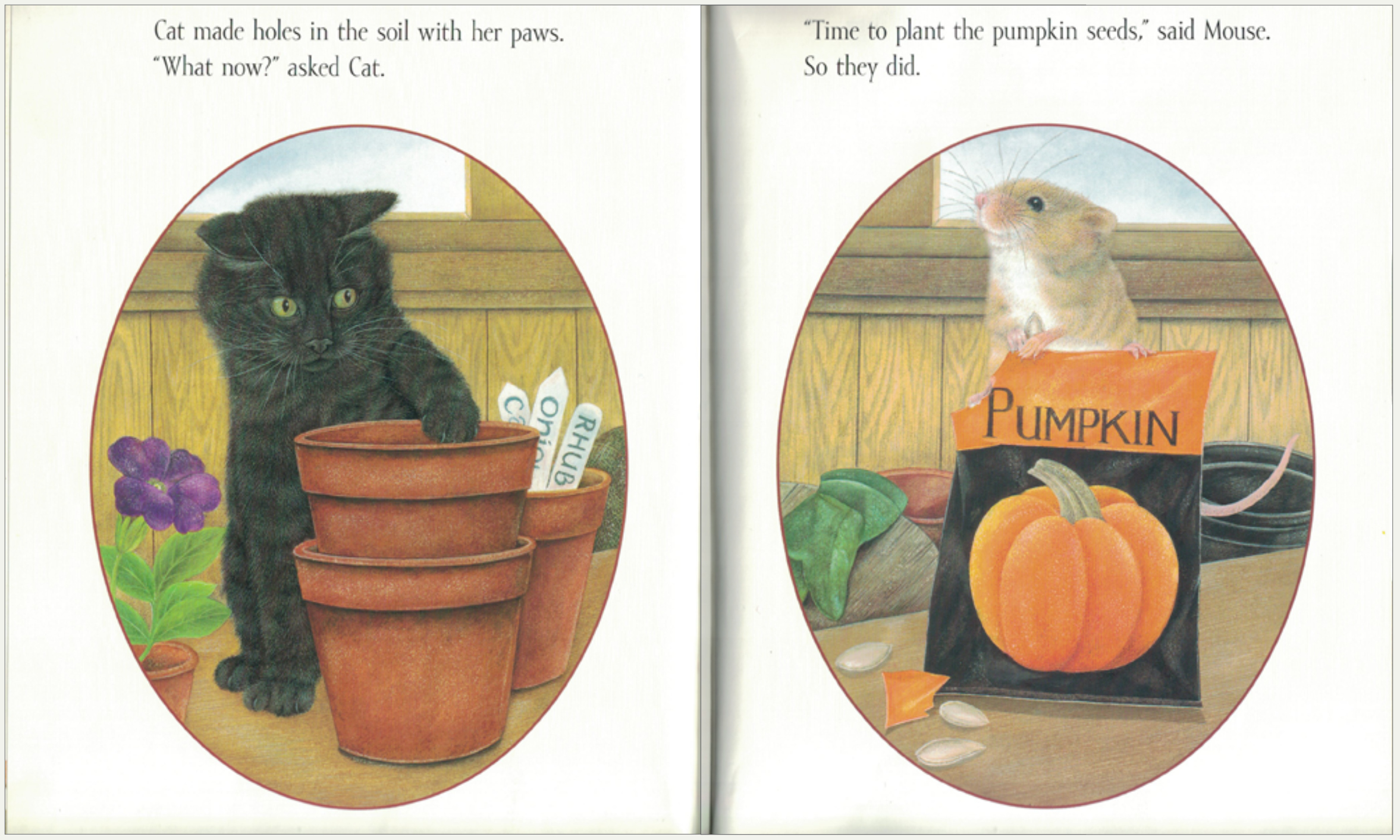 Pumpkin Cat is a good book for sequencing and asking questions. It does a good job of showing, through realistic pencil illustrations, the lifecycle of the pumpkin in the context of changing seasons. The illustrations will be too busy for some kids, but it is helpful that they are presented zoomed in on the action (Mouse/Cat view) in oval frames and set against a white background.
by Rebecca Colby; Steven Henry (Illustrator)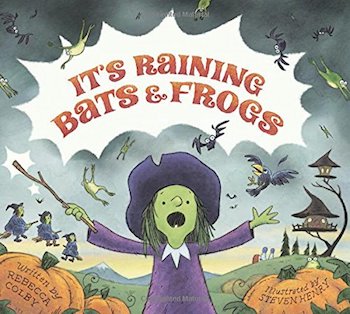 Feiwel & Friends (2015); hardcover, $16.99
Kids familiar with Abby from Sesame Street, will already understand the magic system of this book: If you can bust a rhyme and wave a wand—watch out!
It's raining on the witch's Halloween parade, so Delia whips out her wand:
It's raining, it's pouring,
but raindrops are BORING.
Change the rainfall on my head.
Make it CATS and DOGS instead!
Cats and dogs are fun at first, but soon they are ruining the parade in their own way. Delia keeps trying, summoning hats and clogs, and then bats and frogs. Finally, she realizes that rain isn't the worst, and the witches have a successful, wet parade.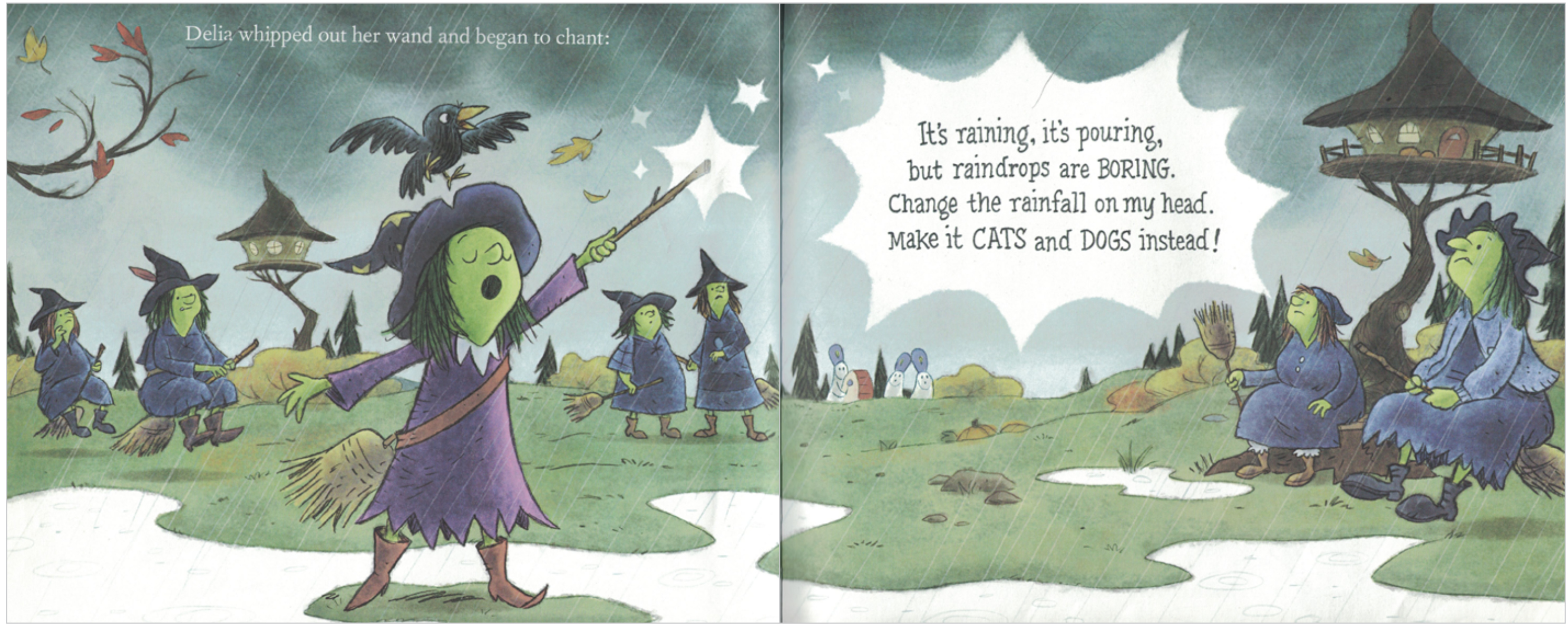 I recommend singing the spells to add some flavor to the story. The poetry is perfectly rhythmic and rhymes neatly, and the repetition of the spells is great for autistic kids. The illustrations are busy, but the muted tones make it easier to follow and the witches coping with the falling animals and objects are fun to explore visually.
by Ethan Long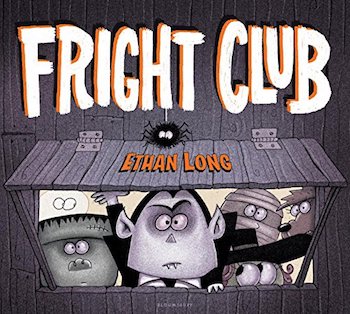 Bloomsbury USA Children's (2015); hardcover, $16.99
Halloween creatures convene for a meeting of Fright Club when a knock on the door reveals a fluffy white rabbit and pals who want to join in on 'Operation Kiddie Scare.' But Vladimir says, "Fright Club is for monsters only!"
The cute critters return with protest signs, a discrimination lawsuit, and ultimately prove that they have the chops for the job. (And the monsters are shown to need the help.)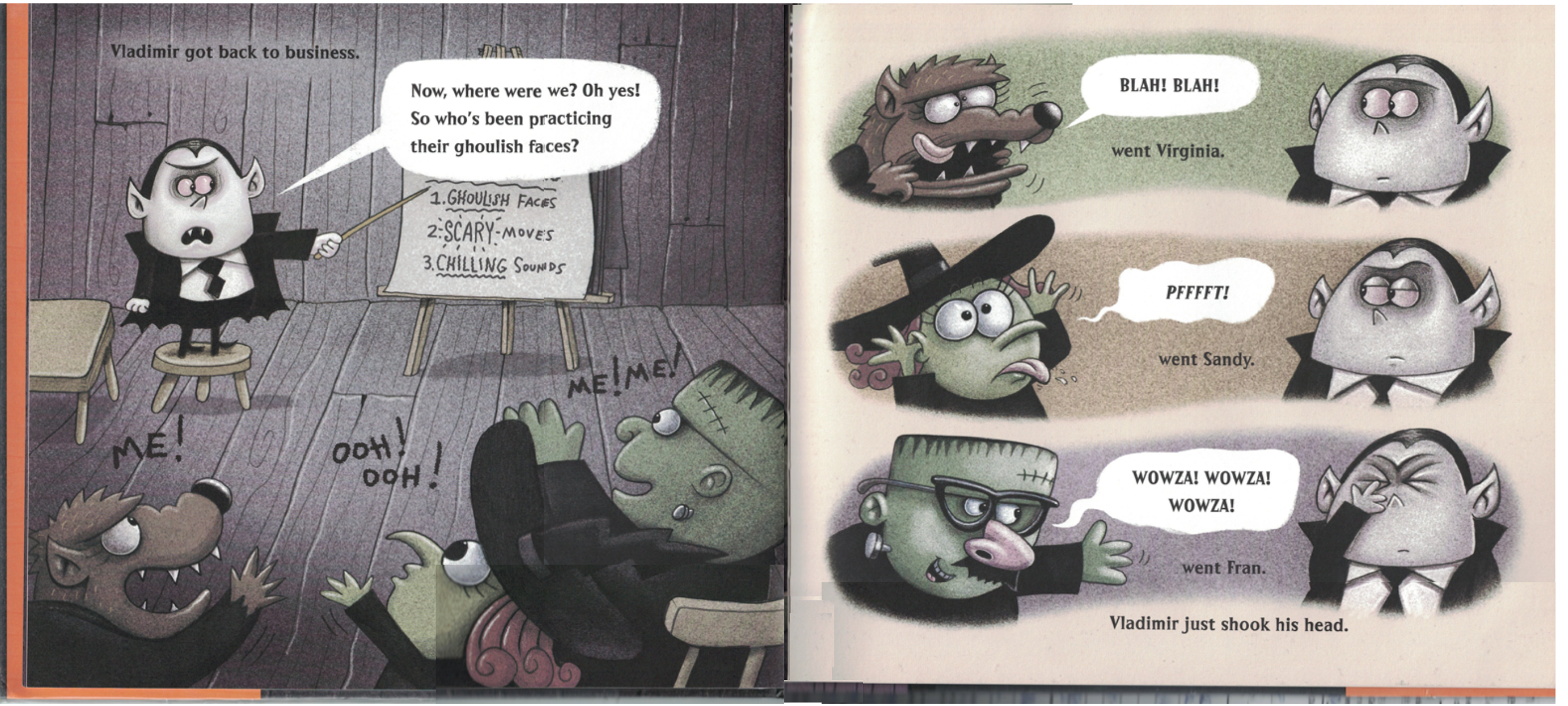 Fright Club has a great message about challenging authority, discrimination, and defying expectations. But it will be too complex for many; the action is often paneled, with more than one scene transpiring on a spread, and the story is fairly long.
Still, I love the interesting illustrative style, particularly the gray palette with pops of Halloween colors. Children edging towards the comic book form will be interested. And for kids who are reinforced by Halloween themes (my son Harry is this kid), Fright Club is a great way to introduce something more challenging. If you love it, you can also check out Ethan Long's other monster holiday books: Fangsgiving and Valensteins.