When you have a young child with autism, shared laughter is just a little more special. When either of my twin boys cracks a smile at me and giggles, my heart leaps. My whole world exists in these moments of connection.
Humor is a profoundly social experience, and it is so important for relationships. Until now, Luke and Harry have been more or less on-track in this (giggling at peek-a-boo games, delighting in rounds of tickles, blowing raspberries, and Three Stooges-like physical comedy are what we do best here), but, unsurprisingly, as typically developing children their age are learning to use language to actually joke around (bad puns, rhymes, silly words, etc.), more and more often my kids are left out of the fun.
I was unsatisfied by what I was able to dig up on the subject of humor development academically, although I found this article from The Art of Autism interesting. So I've put together my own, very lay, observation-based, mom-analysis of what pre-requisite skills are involved in accessing preschool-level humor in children's books. (And if your child has ever been in ABA, you will recognize many of these as common program names.)
Sorting by Basic Categories/Things That Go Together/What's Missing?/Sequencing. For humor that relies on something being out of place.
Rhyming. For humor that relies on something sounding funny.
Functions of Objects. For humor that relies on an object being used in an unexpected way.
Understanding Common Social Norms/Rules. For humor that relies on rule-breaking or rule compliance.
Tacting Emotions. For humor that relies on a character's state of mind/feelings/motivation.
Size Attributes. Needed for a surprising number of jokes that rely on distorted scale.
Clean/Messy Attributes and Grooming/Self-Help Vocabulary. Needed for understanding common comedy plots about becoming messy, grooming mishaps, injury, etc.
Tacting Body Parts and Functions of Body Parts. Needed for jokes about body parts, the body's actions, and bodily functions.
While I say these are "pre-requisites," it should go with out saying that funny picture books are fabulous for generalizing and reinforcing exactly these skills, just not as good for teaching them initially if a child has certain delays.
It's also worth adding that, as with almost any skill you are working on with a young child with ASD, the key to getting a joke is often repetition. I read the same books over and over. And I always show what exactly is funny and model a typical reaction. Explaining the joke, in this case, does not ruin it; it invites your child in on the fun.
I get that some people might think that encouraging a child to practice laughing in the right place or explaining the joke doesn't "count." But I am a firm believer in a 'fake it 'til you make it' kind of pedagogy for kids like mine, and the professionals I've worked with seem to agree.
Obviously, it also helps to pick a book that is developmentally appropriate for your child--and actually funny. Here are 7 books that made my kids laugh their butts off. As you shop for books this holiday season, pick up something that will make your kids smile. (It will make the season bright and all that.)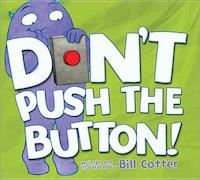 Sourcebooks Jabberwocky (2013); hardcover, $16.99 USD
Interactive books are ideal for promoting the joint experience of reading socially. Don't Push the Button is one of the best examples of how to do this on the market today.
It opens with a monster named Larry greeting the reader with a wave: "Hi! I'm Larry. Welcome to my book." So right off the bat we are working on the social skill of greeting, which is awesome. We are told there is one rule: "Don't push the button!" And naturally there is a very tempting button right there on every facing page. Soon, of course, we press it (How can we not?), and Larry turns yellow, develops polka dots, and begins to multiply like a tribble.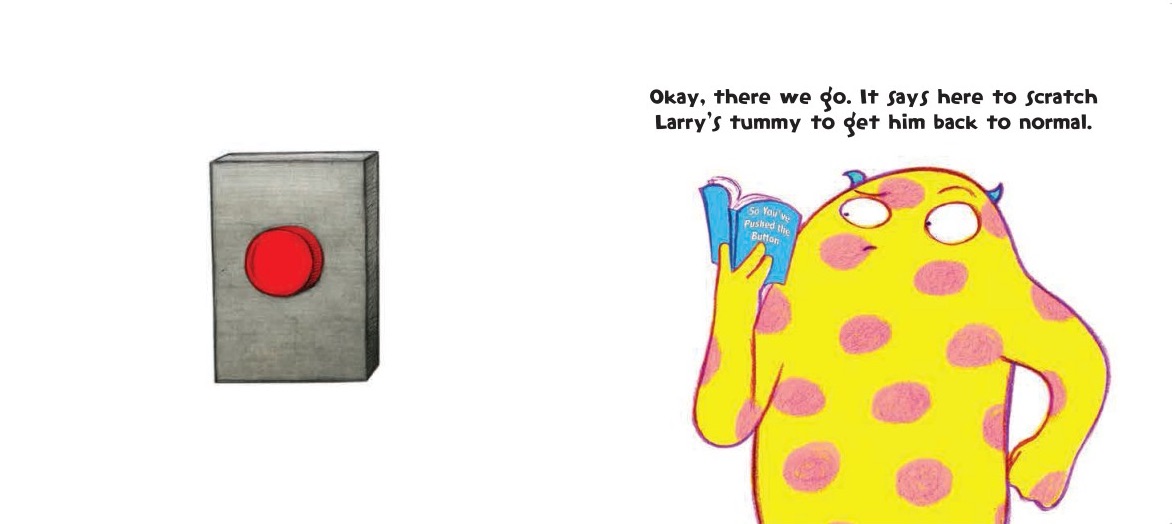 To help Larry get "back to normal," the child is instructed to scratch his tummy, and then finally to shake the book. Of course it all ends with one last button push and an explosion of funny, colorful monsters.
Harry "got" this book right away and delighted at the rule-breaking. Luke needed a few more reads to get it. Now, he loves to push the button (and has in fact generalized this to being told not to push the button to request a stop on the city bus...). Luke also adores the seriousness of the initial pages so much he began generalizing the line, "Seriously, don't even think about it!" to other situations, in which he uses the line to be funny, smiling when he says it and checking the response he gets from the faces of others.
Using hand-over-hand prompting, we were also able to use this book to teach Luke the action verb "scratch" when we "scratch Larry's tummy" and "shake" when we shake the book. He now does these things independently and uses those action verbs in other contexts.
It's worth mentioning that Bill Cotter released a sequel, Don't Touch This Book! earlier this year. It looks good too, but maybe not quite as amazing as Don't Push the Button. On a related note, I've noticed that parents of typically developing children tend to own the similar title, Press Here by Herve Tullet, which looks nice on a coffee table, but is far too abstract to connect with children like mine.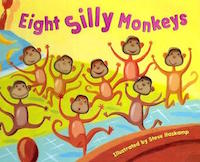 Bendon Publishing (2003); hardcover, $11.95

A fun take on the classic rhyme, this book makes good use of cut-outs and 3D plastic monkey heads that disappear as the monkeys fall out of the bed. Obviously, a sensory seeking child (like my son Harry) who needs tactile input will get a lot out of physically interacting with this book, and sensory components generalize an interest in books for sensory-seeking children. You'll be happy to know that even with all the intricate construction details, it's surprisingly durable; somehow this book, which we received second-hand, is still in very good condition after 2 years!
But most kids don't read this book sitting down. This is definitely a book that inspires bed-jumping and energy-burning, and, in the case of my kids, pretending to fall out of bed and bump their heads, which--not going to lie--has gotten dicey a few times. But there's no stopping it, and it's tons of fun, great pretend play, and quite appropriate, so I just make sure to clear away hazards and block anything too rowdy.
Anytime my kids learn a traditional children's rhyme from a book, I consider it a big plus, because having these cultural touchstones in their repertoire helps them connect with their typical peers in more mainstream social environments. So it's worth pointing out that this book varies a bit from the traditional rhyme, in which the monkeys are always "jumping on the bed" as the verses count down. Haskamp's version switches up the action verb each time, so the monkeys are: jumping, skipping, tumbling, dancing, eating, swinging, sliding, and spinning. My kids just jump along, and while I know that this book is a perfect opportunity to model these action verbs, I am always too exhausted to get up and tumble and spin by bedtime when we usually read it.

One quibble: I love the illustrations. I think they are bright and cheerful and decent at showing the actions that are named. But the math is just terrible. There are always the correct number of monkeys on the bed (pre-fall), but there are also monkeys from prior verses with boo-boos on the ground, and those monkeys are never the right number to make a total of 8. It's a shame, because it's a #$@&%*! counting book, and I consider it a missed opportunity. I'd have loved to use this well-loved book for early math skills sometime soon.
3. Chicka Chicka Boom Boom by Bill Martin Jr and John Archambault, illustrated by Lois Ehlert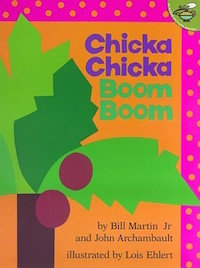 Little Simon (2012); board book, $7.99 USD

I first mentioned Chicka Chicka Boom Boom last year in a post in which I panned one of its market competitors, one of my least favorite board books ever, A is for Activist. There's nothing like a good alphabet book, particularly for kids with autism who are often so engrossed by the order and structure of the alphabet. Unfortunately, there are a lot of terrible alphabet books out there. Chicka Chicka Boom Boom, however, is the best of the genre.
There is so much brilliance in this text. It has perfect, infectious rhyme and meter, and children can easily follow along. It has repetition. It has silly nonsense words that are fun to say. And it has a story starring the letters of the alphabet as bright and colorfully drawn characters. The letters, goaded on by A, climb up a coconut tree. But ("Oh, no!) the whole alphabet is too heavy and they all come crashing down: "Chicka Chicka BOOM! BOOM!"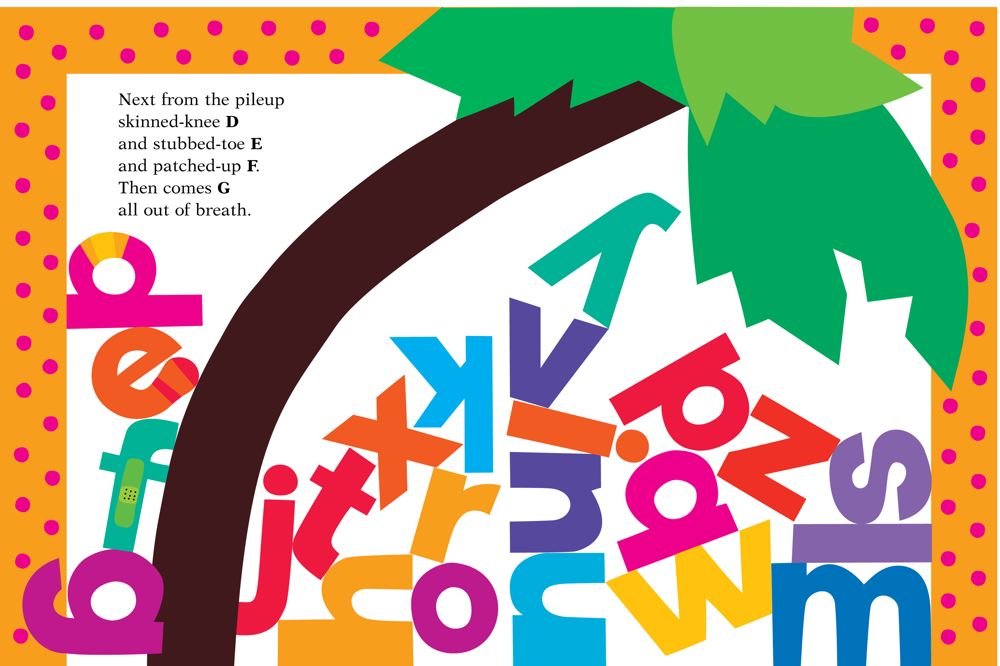 One by one, each letter gets up and we hear about their injuries. This whole denouement is a nice opportunity to model different kinds of boo-boos, which is highly useful vocabulary to develop, as any autism parent knows!
A plot about things falling down is just a straight-up winner for little kids. And the word choice, particularly the title refrain of "Chicka Chicka Boom Boom" and the made-up words ("Skit skat skoodle doot. / Flip flop flee. / Everybody running to the coconut tree."), gives everything the right tonal quality to drive the funny home. This is unusually artful and careful writing that gives you, the parent-reader, all the tools you need to pull off the comedy while looking brilliant at delivering a beat.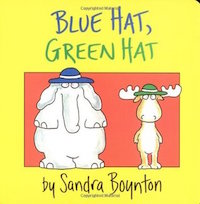 Little Simon (1984); board book, $5.99
Continuing my ongoing love affair with Sandra Boynton is Blue Hat, Green Hat, an astonishingly simple book about a turkey that doesn't know what part of the body clothes belong on. Each two-page spread shows an elephant, a moose, and a small bear correctly modeling the correct way to wear a particular type of garment (a hat, a shirt, pants, a coat, socks, shoes, and finally swim trunks). But there is also a silly turkey who wears the garment all wrong.
This form of humor, which relies on something being out of place, is so perfect for reinforcing/generalizing function of objects. And anyone who is parenting or working with a child with autism is, at some point, working on teaching clothing categories (sorting, tacting), including function (what part of the body each clothing type dons), and maybe with an OT or through a chaining program, how to put them on and remove them.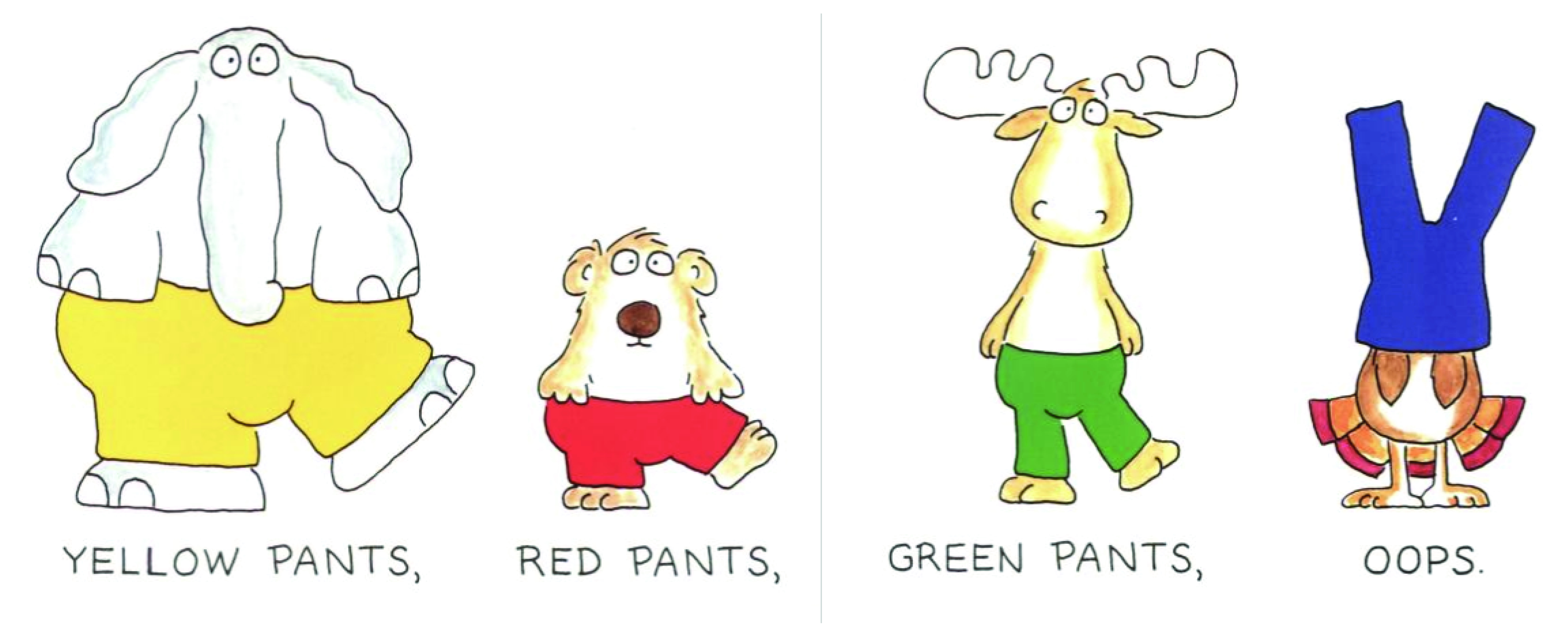 The laughs in this book don't just come from Boynton's iconic funny illustrations, but also from the simple writing, which heavily relies on repetition, page after page, of the word "oops": "Blue Pants, / Green Pants, / Red Pants, / Oops." I always exaggerate the OOPS! and earn big laughs from my kids who have caught on that this is a funny word for when something funny happens. Harry scripts some version of the many things I have said to explain the joke, like, "Silly turkey, that's not how to wear pants! Pants go on your legs, not on your head!"
Meanwhile, Luke enjoys labeling the colors of the clothes (the colors change order on each page, along with the animals). It's nice that Boynton switches it up. It means that the child needs to pay attention not just to the category of garment but also to its color (and the species of animal wearing it, if the parent stops to ask, "What is the elephant wearing?"). It's a good opportunity to practice lengthening utterances with attributes. The number of variables is limited enough not to overwhelm.
This is marketed as a toddler board book but that shouldn't stop you if it's right for your older child. While for Harry I have been trying to avoid a heavy concentration of board books since he is developmentally ready to manipulate and understand simple picture books, I am learning to accept that Luke is a different child. In the past on this blog, I've been too quick to label a book as appropriate for a particular age range. I'm still learning.
It's also recently become apparent to me that a child like Harry, who has many sight words and is slowly becoming an early reader, is getting something awesome and new out of familiar board books. The simple vocabulary, low economy of words, and his prior knowledge of the books themselves means that he is starting to point to the individual words and read them aloud. So let me tell you, books like Blue Hat, Green Hat aren't going into the donation bin any time soon.


Scholastic Press (2007); board book, $6.95

Grumpy Bird is the first in a series starring Bird and his woodland friends: Beaver, Fox, Sheep, Rabbit, and Raccoon. The first book deals with Bird being grumpy. The second, Boo-Hoo Bird revolves around Bird being upset after getting bonked on his head. And the most recent, released earlier this year, Hungry Bird is about Bird being very hungry.
These topics are obviously extremely relatable for young children and reflect the kinds of early anxieties/coping skill deficits that parents and educators of ASD children need lots of different tools to address. What's extra nice about these social story-type books, is that they are funny. And getting a kid to laugh is ideal because it not only gives you a script or a sequence for dealing with a similar situation, but it gives that child a path to switching gears from anger or frustration or sadness to being happy or at least content. I'm not saying these books are actually magical, but they are pretty useful to have in your toolbox.
This was an early gift, and I've been reading it to the boys since they were 1 year olds. I made up individual funny voices for each of the animal characters, a step that I think is key (sorry!). The cartoon-styled art is eye-catching and very attractive but some of the animals look similar (Rabbit and Beaver, particularly) and more and more of them are shown on each page without quite as much visual focus/foregrounding as I want for my kids to keep track of who is speaking.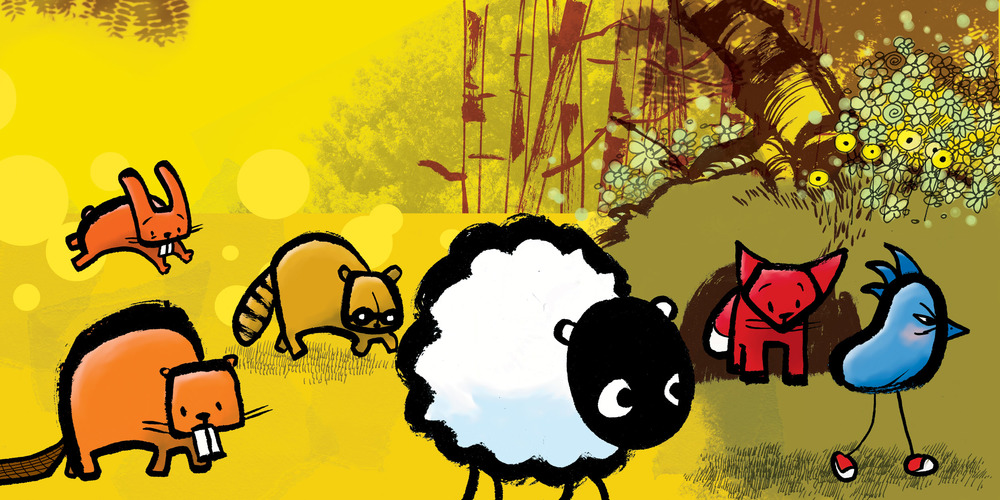 One of my favorite things about this book (and every book in the series) is how Bird's friends all come together to try to help him and Bird's slow realization of this. In Grumpy Bird, Bird decides that he is too grumpy to fly so he walks instead. One by one, his friends ask him how he's doing and decide to join him on his walk. He is gruff with each one until he notices that they are all with him and following his lead, single-file. He stops; they stop. He stands on one leg; so do they. He pushes this experiment to silliness by standing on his head, and, hilariously, they all copy him. Realizing he's actually having fun, he invites his friends to fly back to his nest for a snack. The final page shows them all hanging out in a tree as he serves up a worm on a plate.
You better believe my kids loved acting out this final silly sequence. And the modeling of movements: stopping, standing on one foot, and standing on one's head, definitely taught my kids how to do these things, much to the delight of me, their ABA therapists who could check it off the gross motor imitation list more quickly, and their PTs to boot. Not bad, right?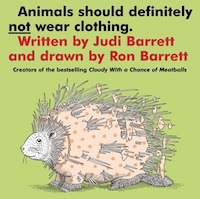 Atheneum Books for Young Readers (1988); board book, $7.99
I don't know if you've had the experience of reading a kids picture book and actually cracking up, but this one does it for me. Animals Should Definitely Not Wear Clothing is a lesser-known title by the same duo that created the runaway bestseller Cloudy With A Chance of Meatballs, which was the basis for the box-office sensation movie series by the same name.
It's a board book, so your mind thinks "toddler-level," but it's actually pretty sophisticated humor.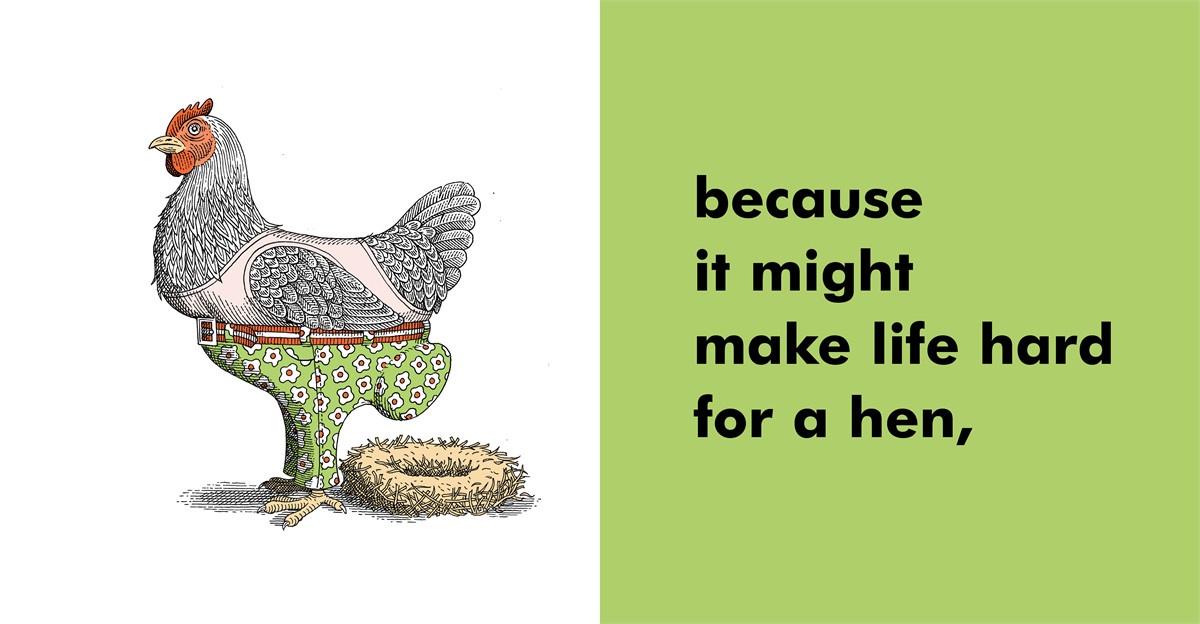 Each spread is a different example of why animals should definitely not wear clothing. The running gag is that the animals can't functionally wear the clothes (or it is unnecessary for them to do so) because of something intrinsic to the anatomy of the animal or some attribute of the animal or its behavior. In other words, it's not enough to know what pants are and to be able to tact them, or what a chicken is, or what an egg is, you have to understand that if a chicken is wearing pants, it can't lay an egg.
I wouldn't say that a child needs to fully understand this complex synthesis of concepts before you try reading this book, but I would say that tacting the elements (animals, body parts, and articles of clothing) is something that ideally should be mastered (with emerging skills in function of objects). That way, when you model laughing and explain the joke, your explanation lands: "The snake has no legs! You need legs for pajamas. That's so silly."
7. Boo to a Goose by Mem Fox, art by Stephen A. Miller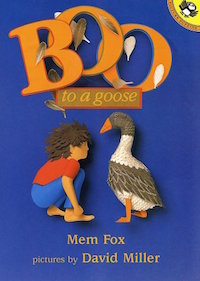 Dial Books for Young Readers (1998); hardcover, out of print!

Confession: Boo to a Goose is out of print. But that doesn't mean you can't get your hands on it. My mom borrowed a copy from her school library (she's a teacher) for when we visited last summer. It was an instant hit with Harry. He asked for it every night. When we got home from our vacation, I found a used library discard copy on Amazon.
The art in this book is so unusual and striking. The jacket copy describes it as "three-dimensional cut paper assemblages," and they really do appear textured. I find myself staring at the art whenever I read the book, and I know that Harry finds it intriguing too since he's always trying to touch it.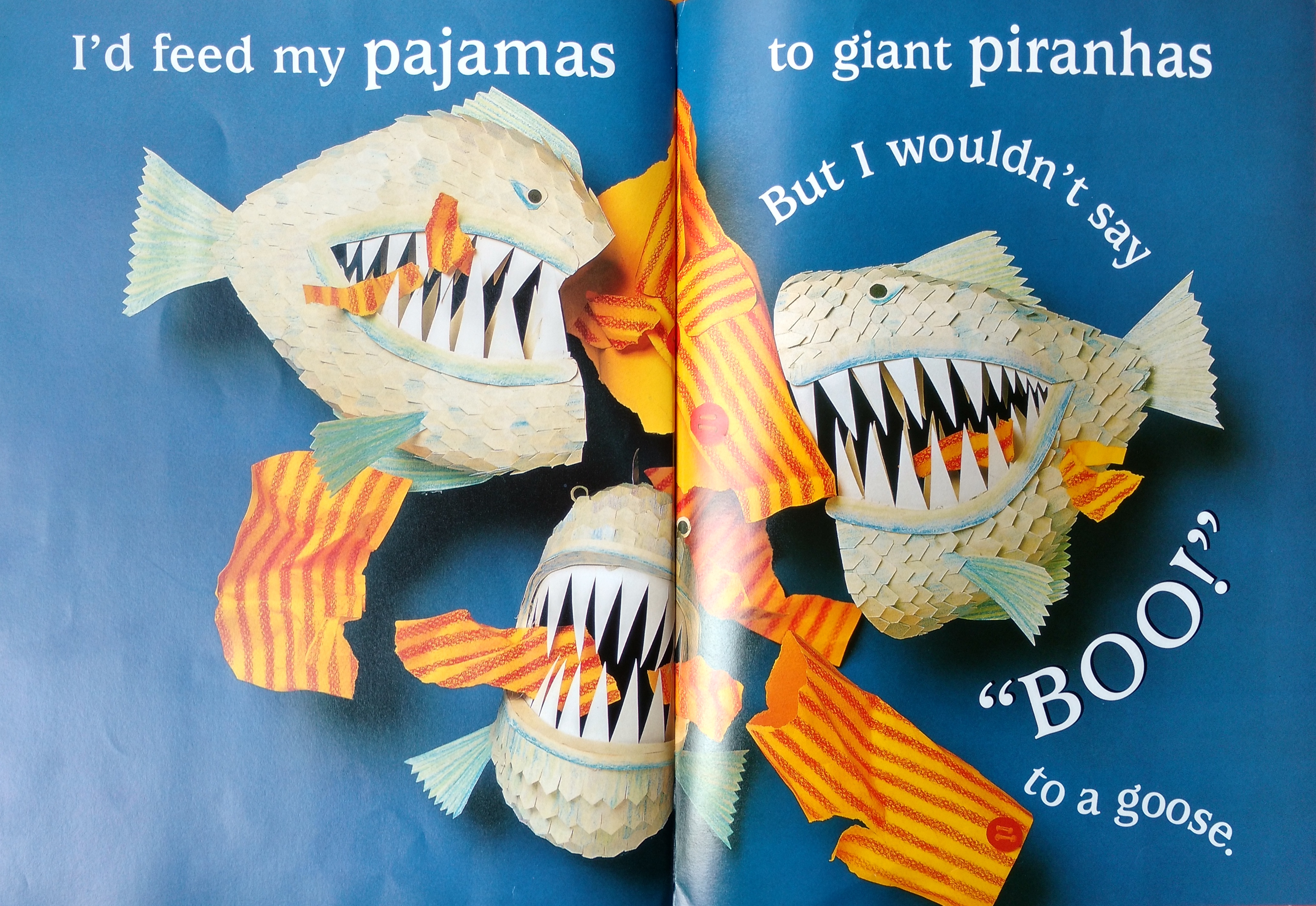 This is a silly rhyming nonsense book, and by that I mean that the content is actual nonsense and the humor relies on the reader understanding that it doesn't make sense. How the rhyming sounds to the ear is also critical in the funny mood the book sets.
Nonsense books are particularly challenging for kids with language delays because it's hard to find an anchor if you don't know that something is nonsense as opposed to just one more thing you don't understand receptively. There are a bunch of ways Boo to a Goose rises to this challenge.
First, it is frequently described as having a "baker's dozen" of rhymes. Basically, there is a couplet formula that repeats. This provides a predictable structure. And second, the art isn't just pretty; it clearly illustrates each spread so that it can be understood visually.
A word of caution: this book takes some forethought to read. Take for example, "I'd take a long walk / from here to New York / But I wouldn't say / "BOO!" to a goose." This is an example of a spread in which what's funny is in how the text is read--the act of making the word "walk" rhyme with "York."
But most of the pages don't rely on nuances of delivery; they are largely funny in terms of a combination of unexpected elements. For example, "I'd gobble up snails / from smelly old pails / But I wouldn't say "BOO!" / to a goose." This spread is accompanied by art showing snails crawling all over and inside of dirty pails, and doesn't rely on trickier language processing skills.
In terms of language development, we have had great success with Harry using this book for intraverbals. He loves filling in the end of each rhyme ("Snails!" "Pails!") And then saying the line: "I wouldn't say 'BOO!' to a goose!"
But for Luke, who struggles with abstract ideas (and nonsense is as abstract as it gets), this book is just too complicated right now. So you have to know if your kid is ready for it or not (and hey, you can always give it a try).