Both of my twins' autism preschools use an oversized calendar during their morning circle times. Kids manipulate velcro components to update it daily and learn about the concept of day, month, and year, and days of the week, as well as seasons, holidays, the weather, and their daily classroom schedule.
This is pretty standard in preschools, and I'm sure with time both of my boys will learn from this exposure. But it's a lot of information. I find that my kids do better building on concepts one at a time, so at home, I am focusing on days of the week.
How my kids experience Monday through Friday is structured de facto by the school schedule. But, like most families with kids on the spectrum, we also deliberately keep to a reliable schedule on the weekends. Saturday is usually playground and library day; Sunday is swim class.
Here are 9 stand-out picture and board books that I've read to my kids to help them learn the days of the week.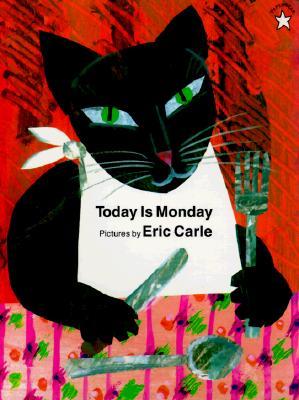 Puffin Books (1997); paperback, $6.99 USD


Today is Monday is fabulous for a child who needs practice sequencing the days of the week. The unmistakable illustrations of Eric Carle are delightful. The text is a very simple cumulative poem (think "The Twelve Days of Christmas"), meaning that each new stanza adds a line to build on what came before. You end up chaining the days of the week backwards because of this poetic structure, which I imagine could be confusing for some kids, but it hasn't been for mine.
The book introduces a series of animals and names what they eat for various days of the week. The foods and animals are all fairly basic, so they should be reinforcing for most kids who have basic food and animal names in their repertoires.
Happily, Eric Carle includes sheet music at the back of the book so that you can sing this book as a song. Anytime you can sing a book to a child, I think it's beneficial. For many kids, it certainly seems to increase participation and attention.
I found this great YouTube video by user loonytricky of someone singing the song:
2. Cookie's Week by Cindy Ward, Tomie dePaola (Illustrator)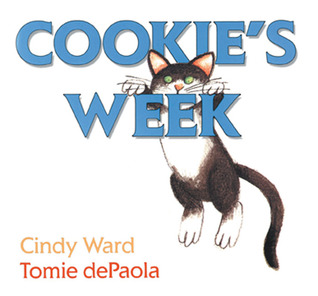 Penguin Putnam Books for Young Readers (2004); paperback, $5.99 USD


This book was an instant favorite for Luke, who finds the clumsy, mess-making mis-adventures of Cookie the cat perfectly hilarious. Cookie's Week is a simple cause and effect book; it relies on in-the-moment physical comedy, using active language, and short sentence construction. The illustrations are spot-on.
Each day of the week is introduced as Cookie takes (disastrous) action.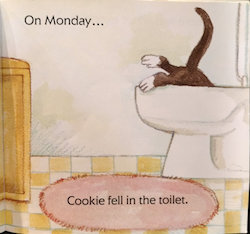 Turn the page, and the mess Cookie makes is revealed.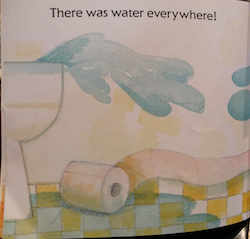 For all but the final day, the text is basically the same: "There was ___ everywhere!" This repetition is really helpful as it not only provides the structure a child needs to fill in the next word (i.e. "water"), but it also helps with the construction of the sentence. For Luke, I began by saying the first few words ("There was...") and letting him finish. He loves exclaiming "...everywhere!" We're working on him saying the whole sentence independently.
3. Monday is One Day by Arthur A. Levine, Julian Hector (Illustrator)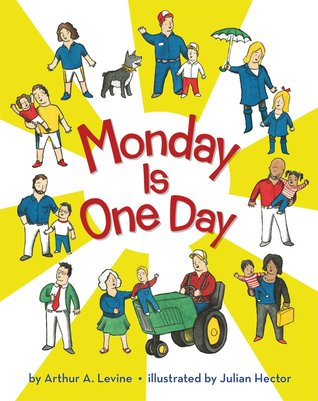 Scholastic Press (2011); paperback, $6.99 USD


Monday is One Day presents the days of the week as countable, a wonderful next-step concept for kids who are ready to learn how to think about them as more than rote sequence.
At its heart, the book is about how we miss spending time with our families during the work/school week. It's a relatable social-emotional story that teaches two simple coping skills: counting the days and finding special moments in everyday life.
The days themselves aren't explicitly counted (which I'd have preferred). Instead, for the first four days, the parents and children count something special to them that helps them to mark the number of the day. For Monday, it's one cuddle; for Tuesday it's two stomps in a puddle, for Wednesday it's three raspberries on the nose, and for Thursday it's four T-Rex growls. These are great interactive moments in the book that we enjoy acting out as we read the story.
It's too bad this structure breaks down for Friday and Saturday, which don't have any counting elements. When we finally arrive at Sunday, all the families are having a good time together in a park relaxing.
Although the rhythm is shaky in parts and the overall structure is imperfect, I like that the book rhymes and uses a restrained number of words. It's easy for both of my children to follow along.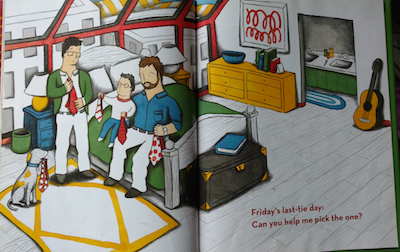 It's also a book that shows a diversity of family types, which is so important for children whose families don't look like most families in children's books. My wife Janet and I are a same-sex couple, so when a book uses a diversity of family types, I sit up and take notice. Monday is One Day includes a single dad, a single mom, two dads, two moms, grandparents raising a child, and a mom-and-dad family.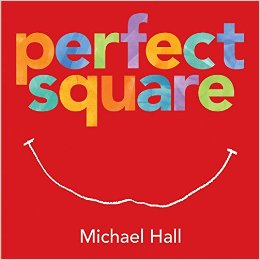 Greenwillow Books (2011); hardcover, $16.99 USD


Michael Hall, best known perhaps for Red: A Crayon's Story, is one of those authors whose books I always admire in stores as pieces of art. But often they are too abstract to connect with my kids. Perfect Square is a welcome exception.
The story centers around a plain red square. As the week progresses, the square is altered by some unseen force. On Monday, someone takes scissors and a hole punch to it. But then it uses those scraps to make a fountain. Tuesday sees an orange square torn to scraps and made into flowers. Wednesday, a green square shredded into strips and made into a park. And so forth. The parallel structure here is great, and the square's color change is a great transitional cue. I often begin each new section by asking "What color is the square now?" since my boys both enjoy tacting colors.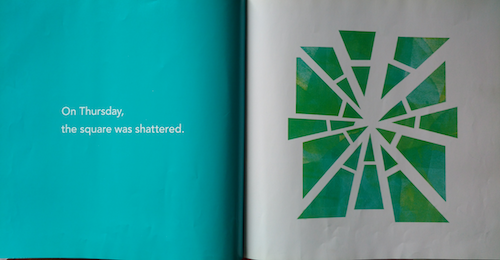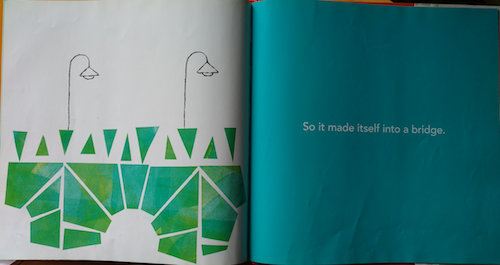 When we arrive at the end, Sunday, nothing happens to the square and it develops a frowny face and laments its "four equal sides" using words like "confining." I didn't love this moment (What's wrong with being a square?), but then, in an ending reminiscent of Eric Carle's Brown Bear, Brown Bear, the square turns into a (square) window and looks out on its week's creations, which are then re-listed.
This ending is way too signature-Michael-Hall-abstract for my son Harry as much as he loves re-labeling the things the square made. For him, this book is about deconstruction and reconstruction, and the way the square can be taken apart to make something new.
Some rainy Sunday, I plan to take construction paper, scissors, a hole punch, glue, and some markers, and have even more fun with this one.


Beach Lane Books (2016); hardcover, $17.99 USD


I've had great success with "The Wheels on the Bus," "Twinkle Twinkle Little Star," "Old MacDonald Had a Farm," and other nursery songs generalizing to books, so when I came across a recent publication of "5 Little Ducks" that was slightly rewritten to include the days of the week, I was intrigued.
The artist uses a pulp painting technique, and the result is quite pretty and unusual, but a little messy to the eye. I feel pretty confident that if Luke wasn't so reinforced by his love for the song, that he wouldn't look at the book. It's clear to me by how he scans, that he has a tough time finding the ducklings. And when Papa Duck calls Quack, quack, quack! (It's Papa Duck, not Mama, in Fleming's version), those pages show the total number of ducks that went out that day, but with one duckling facing the other direction. "That duck is leaving!" I tell him, but for Luke this is confusing because the text gives a number that doesn't match the number of ducklings in the image.
Despite this unfortunate illustration decision, I highly recommend this book for any kid who enjoys the song. Fleming did a good job altering the lyrics to include the days of the week, and books where you can sing with your children often make the most effective read alouds when attention is an issue.
6. I Had a Favorite Dress by by Boni Ashburn, Julia Denos (Illustrator)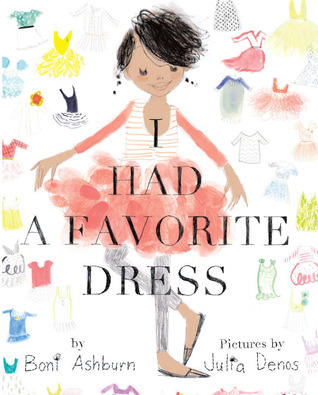 Abrams Books for Young Readers (2011); hardcover, $16.95


Hooray for picture books starring more girls of color!
I Had a Favorite Dress is about a little girl who has a favorite dress that she wears on Tuesdays, until one day the dress is too short. Luckily, her Mom knows her way around a sewing machine, because "SNIP, SNIP, and sew, sew" the dress becomes a new shirt with ruffles. The girl now wears her favorite shirt on Wednesdays. Of course the girl keeps growing, and the shirt soon becomes a tank top, a skirt, a scarf, a pair of socks and a hair bow, and then finally she takes the last scraps to make a piece of art. Throughout this, the new favorite clothing item becomes attached to the next day of the week.
The illustrator mixes watercolors and pencil in a palette of pretty pastels. The book feels light and the text is a well-structured poem that has a definite bounce to it and allows kids to feel their place in the story. My kids enjoyed the "SNIP, SNIP" and "sew, sew," particularly.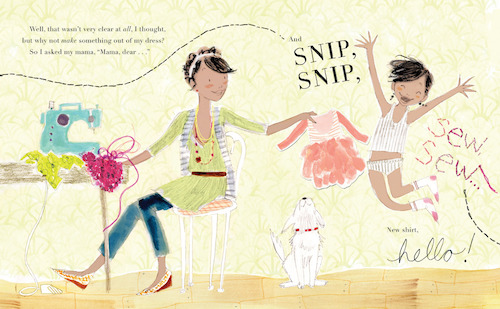 I love the way Boni Ashburn integrated the days of the week. We also see the seasons change to mark the passage of time as the girl gets older. I also love the variety of clothes for tacting purposes. If your child is working on learning the names of clothes, this is a great book (although the shirt looks a little like a dress).
Finally, I really appreciate the theme, which so universally deals with a child being upset that a favorite clothing item doesn't fit anymore. My son Luke is always really attached to his rainboots, and it's hard for him when they aren't seasonal or when he grows out of a pair and I can't find exactly the same style. Unfortunately, the book's subject matter doesn't excite him. Harry likes it much better.
7. Freedom in Congo Square by Carole Boston Weatherford, R. Gregory Christie (Illustrator)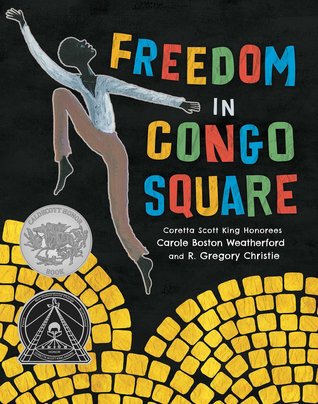 little bee books (2016); hardcover, $17.99


Freedom in Congo Square is a book about the lives of slaves on a plantation in New Orleans, and also a solid days of the week book.
This is the part where I have to be honest and say that I've only read it to my kids once--and they only loved the first 2/3. But I wanted to include it for others with older or less delayed children because this isn't a problem with the book. It's an issue of maturation. I know that Harry will be able to appreciate this book when he develops some more language so he can connect with those final pages (more on that later). I know Luke will be able to eventually too.
The book has all the elements that make it good for children with autism: Perfect rhyme and rhythm. Repetitive sentence structure. An overall structure employing counting down (from 6), which is highly reinforcing for kids who enjoy numbers, like my son Luke.
Some people might be concerned about the violence depicted. There is an illustration that shows a master holding a lash, and a line of poetry says the lash is "dreaded." In one scene slaves are running away and they are being chased by men on horseback and dogs. There is a subtle moment showing a slave with her much lighter-skinned child. For me, this isn't an issue. I think this is exactly the right age to begin to introduce these facts and concepts in age appropriate ways (and I think this book achieves that).
Here is what you need to understand about the book's subject (from the Foreword):
Congo Square is an open space located within Louis Armstrong Park in New Orleans, Louisiana... [I]t was the music, songs, and dances performed by enslaved Africans on Sunday afternoons that made Congo Square known worldwide.
[...]
On Sunday afternoons, people of African heritage, both enslaved and free, came together to enjoy themselves. They met at different places in the city until a law made Congo Square the only place they could meet. They formed circles around groups of dancers and musicians in different parts of the square. Inside those circles, musicians played instruments like the ones they knew in their homelands...
Each stanza names the day of the week, explains what kind of labor the slaves are doing, makes a statement about the wrongness of slavery, and counts down the number of days to Congo Square.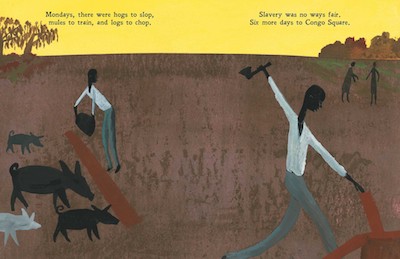 My kids were pretty engaged throughout the Monday through Saturday pages. But when we arrived at Sunday, the structure broke. For the final five two-page spreads, which describe the happy celebration of the slaves and free Africans meeting to dance and sing in Congo Square, there were too many tricky words and concepts.
Before, there had always been some elements they understood and could hang on to. The Monday page brought "hogs to slop" and "logs to chop" and said that "Slavery was no ways fair." They didn't understand all of it, but they knew enough, particularly with the accompanying images showing a man feeding pigs and another man chopping wood. They also receptively understand the (well-chosen) word fair. But now they were trying to understand lines like "Slaves had off one afternoon, when the law allowed them to commune." Here, the art too became suddenly more abstract. This was a conscious choice, no doubt, to make these pages special. But for my kids it was another difficulty too many in figuring out what was happening. I'm confident that as their receptive vocabulary increases, we can return to this book and they will not lose interest during these final pages because of the strength of the poetry structure.
It's so important, especially at a young age, to find ways to introduce the diversity of humanity to children. I did a blog post about books that introduce racial difference a few months back that has some more basic suggestions to this end. Freedom in Congo Square is a rare book, and I'm really happy to have found it.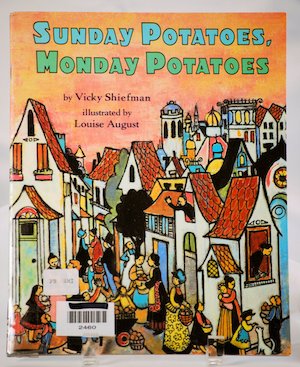 Simon & Schuster (1994); paperback, out of print :(


The opening pages of Sunday Potatoes, Monday Potatoes have a nesting doll format, zooming in on a country, a town, a street, a house, and then inside the house, where we are introduced to a poor potato farming family who only have potatoes to eat. The setting feels historical and Eastern European.
After we meet the family, we are given a series of two-page spreads showing the family dinner each day of the week. The text for these are simple: "On Sunday, they ate potatoes", "Monday, they ate potatoes", "Tuesday, potatoes", and so on. This is ideal for fill-in practice, and my kids love saying "Potatoes!"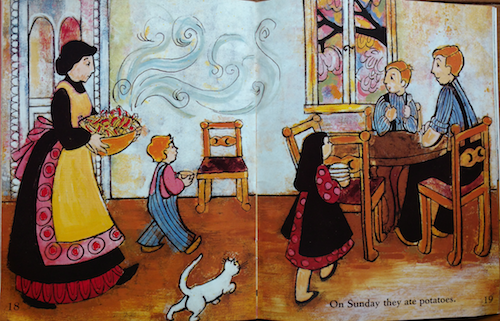 As the week progresses, the family looks increasingly unhappy. But then, on Saturday, the mom makes a special dish: potato pudding. (With a recipe in the back if you are into it!) This is a joyful, celebratory page, and the family, right down to the cat, is thrilled to dig in.
Sunday Potatoes, Monday Potatoes shows poverty in a very simple, age-appropriate way, centering the conflict on lack of food choice, something most children understand, but that kids with sensory issues, like so many with autism, may relate to in a special way. The complexity of the joy the family gets from their special potato dish is probably lost on my kids right now, but I'm hoping they will come to understand it better.
The illustrations, linoleum cuts, according to a Kirkus review, are bright and evocative. Since the special meal is on a Saturday, I believe the family is meant to be Jewish. This difference is handy since almost all days of the week books favor a Monday to Sunday sequence (and often have Christian overtones in their Sunday emphasis). Kids need to learn that the sequence of days can begin at any point, and I appreciate the variation.
Another great use for this book is in tacting emotions. The family begins the week on Sunday with neutral expressions, but progressively look more and more sad, and then even angry by Friday. Saturday's happiness is a stark contrast of happy, joyful faces. I am trying to pair tacting emotions with inferring the reason for these emotions. For now, I am modeling the language around this, since my kids aren't ready to make this leap. "Why are they sad? Because dinner is potatoes AGAIN!" Etc.
Sadly, this book is out of print. However, I was easily able to buy an inexpensive used copy online.


Puffin Books (1994); board book, $7.99 USD


I reviewed The Very Hungry Caterpillar over a year ago, but it deserves a place on this list too.
The Very Hungry Caterpillar was the first book I ever read my twins as babies, and it's a lot of fun to return to it to learn something new. What I have aways liked best about this book is how successfully it ties together counting, labeling foods, days of the week, a mini-lesson on butterfly metamorphosis, and a healthy eating message. This would normally be far too many ingredients for a successful board book, but the careful use of repetition, structured narrative, and the tactile interest Carle brings with the cut pages and holes just works beautifully.

Sensory-seeking children love turning the strangely sized pages and putting their fingers in the "eaten" holes while they practice days of the week, counting, or labeling fruits. If a child doesn't have some food labeling (particularly fruits and sweets) and counting to five in their repertoire, it will be too hard to attend to the days of the week element right away. But I think the magic of this book is that a child who is working on those more basic skills still gets this exposure.